[AdSense-A]
Located in the lower Himalayas, at an altitude of 3000 meters Zuluk or Jhuluk is a hamlet in the East Sikkim, near the Indo-China border. It is a quaint tourist destination. For making a tour to Jhuluk you must have special permits. The place has a population of around 700 people. There is also an army base located that is used as a transit camp for army movement to the Chinese border, located a few kilometers away. It was a part of the popular silk route previously that connects Kalimpong to Tibet and used by traders mainly for travelling to Tibet. The entire area around Zuluk becomes snow covered in winters. However the rains in September, makes the whole region covered in wild flowers of all types. This small village of Zuluk is used as a base to see one of the most magnificent sunrise over Mt.Kanchenjungha.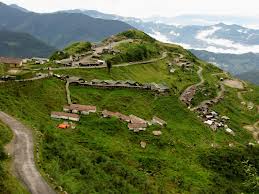 Places to see at Jhuluk: The three-level zigzag roads of Jhuluk offer beautiful views of the Kanchenjunga and its mountain range. The other attractions of the place include lakes, temples and 'Young Husband Track', a route that leads to Tibet. Some of the forests situated around Jhuluk are completely unexplored and offer a variety of flora and fauna. Various kinds of animals found in the wild forests include Deer, Himalayan Bears, Wild Dogs, Red Pandas, Tigers and Snow Leopard. The list of birds includes Monal Pheasant, Khaleez Pheasant, Blood Pheasant, Snow Pheasant and many more.
Nearby attractions of Jhuluk: From Jhuluk, you can reach Thambi View Point by driving on a winding road. Situated at an altitude of 11,200 feet; the spot offers excellent view of the entire eastern Himalayas. You can also go ahead and reach Lungtung, at an altitude of 13,000 feet to enjoy another complete panoramic view of Kanchenjungha.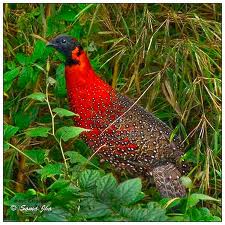 Another 30 mins drive would take you to Kalpokhri Lake, Adi Baba Mandir and Kupup Lake. The Kupup Lake (Bitang Cho lake) also known as Elephant lake owning to it shape which resembles and elephant is also a very popular destination. You would also find the highest golf course in the world near Kupup Lake. You can further travel Nathula Pass, New Baba Mandir Tsomgo Lake and reach Gangtok. Menmecho Lake, which is tyhe source of the Rangpo River is also visible in the distance from the road after crossing Kupup.
Things to do at Jhuluk: Your early morning trips from Zuluk village to nearby Lungthang or Thambi View Point would help you witness a grand sunrise over the entire Mt.Kanchenjungha range. The sunrise view points of Thambi and Lungthung offers a panoramic view of the valleys, roads and most of Eastern Himalayas. The road to Lungthung would cross some of the untouched parts of the region and you can catch a glimpse of some rare birds like monals in this region too.
Best time to visit Zuluk: The beauty of Zuluk is breathless in every season. Just after the rainy season in September, the valleys get covered in wild flowers. In April and early May, Zuluk is covered in blooming Rhododendrons and the winter months witness around 6 feet of snow. If you are aiming for the most memorable sunrise of your lifetime, then visit during the winters.
How to go ?
The Zuluk trip is operated as package tours because you would need special Inner Line permits (even for Indian citizens) and exclusive Reserved Cars. The trips are usually operated from destinations like Sillery Gaon in West Bengal, Reshikhola or Mankhim (in Sikkim). The usual packages are 3 Nights – 4 Days and 4 Nights – 5 Days (ex New Jalpaiguri / Siliguri or Bagdogra).
[AdSense-B]
Where to stay ?
Not many hotel facilities are available at Zuluk. You can stay at:
Sky High Resorts: (+91) 8697127316,  9836739437,  9836020731,  9830078453.
You can also opt to stay at homestays at Zuluk.
Note : Phone numbers given above are according to the information available with us. If you find any contact number/s given above is/are incorrect or not in use, please let us know.
[AdSense-C]
http://tripsaround.in/wp-content/uploads/2014/04/Zuluk-1.jpg
387
700
TripsAround .in
http://tripsaround.in/wp-content/uploads/2013/04/logo.gif
TripsAround .in
2014-04-27 14:47:07
2014-05-14 16:08:51
Zuluk, Sikkim - At an altitude of 3000 meters Zuluk is a quaint tourist destination