[AdSense-A]
Today a small village surrounded by banana and mango groves and with extensive rice fields, Vaishali was once a famous historical place. The excavations made in the area have brought forth an impressive historical past. The epic Ramayana tells the story of the
heroic King Vishal who ruled here. It is believed by the historians that one of the world's first democratic republics with an elected assembly of representatives flourished here in the 6th century B.C. in the time of the Vajjis and the Lichchavis. Pataliputra, the capital of the Mauryas and the Guptas, became very powerful politically to exert its influence over the Gangetic plain. At that time Vaishali was the center for trade and industry.
Lord Buddha visited Vaishali frequently and at Kolhua, close by, and preached his last sermon. This occasion, was celebrated by Emperor Ashoka, in the third century B.C. erecting one of his famous lion pillars here.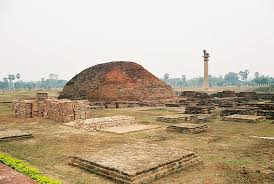 A hundred years after the Mahaparinirvana of the Buddha – Vaishali hosted the second great Buddhist council. Two stupas were erected to commemorate this event. Jainism, too, has its origins in Vaishali, for in 527 B.C., Lord Mahavir was born on the outskirts of the city, and lived in Vaishali till he was 22. Vaishali is then twice blessed and remains an important pilgrim center for both Buddhists and Jains, attracting also historians foraging for the past.
Places to see at Vaishali: This is an archaeological place with large number of visiting destinations.
Buddhist Monastery 
At the outskirts of Vaishali stood the grand double storied Buddhist monastery. Buddha often discoursed here. It is here where Lord Buddha announced his approaching Nirvana and preached his last sermon.
Bawan Pokhar Temple
An old temple built in the Pala period stands on the northern bank of Bawan Pokhar and enshrines beautiful images of several Hindu gods.
Jain Temple
Behind the Bawan Pokhar temple is this Jain temple that is famous for its image of the Trithankar.
Lotus Tank
Just a bit far from these temples is the Lotus Tank. It used to be a picnic spot of the Lichchhavis.
Ashokan Pillar
Emperor Ashoka built the Lion Pillar at Kolhua. It is made of a highly polished single piece of red sandstone, surmounted by a bell shaped capital, 18.3 m high. A life-size figure of a lion is placed on top of the pillar. There is a small tank here known as Ramkund. This pillar beside a brick stupa at Kolhua commemorates Buddha's last sermon.
Buddha Stupa-I
The exterior of this stupa which is now in a dilapidated condition has a plain surface. One eighth of the sacred ashes of the lord Buddha were enshrined here in a stone casket.
Buddha Stupa-II
Excavation at this site in 1958 led to the discovery of another casket containing the ashes of the Lord Buddha.
The Lichchhavis came a long way to bid him farewell on his way to Kushinagara and finally, they were stopped by a river created by Buddha. He once again paused to have a last of his much loved city. As a piety for Vaishali, he had already given his alms bowl which remained here for long time.
Abhiskek Pushkarini (Coronation tank)
It contains water that was believed to be sacred in the old days. All of Vaishali's elected representative were anointed here before their swearing in. The Lichchavi stupa was located near here.  The stone caskets of the sacred ashes of Lord Buddha were enshrined here in Vaishali.
Kundalpur
It is believed to be the birth place of Lord Mahavira. According to the local people Jain Tirthankar, Lord Mahavira was born over 2550 years ago. He is said to have spent the first 22 years of his life here.
Raja Vishal ka Garh
A huge mound with a circumference about one kilometer and walls nearly 2 m high with a 43 m wide moat around them, is said to be the ancient parliament house. Over seven thousand representatives of the federal assembly gathered here to legislate and discuss the problems of the day.
Shanti Stupa
On the south bank of the coronation tank, built by Buddha Vihar Society.
Things to do at Vaishali: Vaishali mahotsava is held to celebrate the birth anniversary of the Jain Tirthankar, Lord Mahavira on the full moon day of the month of "Vaisakh" (mid-April). This is worth enjoying. If you visit during the summer don't miss this celebration.
You can also make a visit at several villages around Vaishali that make delightful home made toys. Sikki Work, the humble blade of grass is hand-woven into delightful baskets and mats. Lac bangles, these handmade lac bangles come from nearby city Muzaffarpur.
Nearby attractions at Vaishali:
Sonepur fair: Sonepur just 35 km is situated on the confluence of river Ganga and Gandak, hosts perhaps Asia's biggest animal fair, from Kartik full moon day (Oct-Nov). The Fair lasts for almost a fortnight. Millions of visitors come to this typical fair.
Best time to visit Vaishali: The ideal season to visit Vaishali is during winter. The temperature remains mild and soothing during winter. The summer is however scorching. The temperature rises around 45°C. So it is better to avoid that time.
How to go ?
There are three ways to reach Vaishali:
Air: The nearest airport is Patna (70 Km).
Rail: Hajipur on the north eastern railway station (35 Km) from Muzaffarpur Railway station (40 Km)
Road: Vaishali is well connected by road to Patna (56 Km), Muzaffarpur (36 Km) and Hazipur (35 Km).
[AdSense-B]
Where to stay ?
There is a government Tourist Bungalow at Vaishali. For booking details you may contact: +91-0622-285425.
Note : Phone numbers given above are according to the information available with us. If you find any contact number/s given above is/are incorrect or not in use, please let us know.
.
[AdSense-C]
http://tripsaround.in/wp-content/uploads/2014/06/Vaishali.jpg
525
700
TripsAround .in
http://tripsaround.in/wp-content/uploads/2013/04/logo.gif
TripsAround .in
2014-06-26 10:10:47
2014-06-26 10:10:47
Vaishali, Bihar - An archaeological place with large number of visiting destinations