[AdSense-A]
Taptapani located amidst the forests of Ganjam District of Orissa, is just 50 kilometres from Berhampur. The place is admired by the lush green hills and jungles washed by rains. Savour the magnificent sight of the distant hills tucked in clouds. Taptapani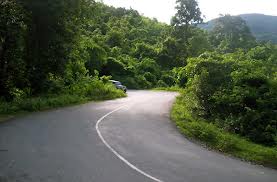 is mainly known for its natural hot sulphur springs whose water is considered to have medicinal properties and is capable of curing aches, pains and skin ailments like eczema and scabies. The place is surrounded by beautiful hills of the Eastern Ghats, inhabited by the ancient tribes of Orissa. Nearby it are a majestic Buddhist Monastery, a deer park and a Shiva Temple. This place is idyllic as a weekend destination, that can be visited with another great beach destination of Orissa – Gopalpur on Sea.
Places to see at Taptapani: In Taptapani, you can visit the Deer Park maintained by the Forest Department located nearby and visit temples like Sri Nilakantheswar Temple, and Kandimata Mandir. There are numerous small waterfalls, nameless rivulets, lakes and tribal villages all around. The other interesting place to visit is the Tibetan settlement and monastery.
However, most tourists visit Taptapani to take a dip into the Sulphur rich Hot Springs, which rejuvenates them with a renewed life-force. You can take long walks along the forest trails and highlands of Taptapani or just sit back in your hotel's terrace and enjoy the views of the distant hills and greenery.
Nearby Attractions of Taptapaani: Gopalpur on Sea – the famous beach destination with a famous light house is very near to Taptapaani. The light house at Gopalpur offers an amazing view of the sea and a part of the Chilika Lake. The other beaches of tourist attraction near Taptapaani are the Pati Sonepur beach located near the mouth of River Bahuda and the beach at Aryapalli. You can also visit the nearby temple of Taratarini surrounded by Rushikulya River and dedicated to the twin Goddess, Tara and Tarini. You can also visit Taptapani from Lake Chilka. The temple of Mahuri Kalua just 20 kms from Taptapani located on a hilltop with a panoramic view of the surrounding hills and valleys is breathtaking.
Things to do at Taptapani: You can take a long nature-walk along the picturesque landscape of the surrounding areas of Taptapani. A visit to the villages of tribal communities such as Kutia Kondh, Bonda, Dingara Kondh and Mali tribes can be interesting as you can also learn about the lifestyles of these tribal people. You can also visit Tampara, which is a large brackish lake with a water sport complex offering various water sports such as paddle boats, water scooter and more.
Best time to visit Taptapani: Taptapani is an all season destination and you can visit this place all round the year. However, to enjoy the dip in the hot water spring and to visit the nearby places, the most preferred time to visit Taptapani is between October and March.
How to go ?
From Kolkata, you can avail a train to Berhampur, the nearest rail station to Taptapani. From there, you can avail the option of taxis. Since Taptapani is situated on the State Highway connecting Berhampur with western Orissa, you can also avail the option of buses plying on the State Highway.
[AdSense-B]
Where to stay ?
The Govt. accommodation at Taptapani is the only accommodation available which is facilitated with Dining Hall, AC and Non-AC suites and bathrooms with bathtubs filled with water direct from the hot springs. For booking details you may contact:
OTDC Central Reservation Counter
Ph: 0674 – 2430764, 1800 208 1414 (Toll free).
Official website: www.panthanivas.com
Note : Phone numbers given above are according to the information available with us. If you find any contact number/s given above is/are incorrect or not in use, please let us know.
[AdSense-C]
http://tripsaround.in/wp-content/uploads/2014/04/Taptapani.jpg
461
700
TripsAround .in
http://tripsaround.in/wp-content/uploads/2013/04/logo.gif
TripsAround .in
2014-04-04 17:32:34
2014-05-15 12:47:40
Taptapani, Odisha - Lush green hills and jungles washed by rains