[AdSense-A]
Takdah is located in the Runglee Rungliot area of the Darjeeling District. It lies in the heart of the mountains and is just 27 km from the main city of Darjeeling. It is located at an altitude of 4000 feet. Here you can enjoy a stroll in the cedar and pine forests, and halt at a local orchid garden. You must drop at some of the famous heritage British bungalows and watch the local women pick tea leaves from the vast stretches of tea gardens. Takdah also called Tukdah was a British Cantonment area and you can still sees the fragments of the British Raaj in the bungalows and gardens of Takdah. In Takdah, you can stay at a heritage bungalow built in 1908 decorated with modern amenities for the tourists who want to make the days of the Raj alive once again.
Places to see at Takdah: There is a religious monastery or gumpha, (Dechhen Pema Tshoiling Monastery) centrally located in Takdah, just beside the caves of Mata Durga. This monastery and the caves were looked after by Rev. Lama Karma Gyaltchen (Bal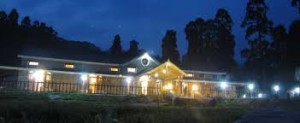 Me Me) till 1st May 2007. Other than these, there are the British Bungalows (locally known as Kothis) built mostly between 1905 and 1915. The most famous Colonial Bungalows of Takdah are the clubhouse, forest bungalow, Shikharini, Rani Kothi (presently a church), Att Number Kothi and the famous Sonpur Palace now in ruins. Some of the colonial bungalows have also been taken up by local schools like Green Shields and GriffithHigh School. There are around 12 colonial bungalows in Takdah. Flooded in colonial charm, Takdah is surrounded by larges stretches of pine forests and tea gardens like Runglee Rungliot, Takdah Tea Estate, Gielle, Teesta Valley and Namring. The Orchid Centre, Dokan Dara (local market) and the Durpin View Point are some other destinations where you can visit during your stay. Another interesting nearby place to visit is the 100 year old suspension bridge called Barbatey Bridge.
Nearby attractions of Takdah: The little village of Tinchuley, which enjoys some of the most beautiful views of Mt.Kanchenjungha is only 4 kms from the heart of Takdah. The famous orange orchards of Bara Mangwa and Chota Mangwa are around 12 kms away and the mesmeric views from Peshoke Tea Garden view point is 14 kms away. The newly – discovered Lamahatta village, which has great views of Kanchenjungha is around 12 kms away. You can visit the nearby destinations of Kalimpong (40 km) and Darjeeling around 27 kms away.
Things to do at Takdah: Doing nothing is what you should do when you are in Takdah. Going for sightseeing, taking a nature walk around the local villages and pine forests and enjoying a picnic in the lawns of the colonial bungalows are few other things you may like doing in Takdah. For tourists who have never seen a weekly village market, they will get to see this on Thursdays, when locals from nearby villages turn up to shop at Dokan Dara in Takdah. You can also see the collection of uncommon Himalayan orchids in the orchid centre of this cantonment town. A visit to the local Chagporti Tibetan Medical Institute can also be rewarding for all those interested in local culture. An early morning visit to nearby Durpin Dara viewpoint to witness the sunrise and Mt.Kanchenjungha in a cascading hue of gold with the river valley below can be the "moment" of your life.
Best time to visit Takdah: Takdah can be visited anytime of the year. The summers and the welcoming monsoons shroud the valleys and tea gardens of Takdah with lush greenery. The winter sunshine, the chill and sparkling weather in other times of the year makes it an ideal destination to escape the heat of the plains.
How to go ?
Takdah is very near to Darjeeling and you would get regular shared cars and buses from Darjeeling to Takdah. You can also avail shared cars from Ghoom to Takdah. Takdah is around 70 kms from Siliguri and you can also hire cars directly from Siliguri, NJP or Bagdogra.
[AdSense-B]
Where to stay ?
In Takdah, you can stay in a heritage British bungalow built in 1908. The present owners have restored its old glory and renovated it with some modern amenities like hot water geysers and western bathrooms. Run by a retired teacher and his wife, this bungalow has a lawn with a pair of fountains, a colonial verandah overlooking the plains and valleys and off course the quintessential fireplace to keep you warm during the evenings and help you to break a conversation with your hosts and fellow travellers. But a British Bungalow is not complete without a dog and so you have a nice gentle dog guarding the premises of this bungalow that is fortunate enough to get a new name every time a new guest arrives. Food is essentially home cooked delicious Indian cuisine served hot and fresh. The host can also serve English breakfasts and continental dishes. Lastly, the view of rising sun from the bedroom of this bungalow is unforgettable. For reservation purpose you can visit www.takdah.com
.
[AdSense-C]
http://tripsaround.in/wp-content/uploads/2014/05/Takdah.jpg
349
700
TripsAround .in
http://tripsaround.in/wp-content/uploads/2013/04/logo.gif
TripsAround .in
2014-06-18 08:36:40
2014-06-18 08:43:52
Takdah, North Bengal - 27 km from Darjeeling, here you can enjoy a stroll in the cedar & pine forests & stay at local orchid garden