[AdSense-A]
This hamlet in East Midnapore offers a beach to enjoy ourselves by escaping city life. We can laze around on the silver sand watching the sunrise or listening to the sound of crickets under the starry sky.
Mouth-watering snacks and fried fish served by the resorts are other attractions.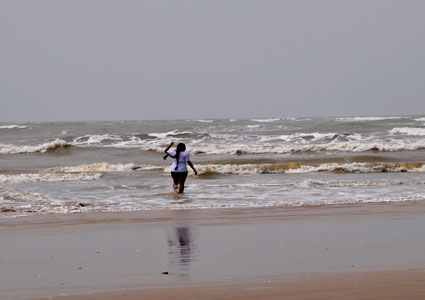 Tajpur is a sparsely populated fishing hub on the coast of the Bay of Bengal, 180km from Calcutta. The beach is lined with casuarina trees. Flying cranes and birds whose names are unknown give us the company as we feel the warmth of the sun and the coolness of the sea breeze on our face.
During low tide, the sea retreats nearly 2 km leaving behind colourful shells and stones that are a collector's delight on the muddy white sand.
It is safe to take a dip in the sea. Just you have to be careful about the stone chips that remain embedded in the sand.
Even if not swimming, you will not be bored. Just sitting on the shore alone or with the loved one is very pleasant.
While walking to a lagoon on the beach, it looks like a painting against the backdrop of the sea.
Those who are adventurous can have a boat ride up to Mandarmani.
Red crabs abound on the beach. From a distance, it seems as if a red carpet has been spread across the sand. The crabs disappear into their holes as soon as one gets close.
How to go?
Tajpur is near Contai, a town in East Midnapore. You can take an early morning express train from Howrah. The journey takes around two hours. Resorts arrange pick-up from the station. More transport options are available from the bus stand. Tajpur is 5 km from Chawlkhola crossing.
[AdSense-B]
Where to stay?
There are two private resorts.
Swapanpuri (9932696841)
Tajpur Retreat (9830705512/ 9830271064).
There is also a nature camp near the lagoon.
Contact Details:
Address: Balisai, East Medinipur, West Bengal 721428, Phone: 09831167537
It is better to stay away from the sea at night.
[AdSense-C]
http://tripsaround.in/wp-content/uploads/2014/02/tejpur-bengal-beach.jpg
314
900
TripsAround .in
http://tripsaround.in/wp-content/uploads/2013/04/logo.gif
TripsAround .in
2014-02-27 14:25:45
2014-05-15 16:33:41
Tajpur - The Virgin Beach