[AdSense-A]
Renowned for hot spring Bakreshwar is a place with its exotic natural beauty and is an ideal spot for weekend getaway. It is situated in the Suri Sub-division and is 18 km from South West of Suri the district headquarters of Birbhum. The serene beauty of the place really appeals the tourists so much that they make a plan to come back again and again to this eco-friendly place.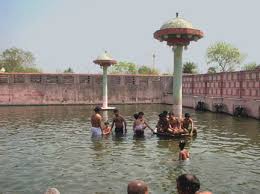 Places to see at Bakreswar: With utter serenity filled in the atmosphere, the main attraction of this place is the famous hot spring, which is a must visit for all. You can find a number of hot springs in the region, the temperature of which varies from 42 degree to 65 degree. Each hot spring is bestowed with individual names. You will also find a temple of Lord Shiva, located just beside the hot spring. You can locate some other temples as well in the area.
Nearby attractions from Bakreswar: Off late, many tourist groups are organizing a combined trip covering both Bakreswar and Shantiniketan, as Bakreswar is not too far from Shantiniketan. You can also visit Massanjore if you can afford some extra time, as the distance between Shiuri and Massanjore is 40 km. Bus services and rented cars are also available to facilitate the tourist in reaching Massanjore.
Things to do at Bakreswar: Take a bath in the mineral enriched water of the hot springs in Bakreswar, which is said to have several therapeutic effects. Nice arrangements of bathing have been made in the region.
Best time to visit Bakreswar: Though Bakreswar invites tourists all through the year, but the ideal seasons for visiting the place are monsoon, winter and spring.
How to go ?       
Avail the Hool express from Howrah at 6.40 am, which reaches Shiuri at 11.40 am. Mayurakshi Express also runs from Howrah to Shiuri. Buses are also available from Dharamtala till Bakreswar. You can also drive to Shiuri from Kolkata. Bakreswar is located quite close to Shiuri.
[AdSense-B]
Where to stay ?
Decent accommodation facilities are offered along with dining facilities by the hotels located in Bakreswar. One option is Bakreshwar Inn: (+91) 3462 274593, 09434147107.
Youth Hostel (Gov. of West Bengal):
Address: Directorate of Youth Services,
32/1, B.B.D. Bag (South), Standard Building,
2nd floor, Kolkata- 700001.
Ph no.: – 91 – 33 – 2248 – 0626, 2210 – 9206, 2210 – 6767
Website: www.wbyouthservices.in
Note : Phone numbers given above are according to the information available with us. If you find any contact number/s given above is/are incorrect or not in use, please let us know.
[AdSense-C]
http://tripsaround.in/wp-content/uploads/2014/05/Bakreshwar.jpg
346
700
TripsAround .in
http://tripsaround.in/wp-content/uploads/2013/04/logo.gif
TripsAround .in
2014-06-23 08:37:06
2014-06-23 08:37:06
Bakreshwar, South Bengal - Renowned for hot spring its a place with its exotic natural beauty & an ideal spot for weekend getaway