[AdSense-A]
Sumbuk located in South Sikkim is one of those parts of Sikkim where you will find nature in its pristine forms with profuse flora and fauna. The pine forests, gladiolas farms, monasteries, villages are tucked on the mountain slopes, valleys, countless birds, butterflies and Greater Rangit River has made Sumbuk a destination no lesser than paradise. Close to Namchi, Sumbuk can be reached within 2.5 hours from Siliguri. The place is not yet interrupted by the tourist crowds and few nature-loving travellers, who truly enjoy living in "no-frills" homestays consuming the local culture visit occasionally. The Sumbuk village is distinctly divided into two parts – Lower Sumbuk and Upper Sumbuk. Lower Sumbuk rests at a height of about 1500 feet and is shrouded with deep temperate forests rich in bird life like peacocks, hornbills and others. Upper Sumbuk has an altitude of 7000 feet and has a completely different vegetation and bird life. You can see endless stretches of fir and pine forests in Upper Sumbuk.
Places to see at Sumbuk: The dense forest at the Southern slope of Lower Sumbuk, which is famous as a Peacock Breeding forest is one of the prime attractions here. The banks of Rangit River, numerous Gladiolas Farms and few age-old temples make Sumbuk a very different type of attraction.
The Sumbuk Shivalaya Mandir dedicated to Lord Shiva is a popular place of worship by locals and mass prayers are often organized during the festive time. The Kolomple Rocky Mountain also has a nice viewpoint overlooking parts of Sikkim and Bengal. However, the show-stealer is the region of Upper Sumbuk at an altitude of 7000 feet. It takes around an hour to reach Upper Sumbuk from lower Sumbuk. Mungram Village also known as Phooldara (hill of flowers) has a wide variety of Rhododendrons, wild orchids, pines, wild strawberries blooming in different seasons of the year.
A huge tract of pine forest known as Dhupi covers most of Upper Sumbuk and you would find endless varieties of birds and butterflies here. Tamley Chaur, located just above Phooldara in Upper Sumbuk is covered in pines, rhododendrons, ferns, cinnamon and wild strawberries. From Tamley Chaur, you can enjoy a glorious view of the Himalayan ranges. There is also a beautiful lake located at the Tamley Chaur called Tamley Pokhri. The natural viewpoints of Upper Sumbuk offer panoramic views of Mt.Kanchenjungha, Darjeeling, Kalimpong and other parts of Bengal.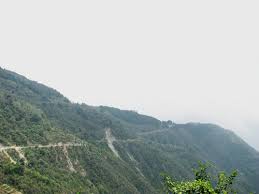 Nearby attractions of Sumbuk: Kitam Bird Sanctuary, beside the Lower Sumbuk is the only designated bird sanctuary in Sikkim. You can take a guided bird watching trip through these forests and enjoy spotting some rare birds and lots of peacocks. The town of Namchi is also nearby and its attractions like Chardham in Solophok and Samdruptse Monastery can all be reached within an hour from Sumbuk. Another great destination is the nearby village of Sadam, which is famous for the geological wonder – Tarey Bhir. It is a ridge 10000 feet long with an abrupt drop of 3500 feet. There is a path over the edge of the ridge on which you can walk and enjoy the enchanting views of River Rangit and River Teesta, Darjeeling, Kalimpong, Siliguri, Tendong Hill, Nathula, Jelepla and Mt.Kanchenjungha.
Things to do at Sumbuk: Birdwatching is the favourite activity of guests in Sumbuk. The southern slope of Sumbuk is a favourite habitat of the peacock and guests can easily spot them and photograph them here. Other common birds to be found here are Jungle Fowls, Kaleej Pheasant, Himalayan Flameback, Magpie, Forktail, Bulbul, Giant hornbills and the list is endless. You can trek along the banks of River Rangit and Manpur River in Lower Sumbuk and enjoy butterfly watching. Guests can also enjoy White Water Rafting in River Rangit. The rafting starts at Baguwa and ends at Champa – the stretch is almost 6 kms. You can also enjoy guided jungle walks and catch a glimpse of wild boars, barking deer and lots of peacocks. Guests can also enjoy village walks or enjoy a picnic in Phooldara.
Best time to visit Sumbuk: You can visit Sumbuk any time of the year. From March to May the weather is sparkling fresh and you can enjoy blooming of Rhododendrons too in Upper Sumbuk. In Sumbuk, the winters are mild and the weather is too good for bird watching. Migratory birds also visit Sumbuk during the winters. If you are planning to spend a few days in a destination where you would be the only outsider then Sumbuk can be your choice.
How to go ?
Sumbuk is  112km  from Siliguri that is well connected by rail and road.
[AdSense-B]
Where to stay ?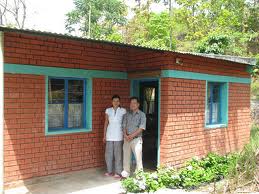 Unique Homestay facilities are available at Sumbuk with clean, comfortable and homely atmosphere. You can stay within the local community and understand their culture, beliefs and society. The homestay facilities have separate guest rooms and attached bathrooms for the guests and they provide facilities like electricity, clean and comfy beds and home cooked fresh food. Indian food is generally served but specific requests of the guests are always honoured by the hosts.
One option is the Prahlad Homestay: (+91) 9733106646, (+91)9733289566
Note : Phone numbers given above are according to the information available with us. If you find any contact number/s given above is/are incorrect or not in use, please let us know.
[AdSense-C]
http://tripsaround.in/wp-content/uploads/2014/04/Sumbuk.jpg
532
700
TripsAround .in
http://tripsaround.in/wp-content/uploads/2013/04/logo.gif
TripsAround .in
2014-04-28 13:55:30
2014-05-14 15:52:17
Sumbuk, Sikkim - Where nature is in its pristine forms with profuse flora and fauna