[AdSense-A]
My eyes glittered with joy as our car steered over the kaccha track of the Satkosia Tiger Reserve. The bright green forest  provided a natural abode for many exotic, birds animals and reptiles. I wanted to explore the forest  in the rainy season to avoid the tourists. If you are planning a short trip with your family or friends, this unexplored tiger reserve  can soak you with the aroma of  untouched  beauty. It is a heaven for nature lovers and bird watchers to enjoy the serenity of the jungle.
How to go ?
One can reach Satkosia by Bus or private transport from Cuttack or Bhubaneswar, via Angul. Nearest railway Station – Angul (60km). Train from Howrah to Angul  is  available but  runs only on Saturdays. Tourist are advised to hire a private car for traveling as well as sightseeing.
[AdSense-B]
Where to stay ?
Before you plan to spend your weekend in this tiger reserve, book for the forest  cottages prior to your journey. They provide nature camps at Chhotkei, Purunakot and Tikarpada. It is only through the forest department you can enjoy an overnight stay in this pristine forest. The camp at Tikarpada is located on the bank of Mahanadi River. This river is infested with mugger gharials and fresh water crocodiles. The forest department provides  packages for its tourist which includes accommodation, all meals, guide fees, trek inside the forest  and boating in the Mahanadi river. At chhotkei there are 10 neat cottages, which provide a good view of the jungle. People generally visit Tikarpada for Picnic purpose. If you are looking for peace, and want to stay away from the crowd, Chhotkei would be the ideal place and you never know you might get lucky enough to see elephants and deer right next to your balcony.
Reservation can be made at Ecotourism Cell,  Satkosia Wildlife Division, Hakimpada, Angul, Orissa 759143, India. Phone: 08763102681 Email: dfosatkosiawl@yahoo.co.in
You need to produce  proper  photo identity cards (PAN card, voter ID card etc) .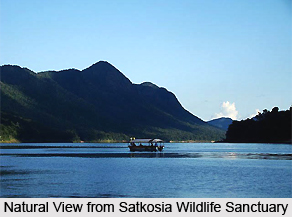 Roam Around
If you are planning your stay in Chhotkei your guide will take you to Tikarpada, Labangi forest and Hati Girja Watch tower. It is a good idea that you visit the later before sun set, as it requires a little trekking inside the dense forest. You never know your roads can be blocked by herd of elephants or deer. Don't forget to look for Malabar squirrels and exotic birds like  Indian horn bills on the trees. Labangi Forest is known for its beauty. Tourists are allowed to trek on the forest roads.
Best Time to Visit
Best time to visit this place would be  from Oct – Jan.
Chances of sighting elephants, deer and other wild animals near the waterhole increases during the summer season.
[AdSense-C]
http://tripsaround.in/wp-content/uploads/2014/03/satkosia-gorge5.jpg
499
750
TripsAround
http://tripsaround.in/wp-content/uploads/2013/04/logo.gif
TripsAround
2014-03-03 12:46:28
2014-05-16 11:13:27
Satkosia Tiger Reserve, Orissa