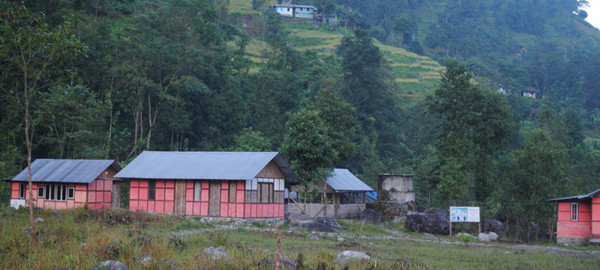 [AdSense-A]
If the heat and dust of the cruel Kolkata summer seems to be really sickening, a weekend at Reshi could be just what the doctor ordered.
The small village near the Bengal-Sikkim border is named after Reshi Khola or the river Reshi (khola in Nepali means a small stream) that flows through it. The mountains, greenery, colourful flowers and the silence are the hamlet's main draws. About 105km away from Siliguri, Reshi is situated at the foothills of the Himalayas in the Kalimpong subdivision, about 4,000ft above the sea level. After reaching New Jalpaiguri, we have to hire a car for the journey to Reshi.
The place is a feast for the lens. Waking up by the chirping of thousands of unknown birds along with the sound of the rippling waters of the Reshi, and having fresh organic produce for lunch and dinner will make our day. Besides we also get to watch the moon lighting up the crevasses in the mountains lying in bed in a wooden cottage at night. It is a pleasure for any urbanite to have this experience.
A variety of orchids and hundreds of other trees provide the green cover.  Fishing can be a good time pass. We can easily get trout during monsoon. The local people are trying to preserve the flora and fauna of the place as well as trying to generate electricity with the help of the government.
Biding goodbye to Reshi is almost like saying goodbye to a beloved. No one can help  without coming back again.
How to go ?
Reshi is about 105km from Siliguri. Cars are available for hire from New Jalpaiguri station. Reshi is also easily accessible from Algarah (21km) and Aritar (26km).
[AdSense-B]
Where to stay ?
There are a few eco-retreats like Reshi and Prakriti that offer moderately comfortable accommodation options.
Contact details:
Sebastian Pradhan : +91 9932 7444 07, +91 9932 6801 70, +91 9002 7742 20
Or visit www.reshikhola.com/Rishi-Hotels–and–Resorts.php
Note : Phone numbers given above are according to the information available with us. If you find any contact number/s given above is/are incorrect or not in use, please let us know.
[AdSense-C]
http://tripsaround.in/wp-content/uploads/2014/02/Reshi.jpg
401
600
TripsAround .in
http://tripsaround.in/wp-content/uploads/2013/04/logo.gif
TripsAround .in
2014-02-20 15:31:08
2014-05-16 17:00:41
Reshi - The place is a feast for the lens