[AdSense-A]
Long for a placid and relaxing atmosphere within orange orchards overlooking blue hills, white mountains and endless tea gardens? Then you must visit Rangbang. This is an ideal place to stay away from the hustle and bustle of city life for some days and also near to one of the most popular tourist attractions of Darjeeling Hills – Mirik. The curving village paths through tea gardens, horse rides along-with the long hikes, the chirps of unknown birds, the frisking small streams and mighty Mt. Kanchenjungha make Rangbang a heavenly haven for nature lovers.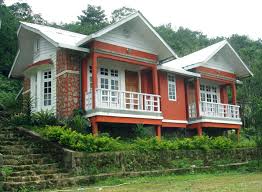 Places to see in Rangbang: The joyful Rangbang River passes through the hills, tea gardens, orange orchards and villages at Rangbang. You can trek or take horse ride from the Rangbang homestay and follow this beautiful river along its shores as long as you like. You can visit a naturally formed Rock Garden with some strange formations at Rangbang. A visit to Murmah Tea Garden would be a nice experience too.
You can also take a stroll or a horse ride to the Thurbo Tea Garden and rejuvenate yourself with the majestic views of the blue hills of "Nagari" and "Mangarjung." At Rangbang, there is a Roman Catholic chapel run by the Selesian fathers and there is a Buddhist monastery and a Kabir Panth Math too. There is a nearby Lepcha Gaon, where you can still see the traditional village lifestyle of the Lepchas. You can also visit the Tin Tangay Waterfalls located nearby.
Nearby attractions of Rangbang: The beautiful SumenduLake (popularly known as Mirik Lake) surrounded by forests with views of Mt.Kanchenjungha is the most popular attraction of Rangbang. All the attractions in and around Mirik like the temple of Shri Mangal Dham, Devi Sthan and the view points like Rai Dhap are all located within 4 kms of Rangbhang. The Ramitay Dara viewpoint offers the stunning views of mountains and the plains below and the Sunrise Point offers the magnificent sights of the sun rising over miles of tea gardens, orange orchards and Mountains are located nearby. The Bokar Monastery located on the way to Rameetay Dara, Jayanti Nagar, Pashupati Nagar, the Mirik Church and the Swiss Cottage are some of the places of attractions located very close to the Rangbang. Nearby tourist towns like Kurseong and Darjeeling attracts tourists from all over the world. On the way to Darjeeling from Rangbang, you can also check out lesser-known destinations like Bunkulung, Jorepokhri, Sukhiapokhri and Lepchajagat.
Things to do at Rangbang: There are no motorable roads in Rangbang connecting the village houses but cobbled footpaths that would remind you of fairy tales. So, morning and evening strolls would be ideal around Rangbang. You can go to the Mirik heliport in the early mornings to see the sunrise over Mt.Kanchenjungha. You can spend your evenings around the fireside hearing the forgotten stories of the demons and kings of the Himalayas from the locals. You can also enjoy Nepali folk music and dance. You can take pony rides to nearby tea gardens, arrange picnics on the shores of Rangbang River and visit the Rock Gardens to enjoy a beautiful view of the sparkling waters of Balason River and the endless stretches of paddy fields.
You can also spend a lazy day just reading your favourite novel at Rangbang or trek through the mountains and orchards along with a guide. Another special feature of Rangbang is the integration of different communities. There are Lepchas, Gurungs, Tamangs, Rais and Limboos. They have their own dialects and their own unique culture, food and lifestyle. One can experience village life in all its fullness.
Best time to visit Rangbang: You can escape the heat of the plains in summer and the winters are best for the oranges and beautiful sunrise.
How to go ?
Rangbang is only 3 kms from Mirik and can be reached by cars. Regular buses and taxis connect Mirik to Darjeeling, Kurseong, New Jalpaiguri and Siliguri. If you are traveling by air, you have to reach Bagdogra Airport, situated very close to Siliguri. From the airport, you can board a taxi or a bus to reach Mirik. From Mirik you can hire a local car to Rangbang. You would also get cars from New Jalpaiguri, Siliguri, Darjeeling or Kurseong to Rangbang.  By rail also, you need to get down at New Jalpaiguri station from where, taxis and buses leave for Mirik and Rangbang. It takes around 1.5 hrs to reach Rangbang from Siliguri.
[AdSense-B]
Where to stay ?
The Rangbang Homestay is a good option. For booking details you may contact: +91 09832913617. There are also many hotels and lodges in Mirik.
Note : Phone numbers given above are according to the information available with us. If you find any contact number/s given above is/are incorrect or not in use, please let us know.
[AdSense-C]
http://tripsaround.in/wp-content/uploads/2014/03/Rangbang.jpg
476
700
TripsAround .in
http://tripsaround.in/wp-content/uploads/2013/04/logo.gif
TripsAround .in
2014-05-02 22:55:32
2014-05-14 11:02:42
Rangbang, North Bengal - Land of Orange orchards, white mountains & endless tea gardens