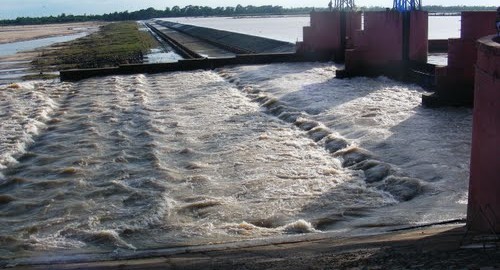 [AdSense-A]
Randiha is a homely tourist spot in the Durgapur subdivision of Burdwan district, about 10km from Panagarh on NH2 and about 19km downstream the Durgapur barrage.
A picturesque town on the banks of the Damodar, Randiha offers a beautiful mix of greenery and water.
You can spend the mornings with endless cups of tea, listening to the chirping of birds there. The tranquility of the place will make us aware of the sounds of nature. Trees are found laden with fruits taken over by flocks of woodpeckers, parrots, bulbuls and kingfishers.
The expansive Randiha dam is spectacular. It is amazing to see the fishermen feel their way around in the treacherous waves of the water with their home made nets and bundle them up their thrashing catch, a collection of silver carp, rohu and tilapia fishes.
In 1932, the Anderson weir was constructed at Randiha. With this, irrigation facilities reached the lower Damodar basin. This was even before the construction of dams by means of the diversion weir on the Damodar and Eden canal to the extent of 890 sq km in the districts of Burdwan and Hooghly.
At night, the sleepy town turns even quieter and we get to hear the nightbirds. The crickets accentuate the silence.
You have to leave the place with a resolve of coming back.
How to go?
You can take a train or bus to Burdwan and then reach Randiha by hiring a vehicle. You have to cross Panagarh Bazaar More.
[AdSense-B]
Where to stay?
The bungalow of the West Bengal government's irrigation and waterways department is the only place with proper facilities. Booking can be made at the department's regional office in Burdwan town.
[AdSense-C]
http://tripsaround.in/wp-content/uploads/2014/02/Rondhia-.jpg
375
500
TripsAround .in
http://tripsaround.in/wp-content/uploads/2013/04/logo.gif
TripsAround .in
2014-02-27 22:53:46
2014-05-15 16:23:27
Randiha - A picturesque town on the banks of the Damodar