[AdSense-A]
Puri is one of the most popular tourist destinations and also one of the major Char Dham pilgrimages. If you have not visited, the place it means that your pilgrimage tour of India is not complete. This place nestles on the eastern coast of Bay of Bengal in Orissa. It is the abode of the Lord of the Universe, Lord Jagannath. On your way to Puri don't miss the appliqué handicraft work at Pipili village. All these attractions make Puri the hub of the tourist.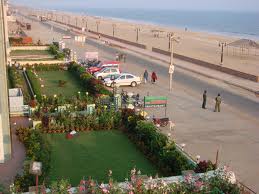 Places to see at Puri: The major attraction of Puri is the Jagannath Temple. Built in 11th century, this temple is considered one of the 4 major dhams of pilgrimage for Hindus. In this temple only Hindus are allowed to enter and offer puja. You can offer pujas, in the Jagannath Temple and the Shani Temple, and enjoy the prasad and bhog of this place. Other places to see are Shankaracharya's Gobardhan Pitha, which is a Hindu math.
The cremation site of Swargadwar, means the Gateway to Heaven, Sunara Gaurang Temple, Chakra Tirtha Temple, Bedi Hanuman Temple, Mausima Temple, Shree Gundicha Temple, where Rath Yatra ends and Shree Lokenath Temple, where the half submerged Linga of Lord Shiva is present, signifying his hiding from Shani are the places you can visit. The golden beach of Puri is another attraction that drives people to come to this place again and again.
Nearby attractions of Puri: There are many places to visit that are close to Puri, like the Chilka Lake, Sun Temple of Konarak, Alarnath Temple, Chandrabhaga Sea Beach, Satapada Dolphin Sanctuary, Raghurajpur that is known for Patta Chitra and Pipili renowned for appliqué work. Other places of interest are Lingaraja Temple and Bhubaneshwar's other temples, caves of Khandagiri and Udayagiri, Ashoka's Dhauli rock edicts, Atri sulphur spring, Chandaka elephant reserve, Balihar Chandi Temple, Yogini shrine of Hirapur and Nandankanan sanctuary.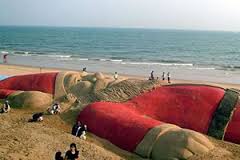 Things to do at Puri: In Puri the sightseeing is the best thing to be done. The place has a wide range of touring spots, which invites people to spend an eventful weekend. The golden beach of Puri is an ideal spot for swimming and surfing. You can even choose to relax on the Puri beach, which is also a popular choice among travellers. The Ramchandi Temple is a popular picnic spot for tourists as well. You can also take a long drive on the Puri Konark Marine Drive that goes through many isolated beaches.
Best time to visit Puri: Tourists can visit Puri all throughout the year, as the temperature remains moderate in this coastal region. There is a huge festival of Rath Yatra in July, when thousands of pilgrims come to get darshan of Lord Jagannath.
How to go ?
Puri can be reached via roadways by covering a distance of 540 km from Kolkata through Bhubaneshwar. From Kolkata Bhubaneshwar can be reached by taking on the National Highway No.5 and from there taking the State Highway No. 8 you can reach Puri. It takes 2 hours to reach Puri from Bhubaneshwar on car.
You can also ride any of the fast and super fast trains that connect Kolkata to Puri, like the Howrah-Puri Sri Jagannath Express or the Howrah- Puri Express and others. Both the trains cover a distance of 502 km and takes about 9 hours. You can also reach Bhubaneshwar by air. The airport of the State capital at Bhubaneshwar is something 60 km from Puri and is connected by regular flights.
[AdSense-B]
Where to stay ?
There are numerous hotels in Puri where you can relax and savour various delicacies. Some options are:
Puri Hotel : +91-06752 222 114 Website : www.purihotel.in
Victoria Club Hotel: +91-06752 – 222005 / 222920 Website: www.victoriaclubhotel.com
Along with private hotels OTDC run tourist lodge is also a good accommodation option in Puri. For booking details you may contact:
Central Reservation Counter, OTDC : +91-0674–2430764
Official website: www.panthanivas.com
Note : Phone numbers given above are according to the information available with us. If you find any contact number/s given above is/are incorrect or not in use, please let us know.
[AdSense-C]
http://tripsaround.in/wp-content/uploads/2014/04/Puri.jpg
520
700
TripsAround .in
http://tripsaround.in/wp-content/uploads/2013/04/logo.gif
TripsAround .in
2014-05-02 16:03:42
2014-05-14 11:09:13
Puri, Odisha - One of the most popular tourist destinations and also one of the major Char Dham pilgrimages