[AdSense-A]
The blend of tranquil nature and the touch of Sunderbans, that's what Piyali Island is. A small bridge over river Piyali will take you to Piyali Island. This island is covered by two rivers Matla and Piyali. The Piyali River actually flows through the Island and then mixes with Matla River. Regarding the accommodation facility there is only one tourist lodge in this island having well-supported infrastructure for tourists. In the Piyali Island there are many things which you can do like taking a nature walk, enjoying a boat ride, bird watching, enjoy in the gardens and enjoy the true essence of the village life.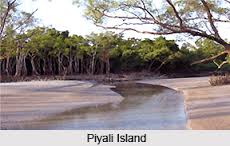 Places to see at Piyali Island: The Island itself is the main attraction with its paddy fields, flowing Piyali River, sparse jungles, Matla River, the mangrove forest on the banks of the island and village life. Some migratory birds also flock to the coats of Piyali Island during winters.
Nearby attractions at Piyali Island: Enjoy a trip to the nearby destinations like Jhorkhali and Kaikhali from Piyali Island.
Things to do at Piyali Island: There is only one privately run tourist lodge in Piyali Island, which has nice arrangements for overnight staying. You can enjoy in the gardens, take a wilderness walk, enjoy a boat ride and do some bird watching. The village life surrounding Piyali Island can also be relished. Moreover, Piyali Island is also famous for organizing educational tours.
Best time to visit Piyali Island: You can arrange for a tour to Piyali Island any time of the year but the winters would be a nice time to watch the birds.
How to go ?
Piyali is located at a distance of 75 km from Kolkata. While travelling by car, cross the Baruipur Railway gate and take the right hand road leading to Gochoron crossing. From there, drive to the Barasat crossing. Turn left to reach the Mohishmari crossing. If you are travelling by train, get down at the south Barasat station. Shared trekkers are available on the spot that will take you to Piyali Island.
[AdSense-B]
Where to stay ?
There is a splendid tourist lodge named Piyali Island Tourist Lodge offering nice accommodation facilities. Decent dining facilities are provided in the lodge. For booking details you may contact: +91-9433435181.
Note : Phone numbers given above are according to the information available with us. If you find any contact number/s given above is/are incorrect or not in use, please let us know.
[AdSense-C]
http://tripsaround.in/wp-content/uploads/2014/05/PiyaliIsland.jpg
489
700
TripsAround .in
http://tripsaround.in/wp-content/uploads/2013/04/logo.gif
TripsAround .in
2014-06-03 15:45:55
2014-06-03 15:51:22
Piyali Island, South Bengal - The blend of tranquil nature and the touch of Sunderbans