[AdSense-A]
Want to get lost amidst nature, wish to feel the love of nature or paint your thoughts in the green canvass of nature ? Then Bibhutibhushan Wild Life Sanctuary (Parmadan Forest) is an ideal place for you this weekend. It is here where the chirps of melodious birds will steal your heart and you can ask nature in complete wonder "how did you become so beautiful that made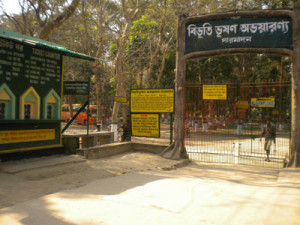 me stunned?". The marvellous greenery of the forest will definitely bring your youth back and so get ready to challenge your age. Insert the earphone and in a very low volume listen to the sweet melody of the music. Your mind and body will definitely wave in its rhythm after seeing the panoramic beauty of nature, which is a feast for the eyes.
Places to see at Parmadan forest: It seems that nature has generously bestowed the place with all her beauty by decorating it with magnificent landscapes. The deodhar trees stand in a straight line in the midst of Sal and Shegun trees. The sweet whistles of parrots will entertain you all throughout. This place is ideal for the shutter-bugs as it houses various species of birds including the sun-birds. You may also catch the glimpse of scared monkey who might run away after seeing you. The imprisoned Macaw, peacocks, and the adjoining children's park really makes the place eco-friendly. It is also adorned with many other things. There is a deer park inside the sanctuary which is a home to around 150 deer. Do watch the bee hives on the trees and observe their movements after they collect the honey. The bowed bamboo trees which have created their own shelter will also amaze you. The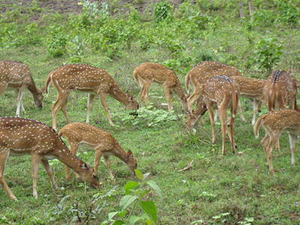 view of the meandering Ichamati River beside the deer park is also breath-taking. The village huts on the opposite side of the river complete the whole scenery. Lock all these portraits in the camera of your heart. The site of the fishermen throwing their fishing nets will also enthral you.
Things to do at Parmadan Forest: It is a perfect picnic spot. You may also go for a boat ride in the heart of Ichamati River. If you want to do nothing then just wander around the whole sanctuary and refresh yourself by breathing its bracing breeze.
Best time to visit Parmadan Forest: You can visit the place throughout the year. However it is better to avoid the place for picnics during the monsoon. The winter is the ideal time to visit the place.
How to go ?
By rail: Take a train from Sealdah or Ranaghat to reach Bongaon. A rickshaw ride from Bongaon will take you to Motiganj. Take a bus or auto from there to reach Kolombagan. From there take a van to reach Noldugri. Parmadan Forest is just 2 minutes walk from there.
By Bus: Buses departing for Duttapulia will take you to Kolombagan from where you can reach Parmadan forest via Noldugri.
By Car: Drive along Jessore Road to reach Motiganj. Take a left to reach Kolombagan from there or from Duttapulia reach Noldugri.
[AdSense-B]
Where to stay?
There is a WBFDC tourist lodge in the sanctuary with dinning facilities. For booking details you may contact:
West Bengal Forest Development Corporation Limited
6A, Raja Subodh Mullick Square, 7th – Floor, Kolkata-700013
Ph No. : 033-2237-0060/ 2237-0061/ 2225-8549
Website: www.wbfdc.com
There are no other eateries and lodges available nearby.
Those coming for picnics can hire the gas ovens and other equipments required for cooking from outside. There is a big hoarding outside the sanctuary.
Trip tips: Do not forget to book the tickets before entering the sanctuary. Entrance fee: Rs. 60. For picnic you will have to pay Rs.5 extra per person. You need not bear any expenses for arranging the picnic. Carrying any sound system here is prohibited. For boat rides you have to make the arrangements of your own. Boat riding is not arranged by forest department. Carry mosquito repellent with you for night stay. Don't forget to carry the medicines for urgent requirements as there are no medicine shops nearby.
Green tips: Try not to make noises inside the forest. Don't disturb the birds or pick anything from plants. If you want to enjoy the taste of the fresh fish then you can take it from the fisherman. Avoid carrying plastic bags or throwing plastic goods.
Total Cost: For picnic it costs Rs 200 per person (including travel expense). For night stay in lodges it requires Rs.200-300 (per person). Total expense for a whole day and night is Rs. 600 approx (per person).
Note : Phone numbers given above are according to the information available with us. If you find any contact number/s given above is/are incorrect or not in use, please let us know.
[AdSense-C]
http://tripsaround.in/wp-content/uploads/2014/04/bhushanwildlife.jpg
393
700
TripsAround .in
http://tripsaround.in/wp-content/uploads/2013/04/logo.gif
TripsAround .in
2014-04-18 18:01:57
2014-05-14 17:15:15
Parmadan Forest, South Bengal - An ideal place for you this weekend