[AdSense-A]
Netarhat, resting on the Chotanagpur plateau in Jharkhand, is an ideal weekend getaway for its charm and beauty. The lush green vegetation of the place, the hillocks and the barren rocks justifiably makes the place "Queen of Chotanagpur". It is located at a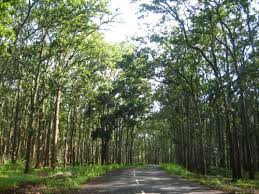 height of 3,700 feet above sea level. This place will rejuvenate all your senses with its cool refreshing breeze. The mesmerizing sunrise and sunset from the hills and viewpoints of Netarhaat is really enthralling. Netarhat was truly a favourite spot of the British. One can still recollect the memories of the British Raaj as one gets the view of the pear orchards, manicured gardens, churches, colonial buildings and numerous sunset points here that keep the memories of alive.
Places to see at Netarhat: Netarhat is primarily known for its panoramic landscape, calmly ambience and wonderful climate. There are patches of sal and simul forests dotting the region with occasional pines and cypresses planted by the British reaching out to the sky. Seasonal flowers are grown all through the year and the weather and soil of this region is apt for growing fruits like peaches, lemons and even apples. The beautiful Koel River and its tributaries – Amanat and Auranga skirts its way through Netarhat creating beautiful landscapes. A number of winding small streams also bound the region. The sunrise and sunset seen from the viewpoints of Netarhat is truly a wonderful experience.
Nearby attractions of Netarhat: The place includes a number of nearby tourist attractions. The Upper Ghagri Water Falls, located 4 kms from Netarhat is a major picnic spot. The Netarhat Dam also creates a nice small waterfall. The Lower Ghagri Water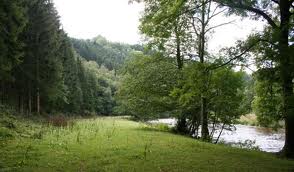 Falls located 10 kms away from Netarhat is a delight to watch. The stunning waterfall leaps from a towering height of 320 feet. If you want to savour the excellent view of sunset, make a trip to Magnolia Point, located some 10 kms from Netarhat. You can also travel to the Koel View Point, located 3 kms from Netarhat. However, to savour the beauty of the highest fall in Jharkhand, Lodh Falls, you need to travel almost 60 kms from Netarhat. The Sadni Falls located 35 kms from Netarhat is also equally appreciable. Destinations like Gaya, Bodh Gaya, Ranchi, Daltongunj and Rajgir are also closer to Netarhat.
Things to do at Netarhat: Explore the entire region of Netarhat, full of natural resources. Do not miss the spectacular sunrise and sunset. If you are an adventure lover, you can hike the Burhaghagh, the second highest fall of Jharkhand. Less adventurous ones can visit the local Netarhat public school established by the British, visit any local fruit orchard or take a long nature walk.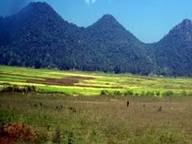 Best time to visit Netarhat: You can visit this Netarhaat any time of the year. However, the summer at Netarhat is quite cool offering a pleasurable climate. It can well be said that Netarhat is the coolest region in the entire state of Jharkhand.
How to go ?
Netarhat is located at a distance of 160 kms from Ranchi. So you can avail bus services from Ranchi and Daltonganj to Netarhat. You can also drive from Ranchi along the NH23 to Sisai and then cross Ghaghra and finally reach Netarhat.
If you travel by train then you have to reach upto Ranchi station which is connected with all major rail routes in India.
[AdSense-B]
Where to stay ?
In Netarhat, Jharkhand Tourism's Prabhat Vihar is the most popular and well-equipped accommodation. It has one of the best sunrise points in Netarhat and offers excellent views of the surroundings. Dining facilities are excellent here, which mainly comprises ethnic Indian cuisine. However, Western styled food is also served here. For booking details you may contact:
Prabhat Vihar: (6569) 277628 /9431528751. Kolkata Booking: Tel: 22259639.
Note : Phone numbers given above are according to the information available with us. If you find any contact number/s given above is/are incorrect or not in use, please let us know.
[AdSense-C]
http://tripsaround.in/wp-content/uploads/2014/04/Netarhat.jpg
509
700
TripsAround .in
http://tripsaround.in/wp-content/uploads/2013/04/logo.gif
TripsAround .in
2014-04-10 22:45:25
2014-05-15 11:15:52
Netarhat, Jharkhand - The Queen of Chotanagpur