[AdSense-A]
Nathang Valley or Gnathang Valley is a plateau having high altitude in East Sikkim. Perching at an altitude of 13,500 feet above sea level, the plateau is covered by mountains on all sides; this is a remote valley with a meandering stream criss crossing it. Nathang is the highest location in the Indian part of the Old Silk Route. One of the remotest Tibetan habitations in Himalayas, Nathang Valley usually remains snow covered from January to April. The long four-month of sub-zero temperature makes the valley a cold desert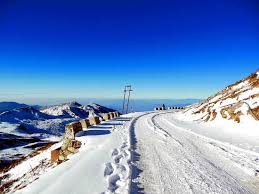 and one of the most beautiful parts of Himalayas. Few homestays with modern facilities have been built recently with the aid from the Government by the local villagers for tourist accommodation. The most wonderful destination in the whole of Old Silk Route is Nathang Valley and the sunrise points of Lungthung and Eagles Nest Bunker are only 5 km from here.


Places to see at NathangValley: There is a local Hindu temple, a small Buddhist monastery, few houses, some migratory birds, a stream snaking through the valley and a small bridge over the stream in the distance – Nathang is as close as you can get to paradise.
The sunrise points of Lungthung and Gyamochen are just 5 kms from Nathang valley. The whole of Mt.Kanchenjungha range with all its allied peaks can be seen from here. The sun rises over Bhutan, it washes the whole of Bhutan and parts of China with its early rays and reaches Kanchenjungha to turn it crimson and you stand in the middle to witness the magic called "creation." This heavenly experience can be witnessed from these sunrise points.
If you want to see the longest view of the entire Eastern Himalayas, with Bhutan, China, the hills of Bengal including Darjeeling, the entire  Kanchenjungha range and River Bramhaputra meandering across China and entering India, then you have to trek uphill for 10 minutes to reach the Eagle's Nest Bunker. This is an abandoned Bunker of the army and located strategically on a hill top with a 360 degree complete view of the Himalayas. You can still see bullet marks in the bunker walls, which bears the testimony of the Indo-China war. Within 5 kms of Nathang Valley, these sunrise points can be reached within 20 mins from Nathang. However, from other spots in this Old Silk Route like Zuluk or Padmachen, it takes around 1.5 hours to reach the sunrise points. Nathang is the most scenic and strategically located spot in the Old Silk Route.
Nearby attractions of Nathang Valley: You can take local sightseeing tours to Zuluk (24 kms away). The panoramic view of winding roads across Zuluk (also spelt as Dzuluk) with 32 turns is an interesting sight. Lungthung – Dhupidara also has a great view of Kanchenjungha and so does Thambi View Point and Tukla Valley. From Nathang, you can also move ahead following the GN Road and reach Kupup Lake (also known as Elephant Lake or Bitan Cho) at 15,600 feet above sea level. Some of the most sacred and scenic lakes like Jorepokri, Green lake, Changu lake and Menmecho Lake all fall within 25 kms of Nathang and can be covered in local sightseeing tours. You can also take a trip to the Nathula Pass at 14,400 feet above sea level to witness the border gates of India and China. There is a cafe at 14,000 feet at Nathula  Pass.
Gangtok is around 60 kms from Nathang Valley. There is the Old Baba Mandir (which was the original bunker of Baba Harbhajan) near Kupup Lake. There is an interesting belief about this temple. Baba Harbhajan was an Indian army soldier who died near the Nathula Pass. He is revered by the soldiers of the Indian army, who have built a shrine in his honour. Baba is believed to have granted favours to the soldiers, and guard each one in the inhospitable terrain. There is a new Baba Mandir near Changu (Tsomgo Lake) dedicated to Baba Harbhajan too. Another interesting destination near Nathang is the Four Lake Point from where you can see the four sacred lakes of Sikkim.
Things to do at NathangValley: You must visit to the local monastery and temple. A ride on a yak or horse across the valley or making a snowman is some of the activities you can take part here. You can also trek to Changala View Point around 4 kms from Nathang to experience one of the most mesmerizing views of River Bramhaputra meeting River Teesta and the vast plains of China, Bengal and Bhutan. Bird and Butterfly watching in summer, when the valley is drenched in colours of all shades is another activity to take up. In October and November Nathang Valley exudes different colours during the day. You can witness this change of colour over the valley sitting in your homestay balcony throughout the day. If you are a food fanatic then you can try local Yak Milk Cheese (Chupri) and some other interesting traditional Tibetan Yak herder's dishes.
Best time to visit Nathang valley: If you are in Nathang between January and April, then it is covered in 3 feet of snow. Nathang is shrouded with wild flowers from June to September after the snow thaws and the whole valley is covered in a golden hue of the grassland from September to January.
How to go ?
You have to reach Gangtok first which is well connected by both rail and road from all parts of India. Hire a car from there to reach Nathang Valley which is only 60 km from Gangtok.
[AdSense-B]
Where to stay ?
There are traditional as well as modern homestays in Nathang valley for the tourists. The recently-built Government aided pucca homestays are concrete buildings with modern facilities like cushioned beds, room heaters, solar water heaters, 24-hour electricity, attached western bathrooms and endless supply of blankets and quilts to fight the chill. There are separate dining areas for the guests within the building and Televisions in common room. You may not call it luxury but it is the best accommodation in the whole of Old Silk Route circuit.
The two popular home-stays at Nathang Valley are:
Dafter Bungalow and Phinasa Lodge.
At this time we do not have any contact information of these home-stays.
Note : Phone numbers given above are according to the information available with us. If you find any contact number/s given above is/are incorrect or not in use, please let us know.
.
[AdSense-C]
http://tripsaround.in/wp-content/uploads/2014/04/Nathang-Valley.jpg
313
700
TripsAround .in
http://tripsaround.in/wp-content/uploads/2013/04/logo.gif
TripsAround .in
2014-04-28 12:06:38
2014-06-18 22:47:13
Nathang Valley, Sikkim - A plateau having high altitude in East Sikkim covered by mountains on all sides