[AdSense-A]
Located on the banks of the Murti River in Dooars, Murti is a quaint tourist spot. This is an idyllic place is for spending some days in a placid environment. The Murti River is right place for finding some serenity and peace.  This is a place nature lovers and bird watchers. You can enjoy taking a dip in the crystal clear waters of Murti River. This river is a home of multiple fishes. So take the pleasure of fishing here whenever you like. Here camping and hiking are the most popular activities. The Gorumara National Park, which is an abode of Indian Rhinos, Wild Elephants and various bird species is just a stone's throw from Murti.
Places to see at Murti: Murti village is located beside the banks of Murti River and it is very close to Chapramari forest and Gorumara National Park. In fact, Murti River is one of the main rivers skirting right through the middle of Gorumara National Park.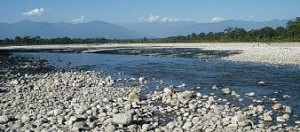 Nearby attractions of Murti: The entire Dooars range of forests can be reached from Murti. Forests like Gorumara, Chapramari, Chukchukia, Khunia and Chalsa are located near to it. You can also visit nearby hill destinations like Jhalong, Bindu and Paren. Samsing, Suntaleykhola and few other spots like Mouchuki marking the fringes of other jungles like Neora Valley N.P are also located nearby.
Things to do at Murti: Camping, angling and hiking are the two most popular activities in Murti. This place is also ideal for the bird watchers who will have a great time too. You can also enjoy jungle safari in Gorumara N.P and other nearby forests from Murti.
Best time to visit Murti: Murti can be visited any time of the year. However, if you are planning for jungle safari then avoid the monsoons because the jungles remain closed during the rains.
How to go ?
You can reach Murti from New Mall Junction Railway Station. If you are traveling by air, then the nearest airport is at Bagdogra from where you can hire cars to reach Murti. Murti can also be reached from Siliguri or New Jalpaiguri Station (NJP) by hiring cars.
[AdSense-B]
Where to stay ?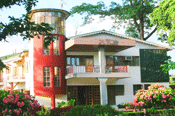 You won't find many hotels in Murti because it is a very small village tucked within a bend of the Murti River. There are a few basic budget hotels and a couple of very nice, well maintained private hotels with all modern facilities. Food is served in the hotels which mainly comprises Bengali cuisine. There is a Government run accommodation at Murti. For booking details you may contact:
Department of Tourism, Government of West Bengal
2, Brabourne Road, Kolkata – 700 001
Phone : 033-2225 4723/4724, (033) 22436440, 22488271
Online Booking : www.wbtourism.gov.in / www.wbfdc.com
Some other options are:
Resort Murti
Ph:+91 9002626093 
Hotel Prime Murti
Ph: + 91 (33) 64540454 / + 91 9163 3927 13
Note : Phone numbers given above are according to the information available with us. If you find any contact number/s given above is/are incorrect or not in use, please let us know.
[AdSense-C]
http://tripsaround.in/wp-content/uploads/2014/03/Murti.jpg
525
700
TripsAround .in
http://tripsaround.in/wp-content/uploads/2013/04/logo.gif
TripsAround .in
2014-03-23 09:21:27
2014-05-15 13:35:11
Murti, North Bengal - An idyllic place for spending some days in a placid environment