[AdSense-A]
Mukutmanipur is an ideal retreat of escaping to the ultimate serenity perfectly. To spend a weekend in this beautiful place for complete relaxation of souls is worth. A huge water body surrounded by hills and forests that changes its colour in different seasons is the main attraction of the place. Mukutmanipur is the right place for those people who want a combination of some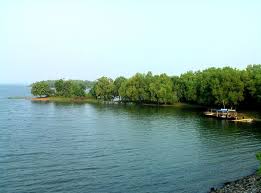 adventure along with relaxation. It rests at the confluence of two beautiful rivers, Kumari and Kangsabati, in the Bankura district of the state of West Bengal. This beautiful destination is also an ideal picnic spot that attracts hoards of picnic crowds. This serene place is also renowned for housing the second largest water barrage across India that canalizes Kumari and Kangsabati Rivers into the 3 districts of West Bengal – Medinipur, Purulia and Bankura facilitating irrigation during the summer time.
A boat ride in this huge water body almost gives you the feeling of being in the middle of ocean.  Enjoy the exquisite beauty of nature along with different species of seasonal birds in the Bonpukuria Deer Park. Mukutmanipur is also equipped with proper lodging facility that makes it a perfect tourist hub.
Places to see at Mukutmanipur: Boarding on a small boat, to enjoy the serene ocean-like beauty in the middle of the water body formed by the union of Kangsabati and Kumari River is really charming. There are some tiny rocky islands in the water which gets submerged in the rainy seasons. You can hire a motor boat and a van rickshaw to visit the Bonpukuria Deer Park nearby which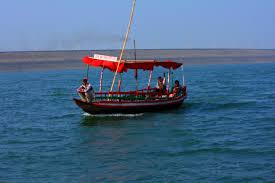 is often flanked by varieties of seasonal birds. The entire length of the dam is 11 km. A trekker or auto rickshaw can be hired to travel over the dam top road for 6 km to visit the confluence of River Kumari and Kansabati. This earthen dam was built with the sole purpose of providing irrigation facilities to agricultural land. The dam measures 38 meters in height with a lake spanning 86 Sq km. Thick virgin forest and verdant hillocks flanking the azure lake create a breathtaking view at the site. Owing to its splendid spectacle, the area has developed into an attractive weekend spot. This colossal dam nestles 2 km away from the Bangopalpur Reserve Forest.
The famous Bangopalpur Reserve Forest is the home of different species of flora and fauna and is worth exploring. You will find the ancient town of Ambikanagar, around 4km away from the dam. In ancient time, this town was the pilgrimage centre of the Jains. Remnants are still found at the site. The place also houses the Ambika Devi Temple, where shondha-arati(evening-worship) begins at 7 p.m. Set out early, so that you can also visit the Rajbari(king's Palace) of Ambikanagar. Ambikanagar is also famous for its exotic tribal handicraft. Local tribes make wonderful handicrafts using bamboo sticks and grass, which you can buy as gift or souvenirs.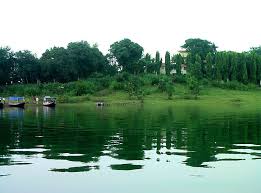 A visit to the Bonpukuria Deer Park will allow you to watch some of the rare seasonal bird species. Among the places of interest in the town, the Palace of King Raicharan is also mention worthy.
Nearby attractions from Mukutmanipur: Among some nearby places of attraction are the palace of King Raicharan, Parshwanath Tila and the Statue of Pareshnath. Pareshnath Hills have quite a number of stone statues on top of it. Another very important landmark near Mukutmanipur is Ambikanagar which is a very old centre of Jain culture. You can make a trip to Jhilimili from Mukutmanipur, another attractive tourist spot. Covered by the nature the beauty of Jhilimili offers feast for the eyes. The place attracts plenty of tourists every year.
Things to do at Mukutmanipur: The town of Mukutmanipur is like a perfect scenery providing rest to the eyes of the urbanites. A small boat ride in the river is an excellent idea to enjoy the spectacular beauty of the surrounding. Moreover, a visit to the Bonpukuria Deer Park can help you see some rarest of seasonal bird species. Savour the local Bengali cuisines served at many eateries of the place. Enjoy drinking the authentic date juice, if you are visiting Mukutmanipur in winter. The exquisite Dokra and earthen work of the place is very famous and you can always buy them at pocket-friendly price.
Best time to visit Mukutmanipur: You can visit Mukutmanipur any-time of a year. During the monsoon (July and August) the lock gates of the dam generally remain open.
How to go ?
The closest railway station of this destination is Bankura. You can board the Rupashi Bangla Express from Howrah to reach Bankura from where you can either take a bus or hire a car to reach Mukutmanipur which is only 45 km away. By car, you can take left from Durgapur to reach Beliator which is 26 km away, from where you should take the Bankura Bypass to reach Mukutmanipur via Khatra crossing. You can also take a direct bus to your destination leaving at 9 in the morning or 9 p.m from Dharamtalla in Kolkata. It takes around 7 hours from Kolkata to reach Mukutmanipur by bus.
[AdSense-B]
Where to stay ?
WBTDC runs three lodges in Mukutmanipur namely Pancha Pally Tourist Complex, Sonajhuri Prakriti Bhraman Kendra, The West Bengal Forest Development Corporation Resort. For booking details you may contact:
Tourism Centre (Kolkata)
3/2, B.B.D. Bag (East), Kolkata – 700 001
Phone : +91-(033)22436440/22488271
Website: wbtourism.gov.in
There are also some private hotels and resorts available for tourists. These places of stay also offer decent dining facilities. The accommodation at Mukutmanipur is equipped with facilities like bar, dining hall, lawn, gardens, 24 hour power supply, car parking and other standard facilities. The spacious and airy rooms are facilitated with attached western bathrooms, hot water geysers, wardrobes, TV, AC. There are double bed and triple bed rooms available at Mukutmanipur hotel. Few options are:
Peerless Resort: +91 099 32 292869  ( www.peerlesshotels.com )
Hotel Aparajita:(+91)-3243-253355, +91-9434224674
Note : Phone numbers given above are according to the information available with us. If you find any contact number/s given above is/are incorrect or not in use, please let us know.
,
[AdSense-C]
http://tripsaround.in/wp-content/uploads/2014/06/Mukutmanipur.jpg
450
700
TripsAround .in
http://tripsaround.in/wp-content/uploads/2013/04/logo.gif
TripsAround .in
2014-06-18 23:22:25
2014-06-18 23:26:24
Mukutmanipur, South Bengal - A huge water body surrounded by hills and forests that changes its colour in different seasons