[AdSense-A]
Monglajori or Monglajodi, a village of bird protectors is located about 60 km. southwest of the city of Bhubaneshwar off NH5 and 4 km. southeast of the Tangi town. It nestles in the Khurda district of Orissa. The region is primarily a marshy land consisting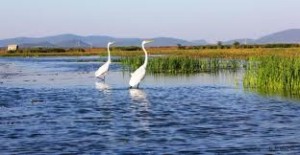 of fresh water, and spotted at the northeastern corner of the Chilka Lake. This wetland of Monglajori is fed by a number of channels crossing the reed beds along the brackish water of the Chilka Lake. The area is covered with lush vegetation and reed beds, comprising mostly of Phragmites karka and Typha angustata. The prime channel flows from north to south for around 3 km. and features a nature track, running parallel to it for around 2 km. ending in a watchtower.
'Mongaljori Ghera' is a refuge of the waterfowl, which attracts a number of winter migrants. Monglajori, recognized as an IBA, supports around 200,000 – 300,000 waterfowls during the winter along with populations of around 15 other species, exceeding 1% of their bio-geographical population. The population includes Red-crested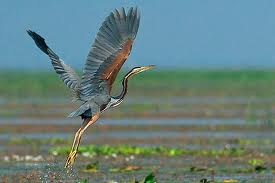 Pochard, Tufted Duck, Fulvous Whistling-duck, Asian Openbill, Purple Swamphen, Grey-headed Lapwing and Cotton Pygmy-goose. Some other species found in adequate numbers are Northern Shoveler, Northern Pintail, Black-tailed Godwit, Ruddy Shelduck, Garganey, Clamorous Reed Warbler, Eurasian Wigeon and other resident birds. The preying birds include Brahminy Kite, Eurasian Marsh Harrier and White-bellied Sea Eagle. Whiskered Tern is also found in plenty in the season.
Few years back, hunters were very active at Monglajodi, who used to travel around this wetland with loaded guns in search of migratory birds. However, lately, bird poaching is not practiced anymore.
Places to see at Monglajori: Monglajori is an extensive wetland spanning an area over 300 sq. kms. The area is a safe haven of around 236 species of birds, among which, most of them are migratory. The tourists are truly thrilled by watching various species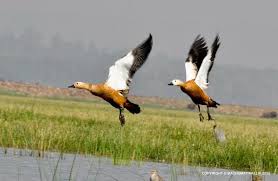 of birds, which include Northern Shoveller, Pintail, Brahminy Duck, Bar headed goose and others. Moreover, the tourists can also closely observe the nesting, breeding of some regional wetland birds like Open billed stork, Purple moorhen etc during the rainy season.
Another major tourist attraction of the site is an age-old and largest temple of the village, popularly known as the PatitaPabanTemple. The village also houses some other notable temples like, Gupteswar Temple, Maa Mangala Temple, Nilakathaswara Dev Temple and Maa Balimajhi Devi Temple. There is also a picnic spot surrounding Maa Balimajhi Devi Temple.
Nearby attractions of Monglajori: The nearby prime spots of tourist interest are the Chilka Lake and Nalabana Bird Sanctuary. ChilkaLake is a salt water estuarine lagoon, which is the haven of seven to eight lakh birds, comprised of 121 species.
Things to do at Monglajodi: Monglajodi is the heaven for the avid bird watchers.
Beat time to visit Monglajori: The ideal time for visiting Monglajori are the months between November and March.  This is the best time for bird watching in Monglajori.
How to go ?
Balugaon is the closest rail station of Monglajori, which is accessible via Tangi by roadway.
[AdSense-B]
Where to stay ?
An eco-tourism camp is operated by private organizations in Monglajori. For booking details you may contact:
Mangalajodi Ecotourism:
Phone: (+91) 88952-88955, 97766-96800.
Website: www.mangalajodiecotourism.com
However, better lodging facilities are available at Balugaon, Kalupada and Khurda Road.
Note : Phone numbers given above are according to the information available with us. If you find any contact number/s given above is/are incorrect or not in use, please let us know.
[AdSense-C]
http://tripsaround.in/wp-content/uploads/2014/03/Mangalajodi-odisha.jpg
327
700
TripsAround .in
http://tripsaround.in/wp-content/uploads/2013/04/logo.gif
TripsAround .in
2014-03-31 14:18:41
2014-05-15 13:10:04
Monglajodi, Odisha - A Village of Bird Protectors