[AdSense-A]
Planning for a vacation make a difference this time by not staying at any posh hotel with some sort of artificial flavour.  Enjoy something natural and real this time avoiding any sort of artificiality. Want to savour the original village culture and authentic earthen traditions then come to Monchasa, with a true sentiment of natural India. It is the first rural based sustainable eco-tourism initiative in India that is promoted to support a very special social cause. Lying on the banks of Bagda River in the remote village of Paushi, in East Midnapur district of West Bengal, it has an interesting story behind its development.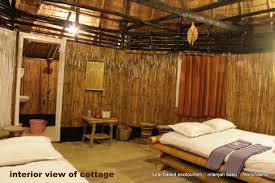 There is an orphanage called Antyodoy Anath Ashram in Paushi. It provides food and shelter to the parent-less children or single parent children, abandoned by their family. The orphanage is operated by Sri Balaram Karan, who was an owner of a medicine shop at Kalianagar. It was an ashram constructed to provide shelter to the destitute children. Mon Chasha, which is a sprawling eco-tourism project has been built to support this noble cause.
Places to see at Monchasa: Enjoy some wonderful views of the location by taking a stroll. The Shalmoli Bithi, which is the plantation area of the project, offers a real visual treat. You will find wide species of fruits, flowers, vegetables and spices. The authority of the project is also taking the effort of tagging the plants with their significances and name in local language along with its scientific name, to enrich the knowledge of the visitors. You will also found many plants having medicinal importance, like Ram Tulsi – Bon Tulshi – Krishna Tulshi (Holy Basil), Aamlaki (Goose Berry), Boyar (Baheda), Hartuki (Haritaki) and Neem trees.
Visit Ishani and Naitri, the huge fish tanks (jheel), where large numbers of fish including Rui, Katla, Mrigel, Kalbous, Carp, Telapia, Puti, Mourala are bred completely naturally. For the conservation of traditional cultural heritage, "Sahajiya" has been built, which is a platform for local cultural performances as Chhau, Raibneshe Jatra Pala, Baul Fakir Darbesh and other programs. The other options include slide presentation, film show or story telling.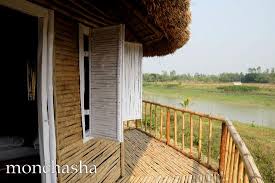 The Sahajiya cultural centre is a straw / hogla thatched circular clay court beautified with green grass. Guests need to sit on the ground over hand crafted Madur. Do not miss Nabya Nakshi, the handicraft centre promoted by this project. There is also a plan for promoting Nakshi Kantha, one of the most treasured handicrafts of Bengal, to support the local self help group. You can also visit Aamar Bangla, where you will find numerous attractions like Dhenki, Kumorer Chaak, Tamt, Langol – Moi, Hand Painted Alpana, Pot Chitra, Typical Styled Tulshi Mancha, Machh Dhorar Jal, Chhip, Gachhe Jholano Hnarite Payra, Mouchak, Borshar Toka, Kendupatar Borshati, Lau Macha etc.
Nearby attractions of Monchasa: The temple of Bahiri which dates back to the Middle Ages is just a few kilometers from Mon Chasa. The historically significant town of Tamluk boasting of a thousand year old Devi Barghobhima Temple (one of the popular Shakti peeths), a Rajbari, a museum and Rakhit Bati – the secret centre of freedom fighters is also located nearby. You can also visit Mandarmani – the popular beach destination within an hours drive.
Things to do at Monchasa: You can visit "Sahajiya" during daytime and try your hand in painting or sculpting. It is also an "adda maancha" for the guests. Take your children to Tala Bhangar Poth, the play station, where he will truly enjoy playing Carom, Ludo and other traditional folk style games like Guti Khela, Guli Danda, Bagh-Bandi, Luko-Churi, Jor-Bijor, Ekka Dokka etc. However, the best thing to do in Monchasa is to savour nature – you can take long walks along the Bagda River or visit the nearby villages to watch life flow in a different tune.
Best time to visit Monchasa: You can visit Monchasa any time of the year.
How to go ?
Pick up and drop services are available from Contai (Kanthi) railway station and Kalinagar Bus Stop by Maruti Van or Ambassador Car. You can also avail the trekker service from Kalinagar Bus Stop to Paushi. However, the trekker service is not very regular.
[AdSense-B]
Where to stay ?
The accommodation facility in Monchasa offers a true essence of village life. The project has developed four octagonal bamboo huts, covered entirely with Hogla leaves, which open to the Bagda River on one side and the huge fish ponds on the other. The roofs are thatched with straws and the windows are built with north south cross ventilation. All the huts feature nicely crafted fish tank facing verandah, where you can sit savouring the panoramic view. The rooms are well furnished with local styled bamboo furniture. The attached baths are equipped with all contemporary amenities. For booking details you may contact:
Tele: +91 33 3053.3974, 3053.3975, 4001-0180
Mobile: +91 98310.95234, +91 98302.03973, +91 94774.76376
Note : Phone numbers given above are according to the information available with us. If you find any contact number/s given above is/are incorrect or not in use, please let us know.
.
[AdSense-C]
http://tripsaround.in/wp-content/uploads/2014/05/Monchasa.jpg
422
700
TripsAround .in
http://tripsaround.in/wp-content/uploads/2013/04/logo.gif
TripsAround .in
2014-06-07 14:12:12
2014-06-07 14:14:58
Monchasa, South Bengal - Savour the original village culture & authentic earthen traditions