[AdSense-A]
Renowned for its panoramic beauty and the beautiful Sumendu Lake, the monastery Mirik is an ideal tourist destination.  Here you can also enjoy the activities like horse riding and boating. This hill station is a perfect spot for complete relaxation for those tired of the bustling city life. It perches at an altitude of 1767 meters, and is widely covered by cardamom and pine forests.  There are also many other plantations and orchards in Mirik that attracts a lot of nature lovers from all over the country. You can enjoy nature walks down the gardens of Mirik and the natural surrounding there. Do watch the Sumendu Lake, with a bridge over it that spans 80 meters and enters a dense pine grove.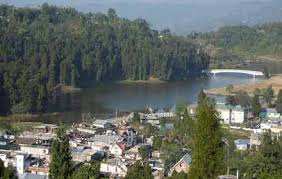 Places to see at Mirik: The prime attraction of Mirik is the Mirik Lake, which is a great place to take a horse ride around it. Beside, there is the coffee and tea plantation that makes it a good spot, especially for nature lovers. Religious people will have a pretty good time visiting some places of religious importance like Shri Mangal  Dham, a temple that was built in 1933. Devi Sthan or the Singha Devi Temple located on the western bank of the Sumendu Lake is another place of religious importance. Rai Dhap, another beautiful spot overlooking Mirik is ideal for picnics. This place is the main source for water for the people of Mirik. There are a few viewpoints located all around Mirik, which offers wonderful views of Mt.Kanchenjungha too.
Nearby attractions of Mirik: There are many sightseeing opportunities around Mirik. The Ramitay Dara is one such destination located few kilometers from the town. It is a viewpoint offering views of the mountains and the plain below. You can also visit the Sunrise Point that offer breathtaking sights of the sun rising in the east, miles of tea gardens, orange orchards, the Bokar Monastery located on the way to Rameetay Dara, Jayanti Nagar, Pashupati Nagar, the Mirik Church and the Swiss Cottage are some of the places of attractions located very close to the town. Nearby tourist towns like Kurseong and Darjeeling attracts tourists from all over the world. On the way to Darjeeling from Mirik, you can also check out lesser-known destinations like Jorepokhri, Sukhiapokhri and Lepchajagat.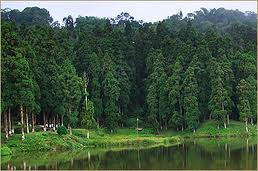 Things to do at Mirik: Mirik is famous for all kinds of activities like boating, horse riding and nature trailing along the lakeside. You can also visit coffee and tea gardens, orange orchards and cardamom plantation. For trekking, you can definitely visit Phalut, which makes a favourable surrounding for trekkers.
Best time to visit Mirik: Summer is the ideal time to visit hill stations. This is one of the best ways to escape from the heat of the plain land. Temperature, during this time is pretty mild when compared with the harsher climatic condition of the rest of the sub-continent. You can also visit this place during the beginning of the winter season. The later half of the season can become too cold and you might have to travel with heavy luggage.
 How to go ?
Regular buses and taxis connect Mirik to Darjeeling, Kurseong, New Jalpaiguri and Siliguri. If you are travelling by air, you have to reach Bagdogra Airport, situated very close to Siliguri. From the airport, you can board a taxi or a bus to reach Mirik. By rail also, you need to get down at New Jalpaiguri station from where, taxis and buses leave for Mirik. By road, Mirik is well connected to Kurseong, Darjeeling and Siliguri. It takes around 1.5 hrs to reach Mirik from Siliguri.
[AdSense-B]
Where to stay ?
Mirik is a very popular tourist destination and offers a wide variety of lodges and hotels other than forest rest houses and private guest houses. In Mirik you would find chic luxury hotels with all modern facilities as well as traditional hotels and wood cottages. There are also some homestays in Mirik. Some options are:
Bomzon Salamander Homestay, Thapa Thali Salamander Homestay, Syangden's Homestay. For booking details you may contact: +91-9932224074.
You can also stay in hotels. Some options are:
The Park Hotel & Restaurant.
Ph. no.: :  +91-354-2243319
Mobile: :  +91-98007-07039
Hotel Jagjeet
Phone: +91-354-2243231 , 769 , 205
Note : Phone numbers given above are according to the information available with us. If you find any contact number/s given above is/are incorrect or not in use, please let us know.
[AdSense-C]
http://tripsaround.in/wp-content/uploads/2014/03/Mirik.jpg
498
700
TripsAround .in
http://tripsaround.in/wp-content/uploads/2013/04/logo.gif
TripsAround .in
2014-04-30 07:49:11
2014-05-14 15:37:50
Mirik, North Bengal - Renowned for its panoramic beauty