[AdSense-A]
Mekhliganj is a luxury resort that is located within a lush tea estate and with a river along the tea estate. Enjoy a splendid view of lush greenery of tea garden and farmland from this tea resort. It is located between the winding Saniajaan River and the tea estate. The Tin Bigha Border Crossing is just a stone's throw from the Resort from where the ceremonial Border closing of India and Bangladesh is visible every evening. Take a stroll along the tea estate or spend some idle time at the lonely banks of River Saniajaan, and a tea-factory located nearby you can also take a dip in the resort's swimming pool.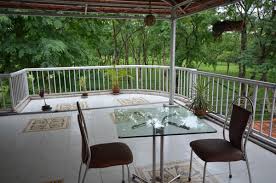 Places to see at Mekhliganj: A profusely green tea estate, the Saniajaan River skirting across the villages and rice fields, a scattered jungle, River Teesta and the Tin Bigha Border Checkpost – all are located nearby. The ceremonial border closing between India and Bangladesh at nearby Tin Bigha Border Checkpost is one of the best attractions here. The Tin Bigha Corridor is a piece of land belonging to India on the West Bengal–Bangladesh border, which in September, 2011, was leased to Bangladesh so that it can access its Dahagram–Angarpota enclaves.
Nearby attractions of Mekhliganj: Mekhliganj is quite far from any popular tourist destination. This makes Mekhliganj an ideal place to spend a few days in bliss within a tea estate far from the madding crowd. Moreover, Mekhliganj is becoming popular as a destination where tourists can wind up their hectic Dooars Itinerary and spend the last couple of days of their Dooars trip in nature's cradle enjoying all earthly comforts. Mekhliganj is around 55 kms from Gorumara National Forest, around 105 kms from Jaldapara National Forest, 90 kms from Gorubathan and 82 kms from Cooch Behar. If you are planning a trip to Dooars this year, then try to keep Mekhliganj Tea Resort in the last leg of your itinerary.
Things to do at Mekhliganj: If you are planning to spend few days doing nothing, then Mekhliganj can be your ideal choice. You can take a nature walk along the bank of Saniajaan River or within the tea estate. You can see tea plucking and even try yourself to pluck a few leaves in the tea garden. Make a visit to some local villages to enjoy a true flavour of their ethnic  lifestyle or the charming River Teesta. Another major attraction is the Tin Bigha International Border Checkpost just a kilometer from the resort. You can witness the ceremonial Border closing at Tin Bigha Corridor between India and Bangladesh every evening.
Best time to visit Mekhliganj: You can visit Mekhliganj anytime of the year. The rivers and greenery bloom during the rainy season and the sparkling winter brings a whole lot of birds here.
How to go ?
Mekhliganj is 86 kms from Siliguri, 98 kms from Hasimara and 105 kms from Alipurduar. So you can reach Mekhliganj from anywhere in the Dooars region. Geographically Mekliganj is located in Cooch Behar District.
[AdSense-B]
Where to stay ?
There is a tea-eco-resort in Mekhliganj. For booking details you may contact:
G.B.C Enterprise Limited 
4, B.B.D. Bag (East), Stephen House,
6th Floor, Room No. – 106,
Kolkata – 700 001
Ph. No. (033) 2231 0370, 71, 73
Fax: (033) 2231 0372
Note : Phone numbers given above are according to the information available with us. If you find any contact number/s given above is/are incorrect or not in use, please let us know.
[AdSense-C]
http://tripsaround.in/wp-content/uploads/2014/05/mekhliganj_resort.jpg
463
700
TripsAround .in
http://tripsaround.in/wp-content/uploads/2013/04/logo.gif
TripsAround .in
2014-06-03 16:44:48
2014-06-03 16:54:51
Mekhliganj Tea Resort, North Bengal - A luxury resort within a lush tea estate