[AdSense-A]
A hilltop adjacent to the popular destination of Aritar Mankhim lies in the village of Dalapchand under the Rongli Sub-Division of Eastern Sikkim.  The site offers spectacular views of Mt.Kanchenjungha and the lush green "boot-shaped" Lampokhri Lake at the same time. Mankhim consists of a small temple on the hilltop, a few homestays and a monastery, just a walk away. This place is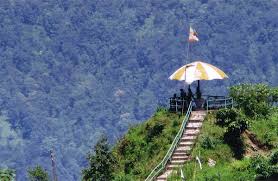 idyllic for spending some days in complete seclusion. The main activities here are bird watching, paddle boating and nature walking. You can tag in Reshikhola, Sillery Gaon, Pedong or Kalimpong with Mankhim. You can also take a day-trip to Kupup lake, Zuluk and the world's highest golf course from Mankhim.
Places to see at Mankhim: Mankhim is a hilltop near the popular destination of Aritar, which is famous for its Lampokhari Lake. This vast human foot shaped lake is flanked by emerald green forest of Pine and Fir. The lake is ideal to enjoy paddle boating. There is also a Lodge and cafeteria beside the lake. The Changey waterfall boasting a height of 50 meters is located near Mankhim.
You can also visit the nearby Aritar Monastery, which houses some remarkable painted murals, rare manuscripts and Buddhist artifacts. The Dak Bungalow popularly called Ari-Bangla is an age-old British bungalow, built under the supervision of James Claude White in 1895.
The little temple of Mankhim, belonging to the Rai cult of Hindu origin at Maity Village overlooks the Lampokhri and the mighty Kanchenjungha. The view point near the temple offers a panoramic view of the mighty Mt.Kanchenjungha and its allies, Aritar town, rolling hills and the silk route upto Zuluk. You can also visit the Ever Green Nursery and Ram Gauri Sangrhalaya, which is a nursery and museum, displaying some nice collection of drift wood, botanical and some exotic varieties of flowers.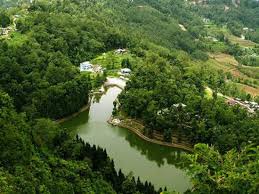 Nearby attractions of Mankhim: You can visit nearby Reshilkhola, Sillery Gaon and Pedong in West Bengal from Mankhim. You can also visit the famous Ramitey View point for viewing the 14 turns of River Teesta with Kanchenjungha in the background. Some other nearby attractions are Kupup Lake (BitangCho Lake), world's highest golf course and Zuluk in East Sikkim. If you are in the mood of little trekking, then try Mulkarkha Lake trek that is famous for holding the reflection of Mt. Kanchenjungha on its waters. You can also visit the ruins of historic Damsang Fort and the famous Cross Hill.
Things to do at Mankhim: There is a long jungle path acroos the hills covering may view points from Makhim to Lampokhri. You can take a nature walk along this path to Lampokhri Lake from  You can organize picnics at the popular picnic spot called Love Dara, located near Mankhim. The place is also ideal for the avid bird watchers. You can also enjoy boating in the Lampokhari Lake, trekking and rock climbing to nearby hilltops and nature walking.
Best time to visit Mangkhim: You can visit Mangkhim any time of the year. The winters are best for viewing the sunrise over Kanchenjungha and the summers are best for beating the heat of the plains.
How to go ?
You can also hire vehicles from Siliguri and reach Aritar in 5 hours. the route is Teesta Bazar – Kalimpong – Algarah – Pedong – Reshikhola – Rhenock – Aritar – Mankhim. If you are coming from any destination in Sikkim, you have to come via Rangpo – Rorathang – Reshikhola – Rhenock – Aritar – Mankhim. Many tourists also hire vehicles and make tour to Aritar and Mankhim from Gangtok in roughly 3 hours.
[AdSense-B]
Where to stay ?
There are few homestays in Mankhim offering lodging and dining facilities. Few cottages offering nice, clean, basic facilities overlooking the rift, Lampokhri Lake and the entire Mt.Kanchenjungha range are available here.  There is also glasshouse-type cottage with an incredible view of Mt.Kanchenjungha from bed just on the edge of the ridge. Food is basic in nature but fresh and authentic. You can enjoy a whole lot of momos during your stay at Mankhim. One option is Heaven Valley Homestay.
[AdSense-C]
http://tripsaround.in/wp-content/uploads/2014/05/Mankhim.jpg
463
700
TripsAround .in
http://tripsaround.in/wp-content/uploads/2013/04/logo.gif
TripsAround .in
2014-06-24 12:21:18
2014-06-24 12:21:18
Mankhim, Sikkim - Site offers spectacular views of Mt.Kanchenjungha & the lush green "boot-shaped" Lampokhri Lake