[AdSense-A]
Want to enjoy the natural beauty of Dooars?  Malbazar is an ideal spot for you then. On your way to Malbazar, you will find the beautiful Teesta River beside you. The town of Malbazar has a beautiful tea garden of Raja Tea Estate and a nice Mal Park.
Malbazar can also be used as a base to visit nearby forests like Gorumara, Chapramari, Chukchukia and others. You can also make day trips to Jhalong, Bindu, Paren and other nearby destinations from here. On your way to Malbazar, you will cross a few forests and come across the famous Sevokeshwari temple and CoronationBridge.
Places to see at Malbazar: The biggest attraction of Malbazar is the Mal Park. There is also a beautiful tea garden named Raja Tea Estate which you can definitely pay a visit.
Nearby attractions from Malbazar: Mongpong overlooking River Teesta and Mahananda Wildlife Sanctuary located on Sevoke Road falls en route to Malbazar. Beside, there are various forests like Chapramari, Gorumara, Chalsa, Khunia and Chukchikia located all around Malbazar. Other nearby places of attraction includes Jhalong located on the banks of Jaldhaka River and Bindu near the Indo-Bhutan border. The twin villages of Suntaleykhola and Samsing perched within dense greenery on the banks of rivulets can also be visited on day trips from Malbazar. You can also arrange a picnic on the banks of River Murti.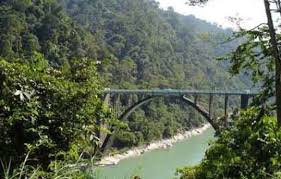 Things to do at Malbazar: There are many things that you can do in Dooars. You can take a long walk along the river banks, take a dip or enjoy some fishing in the knee deep Murti River. You can also try your hands in tea plucking, enjoy a safari in the nearby forest or enjoy wildlife viewing from the forest watch towers like Chandrachur Tower, Jatraprasad, Chapramari Tower, Rhino Point and Chuk Chuki. You can visit the nearby villages and meet the local tribes like the Toto, the Bodo of Assam, Bhutanese, the Koch, Mundas, Limbus, the Rajbongshis in Bengal, Lepcha, Rabha and Oraons and know more about them.
Best time to visit Malbazar: The best time to visit Mallbazar is during the months of September to March, when the monsoon gets over.
 How to go ?
If you are traveling from Kolkata, you need to board the Kanchankanya Express from Sealdah and reach New Mal Junction station. This train leaves Sealdah station four times in a week. You can also reach New Jalpaiguri station from where, you can board a car or a bus to reach Malbazar.
[AdSense-B]
Where to stay ?
The WBTDC (West Bengal Tourism Development Corporation) Tourist lodge at Malbazar perched beside tea garden, overlooking greenery is the most popular and well-equipped accommodation in Malbazar. For booking details you may contact:
Department of Tourism, Government of West Bengal
2, Brabourne Road, Kolkata – 700 001
Phone : 033-2225 4723/4724. Official website: www.westbengaltourism.gov.in
Note : Phone numbers given above are according to the information available with us. If you find any contact number/s given above is/are incorrect or not in use, please let us know.
[AdSense-C]
http://tripsaround.in/wp-content/uploads/2014/03/malbazar-dooars.jpg
424
700
TripsAround .in
http://tripsaround.in/wp-content/uploads/2013/04/logo.gif
TripsAround .in
2014-04-30 05:56:20
2014-05-15 11:01:02
Malbazar, North Bengal - Enjoy the natural beauty of Dooars