[AdSense-A]
Makaibari tea estate is one of the oldest and most prestigious tea estates in India. It was founded in the year 1859. The tea estate spans over an area of 1575 acres of the Himalayan slopes at an altitude of 4600 feet, the garden overlooks River Balasun, a dense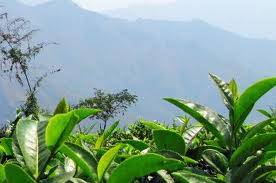 forest cover and the beautiful town of Kurseong. Makaibari is still farmed by the original founding family (presently, the 4th generation) in one of the most eco-friendly methods producing organic tea of the highest quality. At Makaibari, there are total 16 homestays managed by the villagers and plantation workers. Discover the charm of living in a tea estate. You would enjoy traditional hospitality in these Makaibari homestays and enjoy the sumptuous home-cooked food. You can also enjoy endless cups of Makaibari Tea, participate in tea tasting sessions, try your hands in tea plucking and visit the famous Makaibari tea factory to see the various stages of tea processing from here. You can also go for a trek along the estate, visit a local Hindu temple, do birdwatching or just spend few days idly.
Places to see at Makaibari: Tea is everything in Makaibari. Endless slopes of tea gardens spread in all directions are a sight to take the pleasure of. Sometimes the tea gardens seem to fade into the horizon and sometimes it disappears into the forests. There is an old Hindu temple, a monastery, a bamboo grove and a nameless stream that flows through the jungle surrounding the Tea Estate.
Nearby attractions of Makaibari: Makaibari is just 3 kms from Kurseong town and 33 kms from Darjeeling. All sightseeing destinations of these two towns can be covered from Makaibari in day trips. You can board the famous toytrain of Darjeeling Himalayan Railway from Kurseong, visit local villages resting on scenic destinations like Dilaram, Chimeni and Bagora and trek in the forests around Chatakpur, staying at Makaibari. An early morning visit to the Batasia Loop, Ghoom, Tiger Hill and day trips to the Mountaineering Institute and zoo in Darjeeling should also be included on your tour. You can also take a hike across Darjeeling, do some shopping and spend some nice moments at the Darjeeling Mall watching people.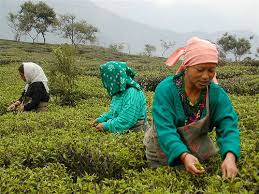 Things to do at Makaibari: You can take long walks along the tea gardens and take to the winding paths up and down the slopes skirting the tea bushes. You can try tea plucking with some expert plucker or visit the tea factory to see tea processing. You can also take part in tea tasting sessions with tea tasters and start understanding why Darjeeling Tea is considered the world's best tea. You are sure to return as a "tea pundit" from Makaibari. However, when you are not drinking, plucking or tasting tea at Makaibari, you can enjoy birdwatching, village walks, jungle treks and do picnics beside a stream flowing through the jungle criss crossed by bamboo bridges.
Nearly, two-thirds of Makaibari Tea Estate is covered by forests which are occasionally visited by leopards. You also stand a good chance of sighting exotic Himalayan birds like the Hornbill, Drongo and the Sultan Tit. You can also spend your afternoons watching the shadows of the clouds over the green stretches of the gardens.
Best time to visit Makaibari: You can visit Makaibari any time of the year. However, if you are a tea lover and want to try your hand in tea plucking then you should visit during March to April for First Flush plucking, April to May for the Second Flush plucking, June to August for Monsoon Flush and October to mid November for Autumn Flush plucking. The tea factory remains open throughout the year but is mostly operational during plucking seasons.
How to go ?
Makaibari is only 3 kms from Kurseong near Darjeeling. You can get regular Taxis from New Jalpaiguri / Siliguri / Bagdogra Airport to Kurseong and then hire a car to Makaibari Tea Estate. There are regular taxis from Kurseong to Makaibari.
[AdSense-B]
Where to stay ?
There are several homestays in Makaibari. For more information on homestays you may contact: +91-33-22878560 or visit the official website www.makaibari.com
Note : Phone numbers given above are according to the information available with us. If you find any contact number/s given above is/are incorrect or not in use, please let us know.
[AdSense-C]
http://tripsaround.in/wp-content/uploads/2014/03/makaibari-tea-garden-1.jpg
468
700
TripsAround .in
http://tripsaround.in/wp-content/uploads/2013/04/logo.gif
TripsAround .in
2014-04-30 05:29:47
2014-05-14 15:35:41
Makaibari, North Bengal - One of the oldest and most prestigious tea estates in India