[AdSense-A]
It is said that Iswar Chandra Vidyasagar once swam across a raging Damodar on a stormy night to meet his mother. You do not need to do anything similar, but still can have a great day lazing around the riverbank in Mahisrekha, a small town near Uluberia in Howrah. You'll find the Damodar, often referred to as the River of Sorrow for flooding its banks regularly in the not-too-distant past, in its best form during the monsoon.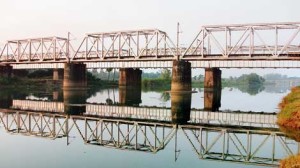 The river extends upstream to Howrah's Udaynarayanpur and beyond and joins the Ganga near Uluberia. It is bounded on both sides by rich greenery and trees, with branches almost kissing the water surface. The villages along the riverbanks represent the quintessential Bengal countryside, complete with mango orchards, rows of palms and areca palms, clusters of bamboo groves and rich paddy fields stretching to the reed-bordered marshes.
It is an ideal place for a picnic. A local athletics club helps picnickers by providing them with all that one needs to spend a boisterous day. Children can have great fun too, enjoying across the 4km embanked riverbank or on the club's playground. Birdwatchers can also have a good time, as many different species can be spotted searching for worms along the riverbanks.
The sunset, however, is so colourful that it alone could justify the trip. The fading orange rays of the sun on the rippling water, the fishermen coming home one by one on their boats, coupled with the wafting smell of wet earth — it's enough to make a Wordsworth out of the most unpoetic person.
How to go ?
Take a train to Kulgachhia on the Howrah-Panskura section. Rickshaws are available at the station. You can also walk along the riverside and reach Mahisrekha in about 30 minutes from Kulgachhia. By road, drive along NH6 to reach Mahisrekha via Kulgachhia.
[AdSense-B]
Where to stay ?
The Mahisrekha club provides accommodation. There are several eateries along the station road.
[AdSense-C]
http://tripsaround.in/wp-content/uploads/2014/03/Mahisrekha-2.jpg
393
700
TripsAround .in
http://tripsaround.in/wp-content/uploads/2013/04/logo.gif
TripsAround .in
2014-03-10 13:57:02
2014-05-15 15:50:07
Mahisrekha, a small town near Uluberia, Howrah in West Bengal