[AdSense-A]
Lulung located in Orissa is a land of rich greenery and flooded with natural beauty. It is one of the entry points to Simlipal National Park and is located on its eastern fringes. The other entrance is at Joshipur.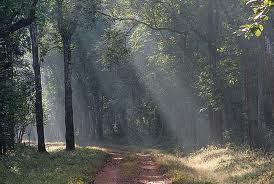 A pleasant four-hour train journey to Baleswar and an hour and a half by road will take you to Lulung. The Orissa Tourism Development Corporation (OTDC)'s guest house Aranya Nivas is ideal for staying here. It has gardens, lawns, a lounge, a terrace and a dining hall on the outer part. Inside, concrete cottages stand on mounds.
The climate at Lulung, located at an altitude of 300 metres, is wonderful. The view of the hillocks in the distance is equally nice. The sunset view is heart stealing. Its reddish glow seems like a shade of vermilion that matched the reddish soil of the forest. The trees cast their long shadows on the ground and the sound of homing birds fills the air.  The dark wings of the night envelopes the forest within one hour.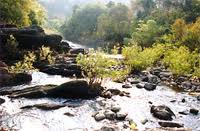 The shrill cry of a hill bird would occasionally rise above the soft gurgle of a nearby rivulet. Ripe fruits fell off the trees landing on the leafy forest floor with thuds. Solar panels provide power to the cottages at night. The dinner is sumptuous. There is a jungle around Aranya Nivas which you can explore. Some of the tracks lead to nearby villages which are also interesting to explore for a hardcore urbanite.
There is also a waterfall at Kalipahar with milky white water that is just 3km from the guest house.
How to go ?
A four-hour journey by train to Baleswar, followed by a 90-minute bus/ hired car ride, or, take NH6 till Bangriposi (230km), which itself is worth a visit. Lulung is 20km from there.
[AdSense-B]
Where to stay ?
Aranya Nivas.  Book at OTDC
Website : www.otdc.in or www.panthanivas.com
Call Us : 1800 208 1414 (Toll free)
Kolkata office at Utkal Bhavan, 55 Lenin Sarani, Kolkata
Ph: 91-033-22493653.
[AdSense-C]
http://tripsaround.in/wp-content/uploads/2014/03/lulung-cottage.jpg
436
750
TripsAround .in
http://tripsaround.in/wp-content/uploads/2013/04/logo.gif
TripsAround .in
2014-03-10 22:03:47
2014-05-16 10:09:09
Lulung, in Odisha, a land of rich greenery & flooded with natural beauty