[AdSense-A]
The Kuldiha Forest spanning over an area of 282 square kilometers is a dense forest shrouded mostly with thick growth of sishu, sal, piyasal, mango, bahera, jam and simul trees making it an abode of a wide number of animals like wild cats, elephants, long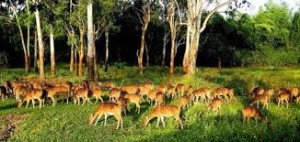 tailed monkeys, cheetals, gaur, leopard, giant squirrel as well as some bird species like peafowl, hill myna and hornbill. Kuldiha nestled in Balasore district is also famous for supporting wide varieties of reptiles too. The Kuldiha forest area integrates into the SimilipalForest through the Nato hill and Sukhupada hill ranges. There is a hilly stream that flows along the forest and a watch tower that is built calculatively at Garsimulia on the bank of the river. Kuldiha also has a Lion Sanctuary.
Places to see at Kuldiha Forest: The Kuldiha Forest itself is the best attraction to watch out for. The forest is also the home to Tenda Elephant Sanctuary and a Lion Sanctuary.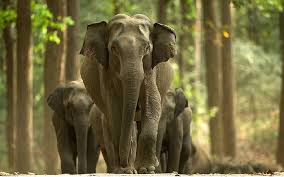 Nearby attractions at Kuldiha Forest: Among the nearest destinations, you can definitely visit the Russia Dam or Rishia Dam as it is locally known. This is a great place to spend some moments in complete seclusion. The dam is also the place to watch out for some elephants from the Tenda Elephant Sanctuary who come here for water. You can also visit Panchlingeswar on a short trip.
Things to do at Kuldiha Forest: You can go for an exciting trek from Nilagiri through the forests of Kuldiha and also explore the Kuldiha Forest Sanctuary along with the Tenda Elephant Sanctuary which is a must when you are in this part of Balasore.
Best time to visit Kuldiha Forest: You can visit Kuldiha Forest during anytime of the year except for rainy season when the forest becomes inaccessible.
How to go ?
From Balasore, you have to reach Shergarh via the National Highway. Then from Shergarh, reach Sujangarh via Nilagiri and Panchlingeswar. Now, you need to turn left from Sujangarh to reach the Kuldiha Sanctuary.
[AdSense-B]
Where to stay ?
You can avail accommodation at the Forest Bungalow equipped with solar lights. But for food, you have to bring your own as there are no dining facilities available.
For booking details you may contact:
Kuldiha Tourism: 
+91-9337331370, 91-9437012978, 91-9040267539
Note : Phone numbers given above are according to the information available with us. If you find any contact number/s given above is/are incorrect or not in use, please let us know.
[AdSense-C]
http://tripsaround.in/wp-content/uploads/2014/03/Kuldiha.jpg
277
700
TripsAround .in
http://tripsaround.in/wp-content/uploads/2013/04/logo.gif
TripsAround .in
2014-04-30 23:01:45
2014-05-14 14:47:55
Kuldiha, Odisha - A dense forest home of wide variety of wild animals