[AdSense-A]
Situated between 1200 feet and 3200 feet above sea level, Kitam rests within a thick temperate vegetation of shrub land and Sal-chir and pine forests. This place is a refuge to more than 200 species of birds and butterflies. The beautiful village of Sumbuk and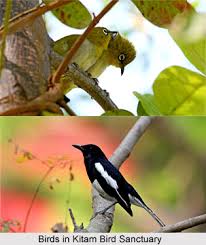 its gladiolas fields, few age-old temples and the emerald green Rangit River make Kitam one of the most beautiful and untouched wilderness in the lower altitudes of Sikkim. The warm summers and pleasant winters, in Kitam Bird Sanctuary gives a favourable condition for a healthy population of residents like Rufous-necked Hornbill, Grey-crowned Prinia, Rufous-throated Wren-babbler, Yellow-vented Warbler, Wedge-billed Wren-babbler and many more. From every year October it becomes a home for many migratory birds. It is not very uncommon to find a peacock roaming freely here. Lying between the Namchi and Melli, the most popular tourist destinations like Samdruptse, Solophok, Ravangla and Tarey Bhir are also located close to Kitam.
Places to see at Kitam: Kitam bird sanctuary is flanked by two villages – Sumbuk and Kitam. Though the major attraction is the Bird Sanctuary, the snaking River Rangit and Manpur River also steals the show. You can take long nature walks along the wide banks of Rangit and rest your tired feet on its cold water. Other attractions include the Alley Khet, which is a meadow with some great views of the hills and rivers, some age-old temples, Peepal trees, dilapidated Stupas and a Monastery.
Kitam village seems to belong to the Middle-Ages, with 200-year old traditionally built mud and bamboo huts and weekly markets selling local produces and vegetables. One of the highest points of Kitam Bird Sanctuary is the small forested area of Tumbol Schor, which offers great panoramic views of the surrounding mountains. Nearby Sumbuk is also known for its galdioli farms – a visit to these farms blooming with bright red flowers is a treat to the eyes. You would also find a mammoth sized 100-year old litchi tree at Kitam.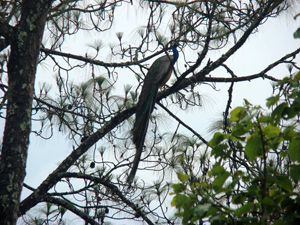 Nearby attractions of Kitam: Just 12 kms from Namchi, Kitam is close to a whole lot of other tourist destinations of South Sikkim like Kewzing, Ravangla, Temi Tea Garden (Sikkim's only tea garden), Solophok (famous for being Chardham) and Samdruptse. Spending a couple of days in the wilderness and tranquility of Kitam Bird Sanctuary after completing the  hectic touristic itinerary of Sikkim would be a soothing relief before returning home.
Things to do at Kitam: Being the only bird sanctuary in Sikkim, Kitam boasts of some watch towers and view points for bird viewing. However, to view birds you have to walk along the beaten paths of the sanctuary skirting through the mountains and river banks. The guided birdwatching trips begin in the morning at around 5:30 am and it takes around 4 hrs. There are 4 different birdwatching trails around the sanctuary and you can opt any of them depending on your choice.
Some of the trails end up on the banks of River Manpur where you can continue you riverside nature walk for a few km and enjoy butterfly watching. Some of the commonest sightings are of Chestnut-breasted Partridge, White-rumped Vulture, Slender-billed Vulture, Ward's Trogon, Rufous-necked Hornbill, Slender-billed Babbler, White-naped Yuhina, Black-breasted Parrotbill, Beautiful Nuthatch, Rusty-bellied Shortwing, Grey-crowned Prinia, Yellow-vented Warbler, Rufous-throated Wren-babbler, Wedge-billed Wren-babbler and others. Other than bird watching, you can also indulge in activities like angling and rafting in River Rangit. Local Govt. registered guides are arranged  by the home-stays and accommodation to take the guests through the forests and activities.
Best time to visit Kitam: The best time for Bird watching in Kitam Bird Sanctuary is between the months of October and May. Kitam is characterized by very pleasant winters and moderate summers, so you can always stay back here for a day while returning from your Sikkim tour. It is located very near to Melli, so it would fall "on the way" while returning. If you love adventure then angling and rafting can also be enjoyed in Kitam.
How to go ?
From NJP Railway junction Kitam, is lies at a distance of about 110 Km. Cabs are available on hire from New Jalpaiguri Station.
[AdSense-B]
Where to stay ?
There are some hotels and homestays at Kitam. Some options are:
Thapa Homestay: (+91) 9733104825
Hotel Green Valley: (+91) 9593381999
Hotel way side inn: (+91) 9474833553
Note : Phone numbers given above are according to the information available with us. If you find any contact number/s given above is/are incorrect or not in use, please let us know.
[AdSense-C]
http://tripsaround.in/wp-content/uploads/2014/04/Kitam.jpg
525
700
TripsAround .in
http://tripsaround.in/wp-content/uploads/2013/04/logo.gif
TripsAround .in
2014-04-23 15:51:45
2014-05-14 17:00:52
Kitam, Sikkim - A refuge to more than 200 species of birds and butterflies