[AdSense-A]
The twin hills of Kiriburu and Meghataburu is located in the West Singhbhum district of Jharkhand.
You have to get down at the Barbil station and hire a car that will take you to your destination via Barajamda. Truckloads of iron-ore coming down from Barajamda, Nuamundi, Barbil, Danguaposi mines trundle along the road. The car would pass through the Saranda forest range and Chaibasa, where Shakti Chattopadhyay composed some of his poetry, is not far. The sal forest on either side of the road looks beautiful. Sal, teak, dhaura, mahul, kumbhi, moi, harida and many other varieties of trees bordered the road. Monkeys are found swinging from the branches.
Kiriburu situated at a height of 4,300ft, offers a  mesmerizing view. The township has been developed by the Steel Authority of India Limited (SAIL). The tranquil place is surrounded by hills on three sides.
As the sun sets, the electric lights are turned on, all the way up to the top of hills of Meghataburu, from where, local residents say, 700 hills can be seen from a single spot.
Mining continues in the evening. It seems as if the hills are speckled with lights. The cries of the birds can be heard from the trees till late evening.
You can enjoy a stroll in the early morning amid the mist around Kiriburu and Meghataburu. The name "Kiriburu" originated from the tribal words "kiri", which means elephant, and "buru", which means hills surrounded by clouds.
Pundul falls, which is 20km from Kiriburu is a visiting spot. The forest is dense here. The road is very narrow here almost covered with fallen leaves of trees.
In the middle of the dense forest there is a temple named Swapneswari Temple. The dilapidated temple had an idol of Goddess Durga and a Shivlingam. A priest conducts the daily puja.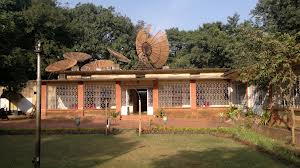 A little away is a waterfall where the Karo river descends from the hills. The river water is crystal clear here. The spray of water at the fall and the song of birds made the visit charming. Elephants visit the forest regularly. Bears, deer and boars are also found.
There is a chance of losing your way because after going for sometime you will find the road disappear into the dense forest  so be careful as you go. The next spot is the hilltop at Meghataburu from where the view of the sunset is splendid. The view of the birds returning home against the crimson sky of the setting sun is breath taking.
How to go ?
Take the Janshatabdi Express, which leaves Howrah station daily, and get down at Barbil station. It takes about two hours to reach Kiriburu from Barbil via Barajamda. If travelling by road, vehicles can reach Kiriburu via Tatanagar and Chaibasa. The best time to visit is between July and December.
[AdSense-B]
Where to stay ?
Rest houses maintained by SAIL are an option. There are lodges too. Rest houses have to be booked before arrival. Bookings can be done at Ispat Bhavan on JL Nehru Road. Contact (Kiriburu) for booking: 9430109755
[AdSense-C]
http://tripsaround.in/wp-content/uploads/2014/03/kiriburu.jpg
451
750
TripsAround .in
http://tripsaround.in/wp-content/uploads/2013/04/logo.gif
TripsAround .in
2014-03-09 15:19:37
2014-05-16 12:09:48
Kiriburu, at West Singhbhum district of Jharkhand