[AdSense-A]
Tourist flock to Bharatpur in winter when the exotic birds across the globe migrates to  Keoladeo Ghana Bird Sanctuary. The sanctuary has over 250 species of birds visiting every winter. It is  one of the famous sanctuary for birds in the world and therefore marked as World Heritage Site. Beside Birds there are various species of Snakes, Jackles , Fox, Amphibian, Jungle Cat, Deer, Nilgai, Blackbuck, Cheetal and many more animals. It is a heaven for bird lovers and photographers. Once this place was the hunting ground for Maharaja of Bharatpur.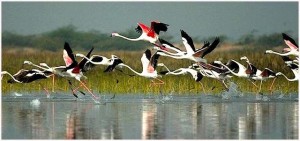 To get the essence of the park  divide your trip into  three parts, early in the morning, afternoon and in the dusk. Enjoy the songs of the lurk, and the  sightings of  various types of kingfisher, bee eater, warbler early in the morning, while in the afternoon  get spectacular sightings of ducks.  Ducks from china to flamingoes, pelican, golden goose to beautiful Himalayan goose  all  right in front of your eyes.  With nilgai and deer roaming around, it will be an extra toppings  to your day out. Lets not get exhausted right now, wait for the dusk to  catch some  night herons, bittern and various species of owl. Justice can be only done if you hire  rickshaw or cycle. Rickshaw  charge around 70 INR per hour for a whole day trip. If you want to take it for half the day the charge is little more, but don't forget to  flaunt your bargaining skills. These rickshaw pullers have excellent knowledge about birds  and they will guide you in your hunt. Binocular is must in your trip. Renting is available but if your rickshaw puller carry one, you will get an added  advantage. Don't forget to thank him for his amazing binocular with an extra tip. Their binoculars are  specialized with night vision too, spotting birds with it will be an amazing experience.
It is said that Dr. Salim Ali did his research in this  sanctuary for days, to keep track of every bird which migrated here. If you want to gain some more knowledge about birds help your self with  Bird of Indian subcontinent by Dr Salim Ali from the Souvenir shop just around the corner of the sanctuary. Entering the sanctuary cost around 50 per person. It is up to you if you want to walk enter  time or take ride. It is important that you chalk your  route before you set for your journey.
[AdSense-B]
Entry to the Park – 6am – 6Pm
Expenses
Entry fee -50INR
Video Camera -200INR
Rickshaw -70INR/Hr
Boat ride -100INR/person
When to Visit– October – April  for migratory  birds ( Though birds migrate in winter, but sometime visibility inside the sanctuary become less because of the fog). Temperature  drops to 5 degree Celsius.
Aug – Oct –  Resident birds.
RTDC : Tourist Reception Center, Agra  Road, Bharatpur
Tel: 05644 222542
How to reach – Rail :  Golden temple  Mail ( Dep: Hazrat Nizamuddin 7.45 am  and reach Bharatpur at 10.30 am)
[AdSense-C]
http://tripsaround.in/wp-content/uploads/2014/03/keoladeo-bird-sanctuary-in-rajasthan-1.jpg
350
982
TripsAround
http://tripsaround.in/wp-content/uploads/2013/04/logo.gif
TripsAround
2014-03-03 12:54:19
2014-07-24 22:57:26
Keoladeo Ghana Bird Sanctuary, Rajasthan - Over 250 species of birds visiting every winter