[AdSense-A]
When you stand nine feet tall and weigh three tonnes, you make your own road that's how you feel while sitting upon the stately pachyderm at Kaziranga National Park in Assam. The park is as much grassland as thick forest.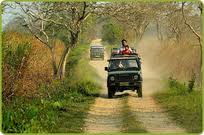 From where the elephant safari started, all one could see are tall grasses, growing in such dense clumps that there seemed to be no way ahead. Its wonder how one can make any headway. The elephant steps right into the thicket and the tough grasses bent under him/her, almost in obedience. During the journey the great Indian one-horned rhinoceros will also come to your vision for which the park is famous.
The elephant safari begins at 5.30am, before the sun is up, and gives tourists an amazing opportunity to witness sunrise in the jungles. The soft sunlight slowly drives away the curling mist. The elephant safari continues for one hour. too soon While returning, you will find a gurgling little stream, its banks covered with the prettiest pink wild flowers.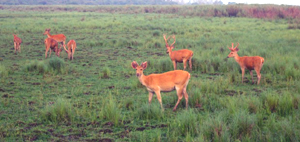 Another safari is the jeep safari that will take you to the visiting spot like Bagori, the western range of the forest. The elephant safari morning will take you to its central range, Kohora. The jeep safari is for visiting the unmetalled road inside the park, to those parts not covered on elephant back.
On the way you can spot birds like open-billed stork sitting beside a beel (pond) and also find herd of hog deer, the magnificent wild Asiatic water buffalo with its curling horns as large as a cycle wheel etc.  You can also catch a glimpse of a herd of wild elephants foraging amid tall grasses. The forest has a distinct smell, a little wet, a little mysterious.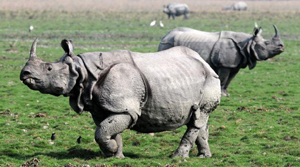 Kaziranga National Park has one of the highest densities of tigers in the country, 86 according to the 2000 census. But it is very difficult to catch the glimpse of the king of the jungle. The eastern range of the forest, which is known for its birds, is also a tourist attraction. You can take the jeep route in central range to catch the rare sight of the tiger. It is a narrow winding path, flanked on both sides by thickets of elephant grass. It may be that you don't get to see a tiger in the jungle, or you may be watching the sunset or the animals, but the tiger is always watching you.
How to go ?
Take a train or flight to Guwahati and hire a car to cover the 220 kilometres to Kaziranga. The national park can also be reached by road from Jorhat, which is around 100km away. Kaziranga can be visited from October to April-end.
[AdSense-B]
Where to stay ?
There are some government run tourist lodges.
For details visit
www.assamtourismonline.com/properties.html or
www.assamtourism.org
[AdSense-C]
http://tripsaround.in/wp-content/uploads/2014/03/kaziranga-national-park.jpg
267
750
TripsAround .in
http://tripsaround.in/wp-content/uploads/2013/04/logo.gif
TripsAround .in
2014-03-03 16:03:45
2014-10-27 06:16:13
Kaziranga National Park, Assam - Famous for the great Indian one-horned rhinoceros