[AdSense-A]
Holiday travels can be of two types — you either have an action-packed tour, hopping from one destination to another trying to make the most of your hard-earned leave from your daily routine, or you spend a long-desired break, doing just nothing.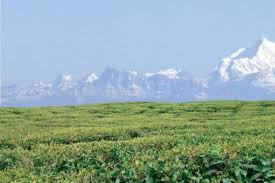 Jorepokhri, around 21 km from Darjeeling, is a perfect pit stop to laze around doing exactly nothing, yet pampering yourself all the while. Enjoy the morning brew with a sip of aromatic first-flush Darjeeling tea while watching a spectacular show of the sun and snow on the majestic Kanchenjungha. Train your binoculars on birds that you thought existed only in coffee-table books. Indulge the enthusiastic photographer in you and capture some brilliant frames. Sample some succulent momos or savour a piping hot chicken soup. Listen to the music you've always been meaning to but never quite had the time for, or, just switch your iPod off and listen to the song of the mountains — a gushing stream, birdsong from the trees, the gentle rustling of leaves or even the sound of a distant vehicle negotiating hairpin bends.
You could even go for long walks along a pine-lined serpentine road, discovering nameless orchids and blooms of myriad colours on the way.
Places to see at Jorepokhri: The word "Jore" means two and "pokhri" stands for "pond." Jorpokhri is marked by two natural water tanks and a beautiful view of Mt.Khanchenjungha. It is a wonderfully landscaped hilltop with the view of Darjeeling and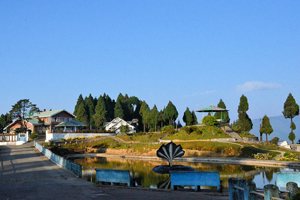 Kurseong on one side and the entire Kanchendzonga range on the other side. Sunrise is a heavenly experience from here. The water tanks are the breeding areas for the endangered Himalayan Salamanders. During Rainy season you may catch a glimpse of them. Jorpokhri actually falls within the Senchal Forest area and a leisurely walk in the forested area would be the experience of a lifetime.
Mirik is only an hour journey from Jorepokhri, Darjeeling is only 21 kilometers from here, Sukhiapokhri – the nearest town is only 2 kilometers and the Pashupati market in India-Nepal border is 30 minutes from here. Another nearby destination is Lepchajagat, which is only 5.5 kilometers from Jorepokhri. It too has a beautiful view of Mt.Kanchenjungha.
Nearby Attractions at Jorepokri: The famous Darjeeling, Mirik and Lepchajagat are nearby, easily accessible by hiring a car. Other attractions are Sukhiapokhri (for the Sandakphu Trek), Pashupati Nath Market (Nepal), Kurseong, Simana (India-Nepal border), Senchal Forest Area and the Tea Gardens all along.
Things to do at Jorepokhri: Enjoy the views of Mt. Kanchenjunga, enjoy the adjacent forests and trip to Mirik and Darjeeling. You can also drop at Pashupati Nath market of Nepal. You can also feed the geese swimming in the pokhri.
 Best time to visit Jorepokri: October to March if you are seeking beautiful views of Mt.Kanchenjungha June – August (Rainy Season) if you want to share a glimpse of the Himalayan Salamanders.
How to go?
Take a train from Howrah or Sealdah to New Jalpaiguri. From there, hire a car or a Trekker.
[AdSense-B]
Where to stay?
A tourist lodge run by Darjeeling Gorkha Hill Council is the only place where you can stay the night. You could call the DGHC office in Kolkata at 033-22821715 for booking.
Note : Phone numbers given above are according to the information available with us. If you find any contact number/s given above is/are incorrect or not in use, please let us know.
[AdSense-C]
http://tripsaround.in/wp-content/uploads/2014/03/Jorpokhri.jpg
374
746
TripsAround .in
http://tripsaround.in/wp-content/uploads/2013/04/logo.gif
TripsAround .in
2014-03-21 12:18:10
2014-05-15 13:51:59
Jorepokhri, North Bengal - A perfect place to laze around doing nothing