[AdSense-A]
Staying in a cottage amidst a profuse green forest enjoying the sight of a beautiful river and the distant mountains is a life long wish cherished by all. Jayanti is one of the latest destinations in Dooars still unexplored by mass tourism. This place is often termed as the "Queen of Dooars". The famous Buxa Tiger Reserve known for its tigers, leopards, elephants, deer, peacocks and the historic Buxa Fort is close to this area. Although the Jayanti River is mostly dry throughout the year, its shores of white pebbles add to the eternal beauty of the place. The soothing sound of the Jayant River blending with the chirping of birds is really refreshing for your tired soul. The way that leads to Buxa Tiger Reserve offers breathtaking views where herd of elephants or spotted deer or peacocks are a common sight. Jayanti is located in Jalpaiguri district of West Bengal. It is a forest village forming a natural boundary with the Bhutan Hills, some 30 kms from Alipurduar.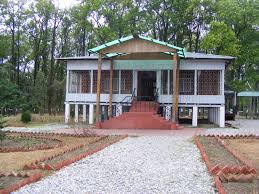 Places to see at Jayanti: There are in fact, quite a number of places to see at Jayanti other than the Jayanti River. One such place is the remnants of the historic Buxa Fort which is located on top of the Buxa Hill, at a height of 2600 feet. During the time of British India, this fort used to be a prison for freedom fighters. After that, it became the spot for refugee camps for Bangladeshis and Tibetans. There is also a pond (called pokhri by the locals) located on the nearby Pokhri Hill, which is considered holy by the locals. It is some 4 km from Jayanti. This place has great religious importance for the Bhutanese and to reach both Pokhri and Buxa Fort, you need to trek through the forests.
Mahakal is another popular sightseeing destination and popular pilgrimage site. It is located very close to the Bhutan border and is a cave devoted to Lord Shiva. The forest track towards the Mahakal cave is famous for bird watching. Bala Riverbed (another river near Jayanti), which is another great place for bird watching, is ideal for watching peacocks but don't stay back till late evenings because it is a leopard prone zone. Another great destination for elephant viewing is Bhutia Basti just 1.5 kms from Jayanti.
Nearby attractions of Jayanti: You can actually visit a lot of places during your stay in Jayanti and one such place is the Jaldapara Wildlife Sanctuary which is one of the best forests in India to view Rhinoceroses. The sanctuary covers a total area of 216 sq kms and is covered by woods, grasslands, flowing streams, sandy river banks and long lines of trees. It is located in Jalpaiguri district and has the Torsa River flowing through it. Other than rhinos, Jaldapara is also the home of a wide range of birds like paradise flycatcher, Bengal Florican, racket-tailed Drongo and hornbill.
Totopara – the village of the Toto tribe is one of the oldest tribes of India who reside in the area. From Jaldapara Wildlife Sanctuary, you can also visit Khairabari Leopard Sanctuary. The Chilapata Wildlife Reserve can be a place worth visiting. One of the main interests of the Chilapata Forest reserve is the "Nalraja Garh" or "Mendabari Fort," situated very close to the Bania River. The fort is in ruins and it speaks a lot about the Nal kings. You can also visit Cooch Behar town which is a very important historic tourist destination. This town is very famous for its Madan Mohan Bari temple and Cooch Behar Palace, the maternal house of Maharani Gayatri Devi.
Things to do at Jayanti: Taking hikes and wildlife safari are the two best things you can do during your visit to Jayanti and its surrounding areas. Bird watchers would have a excellent time in Jayanti too.
Best time to visit Jayanti: You can visit Jayanti any time of the year but it is advisable to avoid the rainy season when the region might become quite inaccessible.
How to go ?
If you are traveling by air, then Bagdogra Airport in Siliguri will be the nearest, just 195 km from Jayanti. If you are traveling by rail, then you have to get down at Alipurduar which is the nearest railway station. Jayanti is some 30 km from Alipurduar. You can also reach Jayanti from Siliguri, Cooch Behar and Jaldapara via Rajabhatkhawa. Taxis to Jayanti are available at Alipuduar.
[AdSense-B]
Where to stay ?
There are some home stays in Jayanti providing all the facilities required. Some options are:
Sakuntala Homestay Eco family tourism centre.: +913564-216022, +913564-206527, +919775482189, +918900075224
Rover's Inn: 9434014233, 9434754349, 9734172815, 9734903177
Note : Phone numbers given above are according to the information available with us. If you find any contact number/s given above is/are incorrect or not in use, please let us know.
[AdSense-C]
http://tripsaround.in/wp-content/uploads/2014/03/jayanti.jpg
300
700
TripsAround .in
http://tripsaround.in/wp-content/uploads/2013/04/logo.gif
TripsAround .in
2014-03-20 22:18:21
2014-05-15 13:58:56
Jayanti, North Bengal - The Queen of Dooars, a profuse green forest