[AdSense-A]
Jaldapara Wildlife Sanctuary, one of India's renowned forests is a home to Indian One-Horned Rhinos whose population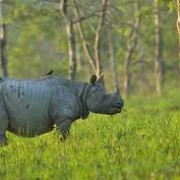 is increasing day by day. This forest covers an area of 216 square kilometers and comprises of grasslands, woods, sandy river banks, flowing streams and lines of tall trees. It was founded in 1941 to protect the Indian One-Horned Rhino. It is located in Jalpaiguri district, in the Alipurduar sub-division. The Torsa River flows through this forest. Apart from Rhinos and elephants, Jaldapara is also famous for bird population too. It supports birds like Bengal Florican, paradise flycatcher, hornbill and racket-tailed Drongo etc.
Places to see at Jaldapara: Apart from the animals and birds, the forest is also home to some of the oldest tribes of India. Totopara – the village of the Toto tribe is one of the primary attractions that should not be missed out during the trip to Jaldapara.
Totopara is a tiny village on a small hill and is the home of the primitive Toto tribe. It is located some 22 km from Madarihat (the entry check post of Jaldapara Wildlife Sanctuary). The tea gardens of Duncan and Jayashree also surround a major portion of the sanctuary.
Nearby attractions of Jaldapara: The Buxa Tiger Reserve located nearby is an effort to save the Royal Bengal Tiger.
This tiger reserve is idyllic to catch a glimpse of nearly 150 species of plants. Jayanti is another destination located at a distance of 75 km from Madarihat, on the banks of JayantiRiver. It offers the stunning view of sunset. Bhutan Ghat, a border town of India and Bhutan is located some 85 km from Madarihat. Some other places located nearby include Gorumara National Park and Chilapata Forest, where you can find the remains of the fort of Nal King. Another popular attraction is the Khayerbari Leopard Rescue Centre located at Madarihat.
A round-trip from Madarihaat covering Jamtala, Lankapara, Hanstapur, Dhumchi, Ghumtu and Birpara would take you through numerous rivers, jungles, hills and all types of flora and fauna. If you are fond of history and culture, then you can visit the nearby town of Cooch Behar for its wonderful palaces and temples.
Things to do at Jaldapara: Jaldapara WLS is famous for its One-horned Rhinos. You can take an Elephant safari or a jeep safari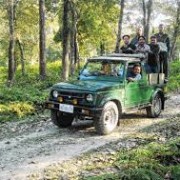 to view these magnificent animals amidst the wilderness. Jaldapara is also home to more than 240 species of birds including Cuckoos, Parakeets, Green Pigeons, Drongos, Barbets and others and hence an ideal place for bird watching also. There are numerous tea estates around Jaldapara where you can try your hand on tea plucking or visit the tea factory. Taking a stroll along the tea gardens or forests and a visit to the tribal villages can also be included in your itinerary. In the evenings, you can enjoy tribal dance or a nice campfire with family and friends.
Best time to visit Jaldapara: Jaldapara WLS stays closed during the monsoons (15th June to 15th September) every year.
How to go ?
If you are travelling by air, then Bagdogra airport is the nearest, from where you can reach Jaldapara via Siliguri. Madarihat, the entry checkpost of Jaldapara is 140 km from Siliguri and 50 km west of Alipurduar, located on the NH31 connecting Siliguri to Hasimara. The nearest railhead is Hansimara, which is only 7 km from the sanctuary. You can also visit Jaldapara from Siliguri or New Jalpaiguri.
[AdSense-B]
Where to stay ?
There are many resorts in Jaldapara. The WBTDC tourist lodge is a good option. Booking can be made from its Kolkata office.
Contact Details:
Tourism Centre (Kolkata)
(For reservation & detailed information)
Online Booking : www.westbengaltourism.gov.in
3/2, B.B.D. Bag (East), Kolkata – 700 001
Phone : (033)22436440 ,22488271

You can also stay at:
Jaldapara Jungle Camp
Ph no.:  +91-9733267517, 03563-262292
Hollong tourist lodge:
(03563) 262228
Note : Phone numbers given above are according to the information available with us. If you find any contact number/s given above is/are incorrect or not in use, please let us know.
[AdSense-C]
http://tripsaround.in/wp-content/uploads/2014/03/Jaldapara-Wildlife-Sanctuary.jpg
421
700
TripsAround .in
http://tripsaround.in/wp-content/uploads/2013/04/logo.gif
TripsAround .in
2014-03-23 08:40:43
2014-05-15 13:38:55
Jaldapara Wildlife Sanctuary, North Bengal - A home to Indian One-Horned Rhinos