[AdSense-A]
If the dull and monotonous daily life seems to make you tired then you must visit a beautiful beach to enjoy a spectacular sunset. Your dream will come true if you make a visit to the Henry's Island that has become one of the most popular beaches adjoining the Sunderban. The Fisheries Department of the Government of West Bengal has under its supervision made some 100 hectare land is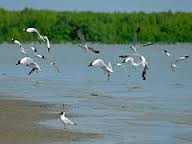 being used for pisciculture along with forest conservation. A place like this always appears enchanting. There is a watchtower from where you will get a complete panoramic view of the entire island from its top. Here the sea is quite timid and as you walk on the slightly black coloured beach, many ships sailing in the distant sea will be visible to you.
Places to see at HenryIsland: The main attraction of Henry Island is the beach adjacent to the Sunderbans. Besides, there is a watchtower where you can climb and get the complete view of the island. Then there are the Bheris – large shallow lakes, nearly 30 of them scattered throughout the island dedicated to pisciculture.
Nearby attractions at HenryIsland: Bakkhali, Frasergunj, Jambudwip are the nearby attractions of Henry's Island
Things to do at Henry's Island: You can take a stroll on the beach and enjoy the sunset and watch the fishing boats sailing in far off sea. You can also get to the watchtower and get the complete panoramic view of the island. Every morning, the Govt. registered fishermen catch fish in one of the Bheris. It is a nice experience to see them catch fishes. You can also buy the fresh catch from them at Govt. prices. Henry's Island has recently earned reputation as a bird watching site. Some of the birds sighted at Henry's Island are Lesser Whistling Ducks, Eurasian Wigeon, Gadwall, Streak-throated Woodpecker, Black-Rumped Flameback, Kingfisher, Common Snipe, Ruddy Turnstone, Red Knot and others.
Best time to visit HenryIsland: Throughout the year.
How to go ?
You have to turn left from Jelighat stop which is some 4 km before Bakkhali. On driving some 1.5 km, you will come across the lodges one by one.
[AdSense-B]
Where to stay ?
There is a tourist lodge available. You can dine at any of the restaurants in Bakkhali or avail the dining facilities at the lodge in Henry's Island. For booking details you may contact:
Mangrove Tourist Lodge: 033-2337-6470
Note : Phone numbers given above are according to the information available with us. If you find any contact number/s given above is/are incorrect or not in use, please let us know.
,
[AdSense-C]
http://tripsaround.in/wp-content/uploads/2014/05/Henry-Island.jpg
418
700
TripsAround .in
http://tripsaround.in/wp-content/uploads/2013/04/logo.gif
TripsAround .in
2014-06-15 15:39:53
2014-06-15 15:39:53
Henry Island - South Bengal - A beautiful beach to enjoy a spectacular sunset