[AdSense-A]
Garuchira Village Eco Park is a home to wild elephants. You may also catch a glimpse of deers and peacocks everytime you go to the forest. The distant hills of Bhutan seem like brooding over something. Staying in a Forest Bungalow with basic modern amenities amidst this wilderness and enjoying the warm food and warm hospitality of the villagers is an experience that you will cherish for the whole life. The guides are available all the time whenever you want to go to the forest. At the time of rain when the forests get soaked, you can sip your warm cup of tea in the bungalow watching the nature's beautiful game.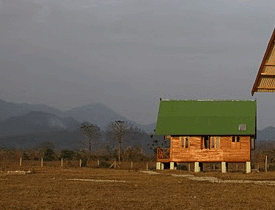 Places to see at Garuchira: Garuchira is a small village in the Bandapani area of the Terai region of West Bengal. On one side are the hills of Bhutan and on the other are the forests of Sal and Teak. There is an eco village of the Forest Department with two Forest bungalows here. Garuchira lies between the jungles of Terai region which serves as the main corridor of the wild elephants migrating from Nepal. Hilly rivers like Sukti and Reti flow by Garuchira. If you are coming to Garuchira during the rainy season, then you have to cross these rivers to reach the Forest Bungalows.
Nearby Attractions of Garuchira: Alipurduar is just 80 kms from Garuchira. You can spend a day or two at Garuchira and then move on to Alipurduar.
Things to do at Garuchira: You can make a jungle trip with your guide and stay in the forest bungalows. Wild elephants are the main attractions of Garuchira Forest.
Best time to visit Garuchira: Except monsoon you may visit Garuchira during any time of the year.
How to go ?
From New Jalpaiguri (NJP) you can hire a car to reach Garuchira via Birpara. Garuchira is an hour's distance from Birpara by car. You can also reach Garuchira from Alipurduar. Garuchira is around 80 kms from Alipurduar. You can also reach Garuchira from the nearby Dalgaon Station. The Up Kanchakanya Express (13149) stops at Dalgaon.
[AdSense-B]
Where to stay ?
The only lodging option is the Forest Bungalows of Garuchira. Dining is arranged by the Forest Bungalows. For booking details you may contact;
West Bengal Forest Development Corporation Limited
Address: 6A, Raja Subodh Mullick Square, 7th – Floor, Kolkata-700013
Ph No. : 033-2237-0060, 2237-0061, 2225-8549
Note : Phone numbers given above are according to the information available with us. If you find any contact number/s given above is/are incorrect or not in use, please let us know.
[AdSense-C]
http://tripsaround.in/wp-content/uploads/2014/03/Garuchira.jpg
463
700
TripsAround .in
http://tripsaround.in/wp-content/uploads/2013/04/logo.gif
TripsAround .in
2014-03-19 15:16:41
2014-05-15 14:34:09
Garuchira, North Bengal - A home to wild elephants