[AdSense-A]
A historical farmhouse in the midst of a jungle, and the melodious chirps of the unknown birds acting as the wake up call, is it not excite you? If it really does then make a trip to Garhshalboni, this weekend which is just 170 km from Kolkata by road. Once ruled by the Malla Kings, this farmhouse was their jungle retreat. The farmhouse covers an area of around 40 acres. It was also occupied by the British. The vast jungle, ancient temples, meandering rivers, migratory birds and untouched nature will really refresh your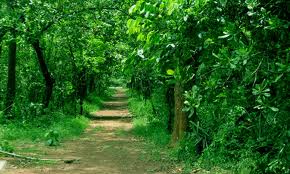 body and soul and make your weekend trip memorable.
The Garshalboni farmhouse is really a sort of paradise for the nature lovers. If you are one of those who would like to spend your weekend lazing in the forests and enjoying nature's lush green beauty, then Garhsalboni is perfect spot for you.
Places to see at Garshalboni: You will surely take sometime to explore the farmhouse's natural surroundings and the extensive jungle all around. The forest with its variety of existing saal, teak, mahua, cashew trees and mango trees will surely interest you. There is plenty to see around Garh Salboni like the textile printing works of Printex, a small zoo, the government Ayurvedic medicinal plant garden and a spring well nearby. However, Garh Salboni is the perfect destination to relax within pristine nature in a farmhouse filled with history.
Nearby attractions at Garshalboni: Kendua village – few kilometers from the farmhouse is home to numerous migratory birds. The Dulung River flows through another beautiful spot nearby called Chilkigar, which houses an ancient Kanakdurga temple just 22 kms away and a ShivaTemple. You can also visit Jhargram Raajbaari (King's residence) located nearby.  Another major attraction is the garden of Medicinal plants located nearby. You would find numerous temple and palace ruins all across the place.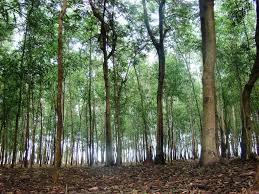 Things to do at Garshalboni: You can relax in the serene and peaceful environment of Garhsalboni. You can visit the nearby places of attraction, especially the ancient temple of Goddess Kanak Durga and discover more about the history of the place. Birdwatching at Chilkigarh and idling beside the Dulung River are few other things you can do here apart from watching a tribal dance during the evenings.
Best time to visit Garshalboni: You can visit Garhshalboni throughout the year. The winters are excellent for the migratory birds and the rainy season is favorable for the greenery all around.
How to go ?
You can avail the Ispat Express from Howrah Station. After crossing Kharagpur, you need to get off at Jhargram Station. From there, you can take an bus to reach Garshalboni forest (10 km away). Alternatively, you can travel by car from Kolkata. The distance is around 170 km and it takes about three hours. After crossing Kharagpur, you have to drive for another 35 km on Bombay Road to reach Lodhashuli Crossing, from where you have to drive for another 5 km to reach Garshalboni Forest.
[AdSense-B]
Where to stay ?
The farmhouse at Garhshalboni covers an area of around 70 acres. All types of trees like teak, mango, saal and hundreds of different types of medicinal plants grow in the premises of the farmhouse. The present farmhouse was the erstwhile forest retreat of the Malla kings and later taken over by the British. It presently accommodates tourists in its twelve rooms and an extensive dining area. The rooms are Double Bedded without AC facilities and have attached Western Toilets. Food is served for the guests in the Dining hall and the cuisine is essentially Bengali. You can savour fish, chicken and a whole lot of lip-smacking delicacies here. You may also stay at:
Kaushalya Heritage: +91-3221-262353, 9932867447
Note : Phone numbers given above are according to the information available with us. If you find any contact number/s given above is/are incorrect or not in use, please let us know.
[AdSense-C]
http://tripsaround.in/wp-content/uploads/2014/06/Garshalboni.jpg
394
700
TripsAround .in
http://tripsaround.in/wp-content/uploads/2013/04/logo.gif
TripsAround .in
2014-06-24 14:22:38
2014-06-24 14:23:44
Garshalboni, South Bengal - A historical farmhouse in the midst of a jungle