[AdSense-A]
Resting at an altitude of 4,715 ft Gangtok is the largest town as well as the capital of Sikkim. It is situated in the Shivalik Hills of the Eastern Himalayan range. The total population here is 80,000 consisting of various ethnic groups like Lepchas, Nepalis and Bhutia. The scenic Mt.Kanchenjungha, will welcome you here. Gangtok being the midpoint from here you can make exclusive day trips to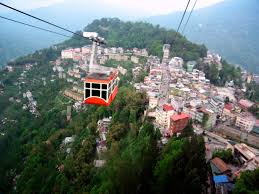 nearby lakes and monasteries and also enjoy all kinds of facilities of a modern city. It experiences a mild-temperature almost throughout the year and that makes it the tourist's favourite. Gangtok also acts as a base for trips to other parts of Sikkim like North Sikkim and the Old Silk Route (NathangValley, Zuluk and Lungthung). There are varied accommodation options in Gangtok.


Places to see at Gangtok: The Institute of Tibetology is one of the prime attractions of Gangtok, which is visited by tourists interested to know about Buddhism. The Institute stocks around 30 thousand books and documents on Tibet related to Buddhism.
The beautiful Enchey Monastery is located near the TV Tower within think vegetation with grand views of Kanchenjungha. The Phurba Chorten located near the Institute of Tibetology is a towering stupa with 113 small prayer wheels surrounding it. The Hurhuray Dara located near the Sikkim Legislative Assembly offers great views of the valley below and the Ro-Ro Chu river flowing below.
The Tashi View Point located some 5 kms from Gangtok on the way to North Sikkim offers a stunning view of Kanchenjungha. Another nice place to visit is Ganesh Tok, which is a small temple dedicated to Lord Ganesha perched on a hill around 6500 feet above with a bird's eye view of Gangtok and Mt. Kanchenjungha. Another similar spot with great views of Kanchenjungha and the surrounding areas is Hanuman Tok located at Gangtok-Nathula Highway at 7200 feet above. You must not miss the Bakhthang Waterfalls and Ban Jakhri Waterfalls in Gangtok. Bakhthamg Waterfalls is located on the North Sikkim Highway towards Tashi View Point and Ban Jakhri waterfalls is around 7 km from Gangtok on the road towards Ranka. There is also a solar park here.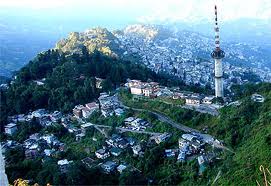 Nearby attractions from Gangtok: Gangtok can act as a very good base to visit various interesting nearby lakes, monasteries, gardens, mountain passes and temples. The Rumtek Monastery located almost 22 km from Gangtok was established in 1922. This is the largest monastery in Sikkim and certainly one of the most beautiful ones. It is three-storey with a huge prayer hall intricately decorated with statues, wall paintings and thangkas. The Sarmsa Garden previously known as Ipecac Garden located around 14 kms from Gangtok near Ranipool is one of the best gardens to spot orchids and Medicinal Plants in Sikkim. Another nice garden is the Nehru Botanical Garden located near Rumtek Monastery.
The Lingdum Monastery located near Rumtek is another extravagant monastery near Gangtok. You can also visit one of the most picturesque lakes in Sikkim called Changu Lake (also known as Tsomgo Lake) around 35 km from Gangtok at an altitude of 12310 feet. Special Inner Line Permits for Indian as well as Foreign officials are required from police and Tourism Department to visit this lake. Tucked within hills which are covered with wild flowers in spring and 3 feet of snow in winters Changu lake is a treat to the eye. In winters, Changu gets completely frozen.
Nathula Pass located at 14400 feet is a major pass connecting Sikkim with Tibet. There is an Indian check post and Chinese check post located here. From Nathula pass you can view Mt.Chomolhari (also known as Jomolhari) towering 24,035 ft at the Bhutan side. There is another interesting non-religious temple call Baba Mandir near Changu lake. There is an interesting belief about this temple. Baba Harbhajan was an Indian army soldier who died near the Nathula Pass. He is revered by the soldiers of the Indian army, who have built a shrine in his honour. Baba is believed to have granted favours to the soldiers, and guard each one in the inhospitable terrain.
Things to do at Gangtok: You can take a rope way ride at Gangtok between Sikkim Legislative Assembly and Deorali. The ride takes around 10 mins and gives a great view of rivers, valleys and Gangtok city below. You can also hang out for shopping and restaurant hopping at M G Marg, which is the main market area in Gangtok. Around a kilomter long this road is traffic free and surrounded by the best restaurants, shops and hotels. The shops open by 9:00 am and close down by 7:30 pm. M G Marg Market stays closed on Tuesdays. Lal Bazar, also known as Kanchenjungha Shopping Complex is a favourite of the shopping lovers. You would find all types of goods here and it serves up the local population. The Lal Market stays closed on Thursdays. However, if you are food of local handicrafts, then drop at Govt. Institute of Cottage Industries for Choksees (folded wooden tables), carpets, hand made paper, Thankas and masks. The Institute stays open from 10:00 am to 4:00 pm and stays closed on Govt. Holidays. One of the most popular pieces of attraction in Gangtok is the zoo, which is home to some animals like the Himalayan Bear and Red Panda that are native to the state. The zoo extends for around 205 hectares and you to walks all around to view some of its inhabitants. If you are fond of flowers, then you can also drop at White Hall for the flower show in winter.
How to go ?
If you are travelling by plane, then the nearest airport is Bagdogra Airport, from where you can hire a taxi or a cab to reach Gangtok. By train, you need to get down at New Jalpaiguri station and then hire a taxi to Gangtok. You can avail state buses or jeep from Siliguri to Gangtok, which takes around 4 hours. You would also get rented cars from New Jalpaiguri Station for Gangtok. Gangtok can also be accessed via road as the place is well connected with Darjeeling and Kalimpong by National Highway 31A.
[AdSense-B]
Where to stay ?
The are numerous accommodation facilities in Gangtok. Some options are:
Hotel Sonam Delek: (+91)-(3592)-202566 / 208906.
The Royal Plaza: (+91-)(3592)-280032 /280232
The Chumbi Residency: (+91-)(3592)-206618/206619.
Hotel Delamere: (+91)-97330 00060
Note : Phone numbers given above are according to the information available with us. If you find any contact number/s given above is/are incorrect or not in use, please let us know.
.
[AdSense-C]
http://tripsaround.in/wp-content/uploads/2014/05/Gangtok.jpg
422
700
TripsAround .in
http://tripsaround.in/wp-content/uploads/2013/04/logo.gif
TripsAround .in
2014-06-21 22:49:53
2014-06-21 22:49:53
Gangtok, Sikkim - Resting at an altitude of 4,715 ft Gangtok is the largest town as well as the capital of Sikkim