[AdSense-A]
Located at the meeting point of River Hooghly, River Damodar and River Rupnarayan, Gadiara is an ideal weekend spot. After meeting here the rivers form a huge water body with towns like Haldia, Geonkhali and Nurpur on their banks. In the evening, the view of the glittering lights of these towns across the river from Gadiara is really a wonderful experience. Want to spend an idle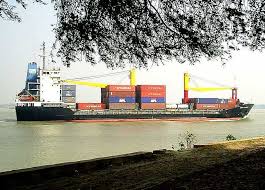 weekend watching the boats passing by and the sun setting on the river, then Gadiara can be your choice. Here you will enjoy fresh and sumptuous Bengali food, river cruising, hotel with swimming pool and village walks during your stay. Gadiara is an ideal weekend experience rejuvenating all your experience.
Places to see at Gadiara: You can still seem some ruins of an old fort built during the rule of Lord Clive mostly submerged in the river. You can also take a boat ride to the other side of the river to another tourist spot called Geonkhali.
Nearby attractions at Gadiara: The major nearby attraction from Gadiara is Garchumuk. You can also visit nearby Geonkhali by crossing the river by regular ferry service..
Things to do at Gadiara: Savour the spectacular sunrise and sunset over the vast expanse of water. Take a walk along the riverside and spend some quality time taking a boat ride on the river. Idling along the river bank and taking lazy village walks are the best things to do in Gadiara.
Best time to visit Gadiara: You can visit Gadiara any time of the year. The evenings are usually cool with winds flowing over the river.
How to go ?
You can drive to Bagnan and then take left. Cross the level crossing and head towards Shyampur to reach Gadiara. Gadiara is 8 km from Shyampur and 33 kms from Bagnan. If you are driving along the Durgapur Expressway from Kolkata, then it will take around 1 hr to reach Bagnan from Kolkata. If you want to avail train services, then board a local train from Howrah heading to Kolaghat, Mecheda, Panskura or Kharagpur that will drop you at Bagnan Station. You can catch a bus from Bagnan to Shyampur. You would get auto rickshaws from Shyampur to Gadiara. There are also direct CSTC buses leaving Kolkata from Dalhousie (Esplanade) – opposite to KC Das Sweet shop for Gadiara. The first bus leaves Esplanade around 5:30 am and the last CSTC bus leaves Gadiara at around 4:00 pm. There is another way of reaching Gadiara through ferry services from Nurpur. There are direct buses from Esplanade to Nurpur too.
[AdSense-B]
Where to stay ?
There are different types of hotels and guest houses in Gadiara. However, only few are equipped enough to keep family guests. Most of the hotels in Gadiara face the river and some are located near the bus stop while others are located in seclusion amidst nature beside the river. You would get rooms according to your preference and budget starting from basic rooms to Deluxe AC rooms.  You can also stay at the WBTDC guest house named Rupnarayan Tourist Lodge at Gadiara. For booking details please view the details given below:
Tourism Centre (Kolkata)
(For reservation & detailed information)
3/2, B.B.D. Bag (East), Kolkata – 700 001
Phone : 033-2243 6440/ 2248 8271
Website: www.wbtourism.gov.in
New Chalantika Hotel: 03214-263108/127, 9732583213
Note : Phone numbers given above are according to the information available with us. If you find any contact number/s given above is/are incorrect or not in use, please let us know.
.
[AdSense-C]
http://tripsaround.in/wp-content/uploads/2014/05/Gadiara.jpg
466
700
TripsAround .in
http://tripsaround.in/wp-content/uploads/2013/04/logo.gif
TripsAround .in
2014-06-16 15:34:01
2014-06-16 15:35:39
Gadiara, South Bengal - An ideal weekend at the meeting point of River Hooghly, Damodar & Rupnarayan