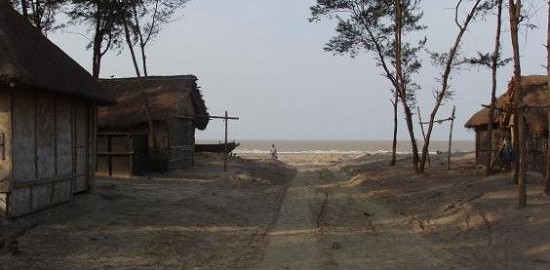 [AdSense-A]
To think that there is a sea barely a three-hour drive away from Kolkata! Fraserganj, in South 24-Parganas, is the perfect weekend getaway, especially if one enjoys getting behind the wheel.
Swept by the Bay of Bengal, it offers peace and romance in its wind-swept rows of casuarina trees. Here red fiddler crabs dot the silver-white sand, scurrying away from approaching footsteps.
The place derives its name from Andrew Fraser, a lieutenant-governor of Bengal in the early 20th century. Legend has it that Fraser was shipwrecked in this region and was rescued by a local woman called Narayani.
The sahib fell in love with both the land and the lass. But word reached the wife back home and she sent emissaries to put an end to the affaire du coeur. Some months later, a ship docked at the coast and Narayani disappeared. Time has taken its toll on Fraser's villa but the land of his love has prospered.
What is the best thing about being in Fraserganj? The proximity to three beaches within half an hour of each other — Fraserganj itself, Bakkhali 2.5km further up and HenryIsland. Not to mention the novelty of crossing the Hatania Doania river. Even today there is no bridge that connects the two sides of the river — Narayanpur and Namkhana. The ships that sail in from the Bay of Bengal do not allow the construction.
Instead, there is a barge that takes vehicles across. It plies from 7am to 10pm, with an hour's lunch break. For a two-way trip, large buses are charged Rs 650 plus a panchayat fee of Rs 60 while minibuses pay Rs 550 plus Rs 45. For cars, the rate is Rs 320, plus Rs 30. Bravehearts can also cross the river by boat for Re 1. There are cars for hire and private buses galore on the other side.
Fraserganj is 25km away from the jetty. The beach lies parallel to the road but for a view, one has to take a short walk along a kutcha road next to a Banbibi temple. The approach is marked by windmills.
To enjoy the sunset from Bakkhali, you can take a bus or a rickshaw. A 45-minute walk along Fraserganj beach will also get us there as it is part of the same stretch. The hard beach is ideal for cycling too. There is a tiny temple, off Bakkhali beach, shrouded in leafy shades and dedicated to Goddess Bishalakshmi and other deities like Banbibi. There is a small forest department-run crocodile park near the bus stand which houses half a dozen crocodiles and deer.
The dirt track leading to HenryIsland goes in the direction opposite to the local beach just before one reaches Fraserganj. A 10-minute drive takes one to a watch tower that gives a spectacular view of the forests and surrounding creeks. After that, walking is the only option. One can see the breathing roots of mangroves in adjoining creeks up close on the way. Named after the area's surveyor and seat of a pisciculture project, this beach is even lonelier than Fraserganj.
How to go?
Hiring a car is the best option. Non-AC WBSTC buses start for Bakkhali from the Esplanade depot at 7am and 8am. The five-hour journey with many stops costs Rs 70. You can make a booking up to a month in advance. Namkhana is the closest railhead, from where you have to take a rickshaw or a van to the jetty.
[AdSense-B]
Where to stay?
Hotel Deepak, with a swimming pool and children's park, is the best option in Fraserganj.
Hotel Deepak
Frazer Gunj, Bakkhali, 24 Parganas (South), West Bengal, India
Phone: +91 03210 225277
Mobile: +91 97326 04833 (Hotel)
Kolkata Office:
117A, Monoharpukur Road, Kolkata- 700 026
Tel: +91 33 2464 0081, 2463 3203 / 3292 9840 (Office)

The state tourism department's Bakkhali Tourist Lodge should be the choice in Bakkhali. Contact no.:22488271, 9874026914.
[AdSense-C]
http://tripsaround.in/wp-content/uploads/2014/02/fraserganj.jpg
412
550
TripsAround .in
http://tripsaround.in/wp-content/uploads/2013/04/logo.gif
TripsAround .in
2014-03-01 14:31:11
2014-05-15 16:17:12
Fraserganj - A sea barely a three-hour drive from Kolkata