[AdSense-A]
Resting in the Southern suburbs of Kolkata Diamond Harbour is an exciting day out or a weekend tour. This picturesque destination is located within a short reach from Kolkata (50 km), and is absolutely perfect for a leisure trip. The site is close to the deltaic region of the city. Diamond Harbour was known as Hajipur in the past and is actually located at a point where River Ganges turns southward to conflux with the sea. The industrial town of Haldia is located on the other side and the road skirting its way keeping the mighty Ganges on its side is just awesome.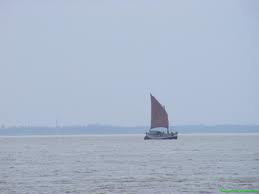 Places to see at Diamond Harbour: Diamond Harbour was the nucleus of the Portuguese pirates in the past. Thus, the site features some ruins associated with the pirates, the most notable being the remnants of the Chingrikhali Fort, built in the 16th century. According to the locals, the fort was inhabited by the Portuguese pirates. Tourists also visit the Sarisha Ramkrishna Mission Ashram, another prominent highlight of the site. Diamond Harbour also houses an age-old lighthouse, which is also a major tourist attraction. However, the best thing to do in Diamond Harbour is to sit beside the river and watch the passing boats.
Things to do at DiamondHarbour: Diamond Harbour being a serene riverside spot is ideal for picnic. Shrouded with tranquility the place is also ideal for rejuvenation, away from the hustle and bustle of the city life. You can enjoy a leisure walk along the riverside, savouring the panoramic view offered by the small boats and large vessels passing by. The unpolluted pleasant breeze will enchant your mind and soul. However, the best activity offered by Diamond Harbour is the exquisite boat tours by locals, which are truly memorable. You can also take a ferry ride to Haldia.
Best time to visit DiamondHarbour: Diamond Harbour attracts most of the tourists all round the year, to savour the scenic beauty of the destination.
How to go ?
It hardly takes two hours to reach Diamond Harbour from Kolkata by car or bus. You can also board train, running to Diamond Harbour from Sealdah Railway Station.
[AdSense-B]
Where to stay ?
There are many accommodation facilities at Diamond Harbour. Some options are:
Punyalakshmi Hotel: 9231663678. Website: www.hotelpunyalakshmi.com
WBTDC owned Hotel Sagarika is another option:
For booking and reservation you may contact:
Tourism Centre (Kolkata)
3/2, B.B.D. Bag (East), Kolkata – 700 001
Phone : 033-2243 6440/ 2248 8271
Website: www.wbtourism.gov.in
Note : Phone numbers given above are according to the information available with us. If you find any contact number/s given above is/are incorrect or not in use, please let us know.
[AdSense-C]
http://tripsaround.in/wp-content/uploads/2014/05/Diamond-Harbour.jpg
511
700
TripsAround .in
http://tripsaround.in/wp-content/uploads/2013/04/logo.gif
TripsAround .in
2014-06-22 23:56:43
2014-06-22 23:56:43
Diamond Harbour, South Bengal - Try for an exciting day out or a weekend tour