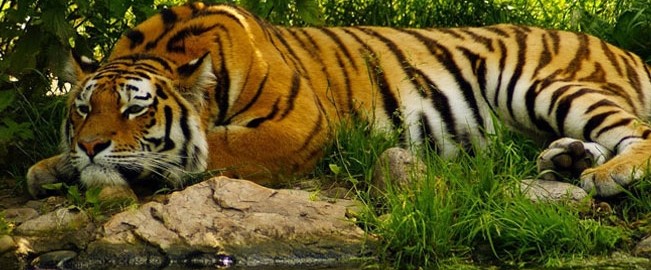 [AdSense-A]
Debrigarh means "The abode of the goddess". Located around 40km from Sambalpur in Orissa, it is home to a rich diversity of flora and fauna, thanks to the Debrigarh Wildlife Sanctuary amid the famous Barapahad hills.
Asia's longest earthen dam, the Hirakud, 24km in length across the Mahanadi, appears on your way to Debrigarh. As your car drives along the vast water stretch, train your eyes on the greens that run riot all around. Nature trails, trekking, boat rides, wildlife — Debrigarh offers all this, and more.
The approach road to the sanctuary borders the reservoir. The sanctuary harvests rainwater in its mini-catchments that drains off into the reservoir. The symbiosis forms a safe haven for wild animals and the fresh water offers a breeding ground for a wide variety of aquatic lives. The soil type supports Sal forests with abundant bamboo clumps, which is sufficient to support an entire food web.
The road through the forest is narrow and flanked by trees like Asana, Bija and Dhaura. Silence reigns everywhere; you can hear the river murmur ever so often. Visitors are advised to maintain silence as bisons and deer are scared at the slightest disturbance. The sound of your vehicle can make a herd of wild pigs scamper off.
There are cottages in the middle of the jungle. Staying there amid the chirping birds, glimpses of wild animals, the whistling forest breeze and the fragrance of wild flowers is  the experience you will cherish forever.
How to go?
Take the Koraput Express from Howrah and get off at Sambalpur. Hire a private car for the 40km ride to Debrigarh.
[AdSense-B]
Where to stay?
You can book Orissa tourism's Panthaniwas. Address:  Utkal Bhawan, 55 Lenin Sarani, Kolkata
Tel: (033) 2244653/22164556.
There are also many private hotels in Sambalpur.
[AdSense-C]
http://tripsaround.in/wp-content/uploads/2014/03/debrigarh-wildlife-sanctuary.jpeg
309
651
TripsAround .in
http://tripsaround.in/wp-content/uploads/2013/04/logo.gif
TripsAround .in
2014-03-09 15:47:19
2014-05-16 11:10:40
Debrigarh, 40km from Sambalpur in Odisha