[AdSense-A]
Darbhanga is among the oldest cities of Bihar. Being a municipal corporation and the Town of old Darbhanga Raj and present headquarters of Darbhanga district and Darbhanga Division in the state of Bihar, India, Darbhanga is experiencing rapid development.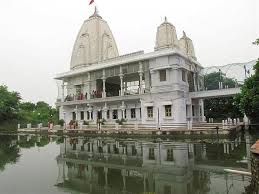 The name of Darbhanga can be traced during the Ramayana and Mahabharata periods. Darbhanga was an ancient city of Mithila, which is an ancient cultural region of North India lying between the lower ranges of the Himalayas and the Ganges River. The famous king was Janak Sirdhwaja, father of Sita was once the ruler of the place. The name Darbhanga is the mutated form of "Dwarbanga". That is, it is the combination of words "Dwar"(Gate) and "Banga" (Bengal) which means the "Gateway of Bengal".
The scholars however assumes that Darbhanga was named after Dar (Dwar) and Bhangaa meaning the broken gates. The gates of the Qila (at Qilaghat probably) are supposed to have been broken (by cannons or elephants) in 1326 AD when Tughlak forces attacked the last independent North Indian Hindu king.
Hindus began to flock to this town since the beginning of 19th century when the Maharaja of Darbhanga shifted his residence to this town and was granted the title Maharaja by East India Company. The Nepal border cuts across the top fringe of this region. The Gandak and Kosi River are rough western and eastern boundaries of Mithila.
Places to see at Darbhanga: Darbhangha comprises of numerous tourist destinations.
Ahilya Asthan
It is famous historical temple, situated about 3 Kms. South of Kamtaul Railway Station in Jale Block. This place is known as Ahilya gram. There is a well known in the Ramayan about Ahilya. According to Ramayan when Lord Ram was his way to Janakpur his feet touched a stone and it turned into a woman who was non-else but Ahilya. Her husband Gautam Rishi cursed the Ahilya to fun into stone. The temple is dedicated to Ahalya, wife of Gautam Rishi. Large fairs are held every year on the occasion of Ramnavami in the Hindi month of Chaitra and Vivah Panchami in Agrahayan. There are various other temples and mosques in the village.
Brahmpur
The village is situated about 8 km away from Kamtaul and 19 km south east of Jogiara. The village is noted for the Gautam Kund and a temple of Gautam Rishi, which are located very close to it. According to the Puranic tradition Lord Brahma appeared before Gautam Rishi at this place after the chastity of his wife, Lord Indra and Chandrama had violated Ahalya. The village derives its name from this occurrence. In regard to the Gautam Kund, it is believed that God Brahma himself created the tank by piercing the earth with seven arrows, so that Gautam might not have to travel a long distance for bathing in the Ganga. Kamtaul. The village is a rail head in Jale block. The village has a Khadi Gramodyaog centre and a Khadi store. It is the rail head for visitors to Ahalyasthan and Gautamsthan.
Chhaprar
The village is situated in Bahadurpur block, at a distance of about 10 Km from District Headquarters. It has a temple of Lord Mahadeva on the bank of the Kamla River around which fairs are held on the occasion of Kartik and Maghi Purnima.
Dekulldham. The village falls in Biraul block and is noted for is large temple of Lord Shiva. Devotees congregate here every Sunday. A large annual fair is held on the occasion of Shivaratri.
Kusheshwar-asthan
It is an important religious place, situated about 16 Km east of Singhia and 22 km  north east of Hasanpur Road railway station on the Samastipur, Khagaria Branch line of North Eastern Railway. It is noted for the temple of Lord Shiva known as Kusheshwarasthan. Pligrims visit this place all the year round for worship. The origin of this temple is traced to the epic period.
The water logged fourteen villages of Kuseshwarasthan block covering an area of 7019 acres and 75 decimals, due to their greater ecological, faunal, floral, geomorphological and natural importance has already been declared as Kuseshwarasthan Bird Sanctuary under Wild Life Protection Act 1972 (as amended upto 1991). The following table shows the names and status of some important migratory birds seen in Kusheshwarasthan Bird Santuary and their native countries.
Mahinam-Mahadeo-sthan
It is temple of Lord Shiva situated at a distance of about 5 Km from the Darbhanga-Biraul pucca road. Large annual fairs are held here on the occasion of Kartik and Maghi Purnima.
Makranda
Situated about 5 Km,  south of Manigachhi railway station, the village is known for its old temple called Baneshwaristhan.
Newri
The village likes about 13 Km. west of the block head quarters at Biraul and contains the remains of an ancient fortress associated with Raja Lorick.
Nawadah Durga-sthan
It is famous temple of Goddess Durga Located on the Majkora Nawadah Road. The place is visited by hundreds of devotee's everyday. The Dussehra festival is celebrated here with great enthusiasm.
Raghopur
The village is situated about 5 km south of Sakri railway station. It is noted for its earthen mound, known as Sheosingh-garh, which is believed to cover the ruins of a building, built by Raja Shiva Singh.
Shyama Temple
Shyama Temple is just 1 km west of Darbhanga Railway Station. It is situated in the picturesque and peerless Lalit Narayan Mithila University. In fact it is private graveyard of Darbhanga Raj Royal family and temples have been build upon the graveyard of the ancestors of the Royal family. Shyama Temple is one of them. It was built in 1933. A huge statue of Goddess Kali is enshrined in this temple. This temple is famous not only for its grand our beauty and lively men but also for the faith that people here get there in desire fulfilled if they worship with holy heart.
Sati Asthan
Sati Asthan is situated in the famous graveyard of Subhankarpur, which is about one km west of Darbhanga Maharaji bridge. Maharaj Rameshwar Singh who was also a great Tantrik used to visit here daily in mid night for his Tantra Sidhi. Late Pandit Harinandan Mishra father of Late Lalit Narayan Mishra, Ex, Railway Minister, Government of India, also held in this premises. Now a days people use to visit this place on every Monday and Friday.
Manokamna Temple
Manokamana Temple is situated in the University Campus just beside Nargauna Palace. This temple has constructed with the Marvel. In fact it is a Hanuman temple where a little but most beautiful statue of Hanuman is build of marvel. A lot of crowd came to visit this place every day.
Malechchhed Mardani Temple
Malechchhed Mardini temple is one km south west of Darbhanga Railway station. It is temple of the Godden who destroy the faints. This temple is of utmost importance for Shakti people.
Kankali Temple
Kankali temple is two km north west of Darbhanga Railway station in the premises of Qila of Darbhanga Mahraj. This temple is of utmost importance for Shakti people.
Kaitholic Church
It was old type of Baungla Church established in 1891 where training is to given to Christen Pandit.. It is just situated one km north form the Darbhanga Railway Station. This building was demolished in the earthquake of 1897 and later on it was constructed. The pray was started in this building from 25 December 1991. The name of this church is Holy Rosary Church. A lot of crowds were assembled on every Friday. Here Christmas festival is organized between Dec 25-31 and Anand Mela is organized on October 7 on each and every year. In the front of Church a most attractive symbol of Isamashi is also situated.
Bhikha Salami Majar
It is situated at one km southeast from Darbhanga Railway station on the bank of Gangasagar pond. A fair is to be organized between 12th and 16th day during the Ramzan.
Masjid at Darbhanga Tower
It is situated at two km west from the Darbhanga Railway Station and just neat at Darbhanga Tower. It is the most attractive and religious place for the Islam religion. A crowd people are assembled on every Friday for pray their Namaj.
The Mazar of Makhdoom Baba
It is situated at 2 km northwest from Darbhanga Railway Station and just between the both universities. It is the very popular secularism place. Here daily people from Islam religion as well as Hindu religion assemble for offering their prayers.
Maharaja Laxmiswar Singh Museum
Maharaja Laxmiswar Singh Museum was established on 16th September 1977. Royal family of Darbhanga is well known for its love and affection with art and culture. Prince Subheshwar Singh gifted the invaluable and immemorial items and Durlabh Kalakritiya in order to establish this museum. This unique museum is situated on the eastern bank of Mansarover Lake. There is rare collection of a number of objects and weapons made of Gold, Silver, Tusker teeth all collection has been scientifically organized and placed into eight different chambers.
Chandradhari Museum, Darbhanga
This museum was established on 7 December 1957 on the north  bank of Mansarowar Lake. Late Chandradhari Singh of Ranti Dyordhi (Madhubani) donated all the artifact and other rare objects. On the basis of arrangement and materials of the Museum it can be devided into eleven type of Halls. These are Glass Gallery, Textile Gallery, Miniature Painting Gallery, Modern Paintings, Stone Sculpture Gallery, Wood Gallery, Mother of Pearls Gallery, Natural History Gallery, Ivory Gallery, Brass Gallery, Special Gallery, Strong Room, Library.
Things to do at Darbhanga: Sight seeing can be a major activity of the tourist at Darbhanga. The place is dotted with plenty of tourist spots. You will enjoy your visit thoroughout.
Best time to visit Darbhanga: Winter is the ideal season to visit Darbhanga. The temperature remains soothing and extremely comfortable during this season. It is in this season that you can enjoy the real beauty of nature.
How to go ?
Darbhanga is well connected by both rail and road.
By Road
Darbhanga is 14 km from Belwa, 26 km from Jila Missrouli, 60 km from Pokhraira, 70 km from Dumra, 129 km from Patna, 144 km from Chhpara, 185 km from Nalanda, 191 km from Siwan, 210 km from Bhojpur, 262 km from Buxar and is connected via Bihar State Road Transport Corporation (BSRTC) and some private travel services.
By Train
It has its own Railway Station named as Darbhanga Railway Station which is connected to the major cities of Bihar. It is situated on the major New Delhi-Howrah railway line and is linked with the cities like New Delhi, Bangalore, Mysore, Lucknow, Chennai, Puri, Ahmedabad, Jaipur, Patna and Gaya.
 By Air
The nearest Domestic Airport is Lok Nayak Jayaprakash Airport, Patna, roughly three hour drive from Darbhanga. Patna has daily flights to many cities like Bangalore, Chennai, Delhi, Kolkata, Lucknow, Hyderabad, Mumbai, Ranchi, Bhopal, Ahmedabad, Goa and Vishakhapatnam.
[AdSense-B]
Where to stay ?
There are many hotels at Darbhanga. Some options are:
Shyama Regency:  +91-6272 246807, + 91 9973 011112, +919973 283108
Hotel Rama Regency: +91-06272 233 241
Arvind and Agarwal Hotel: +91-096 08 045333
Note : Phone numbers given above are according to the information available with us. If you find any contact number/s given above is/are incorrect or not in use, please let us know.
.
[AdSense-C]
http://tripsaround.in/wp-content/uploads/2014/06/Darbhanga.jpg
466
700
TripsAround .in
http://tripsaround.in/wp-content/uploads/2013/04/logo.gif
TripsAround .in
2014-06-26 08:50:28
2014-06-26 09:05:13
Darbhanga, Bihar - Among the oldest cities of Bihar with many ancient remains