[AdSense-A]
Chitrakoot, 'the hill of many wonders', rests peacefully in the northern fringes of the Vindhyas. The tranquillity of the forest glades, quiet rivers, streams, the over all calm and repose atmosphere really makes the place ideal for holiday trip. Chitrakoot is one of the loveliest lands of nature. It is a sacred place and a popular pilgrimage. The spiritual legacy stretches back to legendary ages. It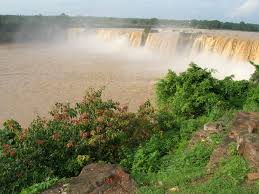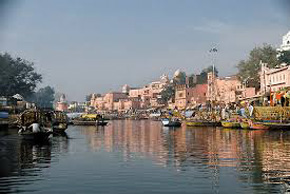 was in these deep forests that Rama and Sita spent eleven of their fourteen years of exile; here that the great sage Atri and Sati Anusuya meditated; and here where the principal trinity of the Hindu pantheon, Brahma, Vishnu and Mahesh took their incarnations. So if you are looking ahead for some soul searching then make a trip to Chitrakoot, one of the most revered spiritual places in India.
Places to see at Chitrakoot: Bearing the spiritual legacy, Chitrakoot has a number of sites of spiritual importance.
Ramghat
The ghats that line the banks of the river Mandakini, reveal a constantly moving and changing kaleidoscope of religious activity. Here, amidst the chanting of hymns and the sweet fragrance of incense, holy men in saffron robes sit, in silent meditation or offer the solace of their wisdom to the countless pilgrims who converge here. With the very first rays of dawn that gleam upon the river, Ramghat stirs into life as the devout of all ages take the ritual, purifying dip in the waters and invoke the blessings of the gods. The rippling blue green waters of the Mandakini can be traversed by boats, readily available for hire.
Kamadgiri
Kamadgiri, the original Chitrakoot, is a place of prime religious significance. A forested hill, it is skirted all along its base by a chain of temples and is venerated, today, as the holy embodiment of Rama. The Bharat Milap temple is located here, marking the spot where Bharat is said to have met Rama to persuade him to return to the throne of Ayodhya. Many are the faithful who perform the ritual circuit (Parikrama), of the sacred hill, to ask for a boon or a blessing.
Sati Anusuya
Sati Anusuya is located further up-stream, set amidst thick forests that resound to the melody of birdsong all day. It was here that Atri Muni, his wife Anusuya and their three sons (who were the three incarnations of Brahma, Vishnu and Mahesh) are said to have meditated. The Mandakini is believed to have been created by Anusuya through her meditation. Sati Anusuya lies about 16 km from the town and can be reached by road – an undulating, curving drive through densely wooded areas.
Bharat
Bharat Koop is where Bharat stored holy water collected from all the places of pilgrimage in India. It is a small, isolated spot a few km from town.
Sphatik
A few km beyond Janaki Kund is again a densely forested area on the banks of the Mandakini. One can climb up to the boulder which bears the impression of Rama's footprint and where Sita was pecked at by Jayant in the form of a crow. There are large fish in the river here easily visible in the pellucid water, and a few temples.
Bharat Milap
Bharat Milap temple is located here, marking the spot where Bharata is said to have met Rama to persuade him to return to the throne of Ayodhya. It is said that the meeting of four brother was so emotional that even the rocks and mountains of Chitrakut melted . Foot prints of Lord Rama and his brothers were imprinted on these rocks and are still present today and seen in Bharat Milap Mandir.
Hanuman Dhara
Located on a rock-face several hundred feet up a steep hillside is a spring, said to have been created by Rama to assuage Hanuman when the latter returned after setting Lanka afire. A couple of temples commemorate this spot which offers a panoramic view of Chitrakoot. There is an open, paved area here in the shade of a massive peepul tree, a lovely halting place after the long climb-up.
Gupt-Godavari
Gupt-Godavari is situated at a distance of 18 km from town. Here is a pair of caves, one high and wide with an entrance through which one can barely pass, and the other long and narrow with stream of water running along its base. It is believed that Rama and Lakshmana held court in latter cave, which has two natural throne-like rocks.
Pampapur
It is situated in the valley of Devangana. Here we find sacred caves. Sacred caves related to Lord Rama.
Hanuman Dhara
Located on a rock-face several hundred feet up a steep hillside is a spring, said to have been created by Rama to assuage Hanuman when the latter returned after setting Lanka afire. A couple of temples commemorate this spot, which offers a panoramic view of Chitrakut.
Ram Shaiya
This place is located on the way between Chitrakoot and Bharat Koop, in an isolated location. It is the place where Shri Ram, Sitaji and Laxmanji used to sleep and rest in the evening after wandering around the forest of Chitrakoot. It is located between mountains with no town near-by, with absolute silence in the environment. It has a large flat-bed rock which bears imprints of Shri Ram, Lakshman, and Sita Mata. There is a tree above it and the entire place is walled by brick structure on the sides to preserve it. It falls in the state of Uttar Pradesh.
Janaki
Upstream from Ramghat is a serenely beautiful stretch of the Mandakini, a symphony of nature in tones of earth- brown and leaf-green, the intense blue of the river waters finding a paler echo in the canopy of the sky. There are two approaches to Janaki Kund, 2 km up from Ramghat by boat, or by road along a foliage-lined drive.
Nearby attractions of Chitrakoot: Chitrakoot is adorned by a number of nearby tourist attractions.
Chachai and Keoti Falls
Situated 46 km from Rewa on the banks of the river Bihad, Chachai Falls are a beautiful spectacle of water falling in torrents from a height of 130 mts. Nearby, the Keoti and BahutiFalls are also worth a visit. Maihar:40 km from Satna, Maihar is famous for its Sharda Devi Temple built on a hilltop. It is an important centre for Indian classical Music.
Govindgarh
Situated amidst sylvan surroundings, Govindgarh is 19 km from Rewa, the capital of the old Vindhya State, on National Highway 7. it is famous for its scenic beauty, mangoes and the White Tigers. The Govindgarh Palace on the banks of a huge lake houses the personal museum of the Maharajah of Rewa. The first White Tiger, \Mohan, captured in 1951 in the nearby jungles, was kept in this palace till his death.
Mara Caves
These caves are situated in the Singhrauli tehsil of Sidhi district. The ancient caves stand in the middle of the jungle about 22 km from Singhrauli. For sheer majestic beauty, they can be compared with the caves of Ajanta and Ellora. 
Sohagpur
Only 3 km from Shahdol, Sohagpur in the former State of Rewa has a beautiful Hayahaya temple dedicated to Shiva as Virateswara that bears close resemblance to the Khajuraho temples. It has a square sanctum, a vestibule and a large enclosed hall, in front of which originally was a beautiful pyramidal roof.
Things to do at Chitrakoot: If you are in Chitrakoot and have an adventurous bend of mind, you must go for a trek to Kamdgiri Hill. Here you will enjoy the taste of samosas. Sightseeing is a major activity of the people visiting Chitrakoot. Pilgrims visit in thousands to Chitrakoot during festive times.
Best time to visit Chitrakoot: The best time to visit Chitrakoot is from July to March.
How to go ?
By Air: The nearest airport is at Khajuraho (175 km), connected with Delhi & Agra.
By Bus: Regular bus services connect Chitrakoot with Jhansi, Mahoba, Chitrakoot Dham, Harpalpur, Satna and Chhatarpur.
By  Train: The nearest railhead is at Chitrakootdham (Karwi) (11 km) on the Jhansi-Manikpur main line.
[AdSense-B]
Where to stay ?
There are not many accommodation facilities in Chitrakoot. You can stay at MPSTDC tourist bungalow. For booking details please contact:
Tourist Bungalow:+91 (07670) 265326.
Note : Phone numbers given above are according to the information available with us. If you find any contact number/s given above is/are incorrect or not in use, please let us know.
[AdSense-C]
http://tripsaround.in/wp-content/uploads/2014/07/Chitrakoot.jpg
476
750
TripsAround .in
http://tripsaround.in/wp-content/uploads/2013/04/logo.gif
TripsAround .in
2014-07-07 14:35:44
2014-07-09 22:54:46
Chitrakoot, Madhya Pradesh - The hill of many wonders, a spiritual place to rest your soul