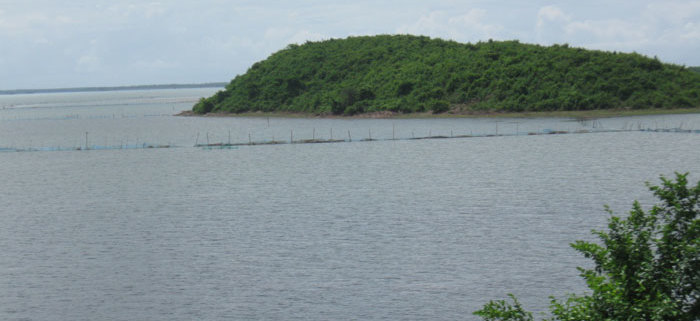 [AdSense-A]
A brackish water lagoon, the Chilika Lake is renowned as the largest coastal lagoon across India and the second largest lagoon around the globe. This lake extends over Puri, Ganjam and Khurda districts of Orissa. The lake is inhabited by a number of migratory birds coming from Russia, Ladakh and many more far off places. It is also a home to an array of endangered species of flora and fauna. A trip to such an exotic location will exceed your expectation.
Places to see at Chilika: A visit to Chilka is like a treasure trove.  There are many exotic sightseeing locations in Chilika. The place is also polluted by a number of islands. The OTDC boats are available for hiring at Barkul and Rambha.  A visit to Nalbana, which is a big island located at the center of the Chilika Lake is worth. The avid bird watchers will really have a visual treat in visiting the island, which is the haven of migratory birds during the winter. Make a trip to the Bird Island, which is also a natural habitat of different species of birds. Some other major islands include Phulbari, Parikud, Nuapara and Tampara. Another attraction is the Kalijai temple located in an island within Chilika, housing the shrine of Goddess Kalijai. Tourists' inflow increases at this location at the time of Makar Mela. You will be amazed to see flocks of peacocks roaming all around the island.
The Dolphin point in the Chilika Lake is where you can savour a glance of Irrawady dolphins and bottle-nosed dolphins. The Breakfast Island is just a 20 minutes boat ride from Rambha. From here you can also visit Honeymoon Island and Beacon Island. Also pay a visit to the village of Mangalajodi, which was earlier inhabited by the poachers.
Nearby attractions around Chilika: Trips to the nearby spots of tourist interest around  Chilika will make your experience at the location more exciting. One of the most sought after destinations of the tourists is Nirmaljhara, which features a perennial stream flowing into a number of ponds. The area also houses some beautiful temples. Tourists with an adventurous mind can take a bath in any one of the ponds in the location. You can also make a trip to Banapur, renowned for the Bhagwati Temples and markets. A day trip to the Salia Dam built on River Salia is also quite rewarding. Tours are also organized to Narayani, famous for housing a temple amidst a scenic backdrop. You can also make tours to Puri and Gopalpur-on-sea from  Chilika.
Things to do at Chilika: Hire a boat in the Chilika lake, to cruise around this azure brackish water of Orissa. Visit the different islands dotting the lake while cruising. Water scooters and Pedal Boats are also available at Barkul.
Best time to visit  Chilika: The months of winter is the ideal time of visiting  Chilika, as the migratory birds from far off regions arrive this destination during winter.
How to go ?
The nearest railhead of  Chilika is Balugaon, on Howrah-Chennai track. You can avail the buses from Balugaon to reach the lake. Some of the trains that halt at Balugaon are East Coast Express and Howrah-Chennai Mail. Chilka is also accessible by roadway. You will find a number of state operated buses (OSRTC) running from Bhubaneswar to Balugaon. Taxis and auto-rickshaw are available at Balugaon, transferring passengers to Rambha or Barkul. However, you can also avail flight to reach the Bhubaneswar airport, located 120 km. away from  Chilika. Taxis and buses are available at the airport carrying tourist to  Chilika lake.
[AdSense-B]
Where to stay ?
Not much lodging facilities are available at Chilika. However, you can always locate some eateries nearby, catering some fresh catches like prawns, crabs, pomfret and others.
Hotel Ashoka Main Road, Balugaon
For booking details you may contact: +91-06756-220 409.
Panthanivas  (Odisha Tourism Development Corporation), Barkul, At/ PO Balugaon, Dist. Khurda, PIN 752 030,
Telephone +91 6756 220488.
Website: www.panthanivas.com
Note : Phone numbers given above are according to the information available with us. If you find any contact number/s given above is/are incorrect or not in use, please let us know.
[AdSense-C]
http://tripsaround.in/wp-content/uploads/2014/03/CHILKA_LAKE.jpg
432
700
TripsAround .in
http://tripsaround.in/wp-content/uploads/2013/04/logo.gif
TripsAround .in
2014-03-31 12:56:00
2014-12-11 14:54:30
Chilika, Odisha - The second largest lagoon around the globe