[AdSense-A]
Charkol (also spelled as Charkhole) rests at an altitude of 5000 feet overlooking a green valley with magnificent views of Mt.Kanchenjungha. The place name comes from the eight wooden cottages situated there. It is one of the newest attractions on the Eastern Himalayas. The place is just 15 kms off Lolegaon and 30 kms from Kalimpong.  The deep, moist woods of towering pine, cypress, oak and rhododendrons, emboldens this sleepy valley of Charkol. This place is also a bird watcher's delight. Enjoy a night in Charkol under the star studded sky by making a bonfire, take a nature walk along the coniferous forests under the warm glow of sun with birds and colorful flora everywhere or take the pleasure of jogging on the village resort's jogging track. But, you must spend some time sitting on the soft mushy grass of the valley with your cup of tea and watch the riot of colours on Kanchenjungha.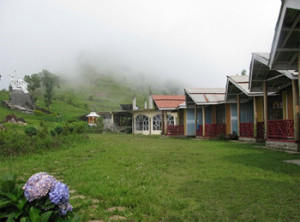 Places to see at Charkhole: Charkol, a small valley lies in a strategic point that has one of the widest views of the entire Eastern Himalayas. The eight cottages and a main building built on two acres of land is everything in Charkhole. This village resort makes its aesthetic view with Japanese type gardens, statues of Hindu Gods and Goddesses and a playground. Charkol is surrounded by towering coniferous forests and is blessed by regular visits of rare Himalayan birds. Numerous species of butterflies, a wide variety of flowers and orchids fills the place with multi colors in the surroundings of Charkhole.
Nearby Attractions at Charkol: Lolegaon is just 15 kms from Charkol and Lava is around 32 kms away. Rishyop, Rishi and Gumba Dara falls that is 30 kms from Charkol and Rikkisum and Pedong is around 50 kms away. Another new found wonderland "Chuikhim" is just a walk away from Charkol.
Things to do at Charkhole: Take a stroll along the forest trails of Charkol. A friendly game of cricket on the valley is worth enjoying. Enjoy the warmth of the sun rays while sitting upon the soft green grass.  Build a bonfire under the night sky or do bird watching and the rest of the day just sit on your cottage's verandah and gaze at the mountains. The birds would accompany you with their chirps.
Best time to visit Charkol: You can visit Charkol anytime of the year but to enjoy the view of the snow capped Himalayas the winter is the ideal season.
How to go ?
Charkol is 15 kms from Loleygaon and can be reached by hiring a car from either from Lava, Loleygaon or  from Kalimpong.
[AdSense-B]
Where to stay ?
Some options are:
Blue Pine Retreat:
Phone: (033)2464 8752 mobile: 09432406006, 09051406006, 09681353660, 09432073035
Chandni Resort (Paradise Group of Hotels):
Phone: 9932889565, 9432800367
Glen Vista Retreat, Charkhol :
This Holiday Home can be booked directly with Holiday Home India.
Ph no:  9331035550, 9836955186, 9339725506, 9830947352, 9830788403
Note : Phone numbers given above are according to the information available with us. If you find any contact number/s given above is/are incorrect or not in use, please let us know.
[AdSense-C]
http://tripsaround.in/wp-content/uploads/2014/03/charkhol.gif
505
700
TripsAround .in
http://tripsaround.in/wp-content/uploads/2013/04/logo.gif
TripsAround .in
2014-03-14 23:20:01
2014-05-16 16:19:22
Charkhole, in North Bengal, rests at an altitude of 5000 ft.