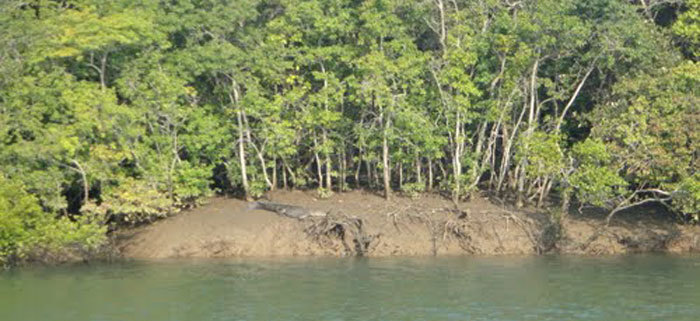 [AdSense-A]
Chandbali that serves as one of the main gateways to the Bhitarkanika Wildlife Sanctuary nestles in the Bhadrak District of Orissa. Covered with the forests, rivers and distant hills, Chandbali is just the accurate medicine for stress removal. The frolicking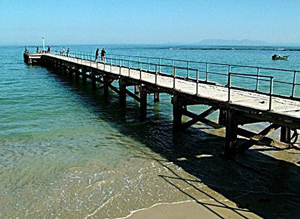 Baitarani River flows beside Chandbali and meets the Brahmani River at a distance. The place used to be a famous port during the medieval times but now it has become a popular tourist spot. The fragments of the British period are still visible like anchor and cannons out here. From Chandbali, the nearby places like Dhamra, Aradi and Nalitapatia can be visited by boat. Besides being one of the most popular gateways to the mangroves of Bhitarkanika Wildlife Sanctuary, Chandbali also acts as the hub for visiting remote beaches like Gaharimatha – that is a home to one of the most popular Olive Ridley Turtle.
Places to see at Chandbali: Bhitarkanika National Park which spans over an area of 650 sq.km is 35km away from Chandbali. You can reach the place by ferry. This is one of the few marine parks of India and was founded with an aim to protect salt water crocodiles. This is the main reason behind the establishment of a salt water crocodile breeding center inside the park. There are also various other pieces of attractions including temples and monuments belonging to the period of 9th century. Chandbali also has Sri Aurobindo Dibyadham Ashram, Relics Temple and Integral Education centre.
Nearby attractions of Chandbali: One of the primary attractions of Chandbali is the Bhitarkanika River that has thick mangrove canopies on either side and gives a spectacular setting for wildlife viewing and majestic sunsets. Take a boat ride from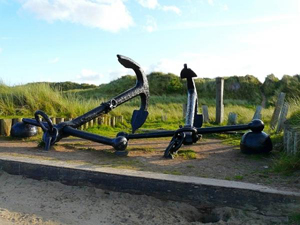 Chandbali and catch the glimpse of the Giant Saltwater Crocodiles. If you are an adventure lover, then take an enjoying long walk through the Bhitarkanika forest that takes you through the remaining of an old village which was once inhabited by mariners. Beside, the beaches of Barunei, Ekakula and Habalikhati are not to be missed out. Bhitarkanika forest is home to a wide range of animals like Rhesus Monkey, King Cobra, Spotted Deer, Pythons, and others.
You can see a crocodile-breeding center at Dangmol where the rarest White Crocodile "Sankhua" is found. Other than animal life, a good variety of bird life including migratory birds like Open Billed storks, Kingfishers, Whistling Teals, Sand Pipers, Sea Gulls and others can also be seen. Another very exciting thing to watch out for is the Olive Ridley Sea Turtles at Gahirmatha.
Things to do at Chandbali: You can take leisurely walks along the banks of Baitarini River, enjoy boat rides over the river along the mangroves, visit local temples and experience village life. Enjoy a day trip to Bhitarkanika Wildlife Sanctuary.
Best time to visit Chandbali: You can visit Chandbali anytime of the year but if you want to see the Olive Ridley Turtles, then try to visit during the winters. It's better to avoid visiting Chandbali during the monsoons.
How to go ?
If you are travelling by flight, then the nearest airport is Bhubaneshwar airport which is located at a distance of 125 km. This airport is well served by most of the major airlines. Chandbali does not have a railway station of its own and is served by the Bhadrak and Cuttack railway stations. Cuttack is located at a distance of 107 km. But if you are traveling by car, then you can surely reach this destination from Bhubaneshwar too just 125 km from Chandbali. Bhadrak is another major Railway station which is very near to Chandbali just 45 kms away. State Highway 5 connects Bhadrak to Chandbali. You would get regular buses and taxis from Bhabrak to Chandbali.
[AdSense-B]
Where to stay ?
The Tourism Department accommodation at Chandbali is facilitated with AC Double Bedrooms, non AC Double Bedrooms, Dormitories, Dining Hall, Lawns and all other modern facilities. For booking details you may contact:
Utkal Bhawan,
55 Lenin Sarani,Kolkata.
Tel: (033) 2244653/22164556.
Central Reservation Counter
Tel: 0674 – 2430764.
For detailed information log on to www.panthanivas.com
Note : Phone numbers given above are according to the information available with us. If you find any contact number/s given above is/are incorrect or not in use, please let us know.
[AdSense-C]
http://tripsaround.in/wp-content/uploads/2014/03/Chandbali.jpg
434
700
TripsAround .in
http://tripsaround.in/wp-content/uploads/2013/04/logo.gif
TripsAround .in
2014-03-31 14:04:07
2014-12-11 15:15:25
Chandbali, Odisha - The gateway to the Bhitarkanika Wildlife Sanctuary