[AdSense-A]
Itanagar, a city of natural beauty and also is a capital city since 1974. It has everything that one seeks while being on a tour. It is India's the most alluring locations where a huge number of travelers love to come in time. The location of Itanagar is highly attractive. Located in the foothills, it makes tourists fan of its beauty. One cannot forget the ultimate time spent in Itanagar.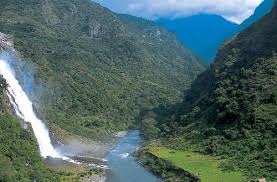 To reach Itanagar, you have to reach Guwahati first either by air or by road. From Guwahati cars are available for Itanagar.  It takes around 6hrs to reach Itanagar.  The journey is a fascinating experience as nature has whole heartedly bestowed all its beauty to this place. The early morning experience is surprising, the clouds enter inside the houses. One moment you can see a table or a chair and the next these are vanished behind a white screen. This is a common phenomenon for anyone living in Itanagar, but for the tourists it's really astonishing beyond words.
After breakfast, head towards GangaLake (Gyakar Sinyi) which is surrounded by mountains and is a major attraction for those visiting Itanagar.
The first thing that is striking is the silence. The place is so tranquil that you have to speak in hushed voices! Notice the lake's colour which is green. The water appears to have changed its hue to complement the sylvan surroundings. It is a beautiful picnic spot. Boating facilities are also available on the lake. Leaving the lake behind, head for a Buddhist gompha. Situated on the top of a mountain, the white monastery with yellow roof is picturesque and welcoming.
The next spot is the Jawaharlal Nehru State Museum. The museum houses wood carvings, musical instruments, textiles, handicrafts and archaeological finds, which give a glimpse into life in Arunachal. Ganga market, the most popular area in Itanagar is also a must visit spot. It's a favourite haunt of the locals and tourists.
Head for Naharlagun – the twin town of the capital of Arunachal Pradesh the next day.
The mountain roads are itself a pleasure to walk though it's a bit tiresome but the placidity and lack of traffic there is really an unusual experience for any urbanite. So do keep some time just to take a stroll in this winding narrow road. You never know you may discover a stream nearby and enjoy is gurgling sound.
 This trip is ideal for rejuvenating yourself completely.
How to go ?
By Air: Lilabari in Assam is the nearest airport at a distance of 67 km. There are connecting flights to Guwahati from Lilabari. Flights from Mumbai, Delhi, Chennai, Kolkata, Jaipur, Bengaluru, Ahmadabad, etc. operate to Guwahati. Taxis and buses are available from Guwahati to reach Itanagar. Pawan Hans operates helicopter services from Guwahati to Itanagar thrice a week.
Kolkata is the nearest international airport at a distance of 760 km.
By Rail: Harmuti is the nearest railway station at a distance of 33 km. Harmuti is a narrow guage line. A convenient option to reach Itanagar would be North Lakhimpur (60 km). Trains from North Lakhimpur connect to Guwahati which is well connected to Kolkata and most major parts of the country.
By Road: Itanagar is well connected to most neighbouring regions of Arunachal Pradesh. Daily overnight buses from Guwahati ply to Itanagar. AST buses also connect Itanagar to Shillong, Ziro, Guwahati, Balijan, Poma, Lilabari, Jote, Raga, Sagalee, Pasighat, Dibrugarh, Tezpur, Bombdila, etc.
[AdSense-B]
Where to stay?
There are two government guest houses in Itanagar.
Contact Details:
Circuit House: 0360-212010
Banquet Hall: 0360-212613.
There are also various private hotels.
For details visit:  http://arunachalipr.gov.in/Accommodation.htm
[AdSense-C]
http://tripsaround.in/wp-content/uploads/2014/03/Itanagar_Arunachal_Pradesh.jpg
498
750
TripsAround .in
http://tripsaround.in/wp-content/uploads/2013/04/logo.gif
TripsAround .in
2014-03-10 22:25:15
2014-10-27 06:34:15
Itanagar, Arunachal Pradesh - A city of natural beauty and also is the state Capital