[AdSense-A]
Situated in the north of Chapara and Ballia and south of Rohtash District of U.P the present Bhojpur came into existence in 1992. Earlier this district was part of old Sahabad district. Bhojpur is historically quite rich. Even in the pre-historic days also there is evidence of the area being inhabited.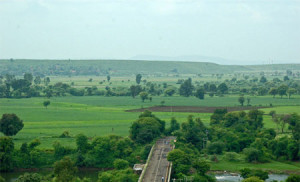 One of the subdivisions of Bhojpur district Ara, derives its name from the Sanskrit word 'ARANYA', which means forest. It suggests that the entire area around modern Ara was heavily forested in old days. According to mythology, sage Vishwamitra, the Guru of RAMA, had his 'Ashram' somewhere in this region.
In the medieval period the pioneer of the Mughal Emperor Babar proclaimed his sovereignty over Bihar, after his victory over the Afghan rulers. The place where he made his declaration came to be called Shahabad, which literally means 'the city of Emperor '.
Even during the British era also Bhojpur had a very uneventful history when Kunwar Singh revolted against the Britishers in line with the Mutineers.
The history of "Quit India Movement" in 1942 is also written by the blood of the virtuous revolutionaries of this district. If you love history then make a visit to this place fully laden with historical incidents.
Places to see at Bhojpur: Bhojpur known for its historical richness has many spots to visit.
The SunTemple at Dev
The Dev village of Tarari block has statue of the SUN GOD besides several other deities. These statues are said to be of 14 th century or even before.
Veer Kunwar Singh Kila, Jagdishpur
The great warrior of 1857 belonged to Jagdishpur. His fort is still there to reminds us of the great son of the soil who fought for the freedom till his last.
 Shahi Masjid
This five Gumbad mosque, the second of its kind in India was constructed by Shahjahan in 1623 AD. This is situated near Aranya Devi temple.
Karbala  mosque of Maulabagh
This mosque was built around 1817 with Aurangzeb's assistance. It is situated at Maula Bagh muhalla at Ara.
Aranya Devi Temple
This is famous temple of Aranya Devi  ( Forest Goddess ). She is  said to be the deity goddess of Ara  town . Here one statue is of ADI SAKTI and the second is established by the PANDAVAs . The temple is very old and draws  many devotees every day. It is situated at the top of stone boulders.
Chaturvuj Narayan Mandir
This very ancient statue of Laxmi -Narayan is situated at Chaturvuj village of Piro block.
Jagadamba Mandir
Here is an ancient statue of Goddess Jagdamba at Mukundpur village of Charpokhari block.
Parswanath Mandir
It is a century old JainTemple located at MasadhVillage.
Mahamaya  Mandir
This temple is at Ekwari village of Sahar block. This was made during Mughal period.
Mahathin Mai  Mandir
This is located at Bihiya, draws lots of women devotees.
Jain Sidhant Bhawan
It  has a such library which contains unique collection of materials related to Jainism.
Paihari Jee Ka Ashram
It  is an ashram at Dhrampur village at Sahar block.
Lakar Sah Ki Mazar
It is situated at Sahpur, it a famous mazar of a local muslim saint.
Kurwa Shiv
There are some ancient statues related to Banasur. It  is situated in  Shahpur – Billoti Road.
Venkatesh Mandir
This temple situated at Perhap village has a statue of Southern architectural style.
Shahi Jama Masjid
This  mosque built by Shersah is located at Garhani Bazzar.  Renovation work is in progress here.
Baba Yagyeshwar Dham
A Shiv temple is situated in Jagdishpur which is said to be made by 'lord Shrikrishna' under supervision of 'maharshi yagyavalkya'. 'Hanumaan mandir' of jagdishpur has also a fame among Hindu deities in bhojpur district
Aranya Devi
Aranya Devi Mandir has been located in Ara Town. The Town's name Ara has been  based on this Deity .
Jain Bala Bishram
Jain Bala Bishram is one of the famous site of the town and a girls school also.
Jal Mandir
Jal mandir is one of the finest madir to visit.
Gaytri Mata
Gayatri Mandir is situated on the main Ara-Bihiya road. It is just near to Ara collectorate. One can visit this place on foot within 10 minutes from Ramana Maidan.
Gangi Nadi
It is a very good site to visit.
Things to do at Bhojpur: Trace the footsteps of history hither and thither while wandering in Bhojpur.
Best time to Bhojpur: You can visit Bhojpur throughout the year.
How to go ?
One can reach Bhojpur by roadways and the railways as the district is well connected by both the medium.
By Road
By road, Bhojpur is efficiently linked with Patna, Buxar, Aurangabad, Rohtas.
By Rail
By railway, Bhojpur is linked with Howrah-Patna-New Dehi main line.
By Air
The nearest airport is at Patna from where regular flights are available to all important towns and cities across the country.
[AdSense-B]
Where to stay ?
There are some accommodation facilities at Bhojpur. You can find those on arrival.
[AdSense-C]
http://tripsaround.in/wp-content/uploads/2014/06/Bhojpur-Bihar.jpg
425
700
TripsAround .in
http://tripsaround.in/wp-content/uploads/2013/04/logo.gif
TripsAround .in
2014-06-27 15:41:41
2014-06-27 16:06:07
Bhojpur, Bihar - Known for its historical richness has many spots to visit